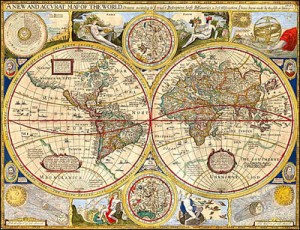 Here's a recap of all the resources we've been talking about in Mrs. Gioseffi's AP World History 9 classes. Students are investigating topics related to people and events from 1450-1750…
Days 1-2: We started with a review of the Big 6 research process, and spent some time coming up with all the possible sources of information we could think of. Remember — sources are people!
We also investigated the ABC-CLIO history reference database (available from the CA Library article database page) to identify primary, secondary and tertiary sources that might be relevant to our research.
Days 3-4: We explored information we could find in print, using the CA Library catalog (20,000+ titles), libraries in Wayne-Finger Lakes BOCES School Library System (430,000+ titles), and the libraries in the 5 Systems Library catalog (2,000,000+ titles). All of these catalogs are available from the CA Library books & video page.
Beyond what we could find in print, we also explored books available through Google Books, which come in three flavors:
Free books (usually published before 1923)
Books with a preview (thanks to the publishers)
Books with no preview (bummer)
Day 5: A full work day! We immersed ourselves in developing bibliography cards (1 per source) and note cards (multiple cards for each source).
Day 6: What else is online? We reviewed the pitfalls of relying exclusively on Wikipedia (even Wikipedia cautions us not to use an encyclopedia as the sole source for any information). The list of references and external links are useful, however, in finding additional information…even books which may be available in Google Books.
A Google Advanced Search is useful in narrowing our results to those that are most appropriate for our needs — including limiting search results to information from college and university websites by using the .edu domain limiter.
As a reminder, although you have a copy of the Academy Research Manual, it is also available online at the CA Library Research Manual page. The Research Manual — Read it. Know it. Live it…
Tomorrow, if our brains don't explode from all this new knowledge, we'll take a look at some Google Custom Searches. Crazy!