Today we start a new weekly feature on the CA Library Blog – Monday Morning Book Buzz. Every week we'll take a look at some notable new books being released in the coming days.
If you would like to subscribe to the CA Library Blog, click the Entries (RSS) button at the top of the menu on the right and add the link to your favorite news aggregator. You can also follow us on Facebook by visiting http://www.facebook.com/calibrary and hitting the 'Like' button.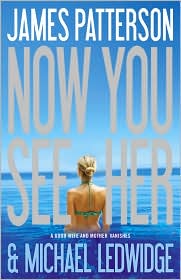 This Week's Notable New Releases
Monday, June 27th:

Now You See Her by James Patterson – A successful lawyer and loving mother, Nina Bloom would do anything to protect the life she's built in New York—including lying to everyone, even her daughter, about her past. But when an innocent man is framed for murder, she knows that she can't let him pay for the real killer's crimes.
Middle School, the Worst Years Of My Life by James Patterson – Rafe Khatchadorian has enough problems at home without throwing his first year of middle school into the mix. Blockbuster author James Patterson delivers a genuinely hilarious-and surprisingly poignant-story of a wildly imaginative, one-of-kind kid that you won't soon forget.
Tuesday, June 28th:
Fins Are Forever by Tera Lynn Childs – Childs' sequel to Forgive My Fins offers another tail-flicking romance with plenty of fun, sun, and underwater adventure.
The Day Before by Lisa Schroeder – Amber's life is spinning out of control. All she wants is to turn up the volume on her iPod until all of the demands of family and friends fade away. So she sneaks off to the beach to spend a day by herself. Then she meets Cade, a boy who's living each moment like it's his last.
Untold Story by Monica Ali – When Princess Diana died in Paris, she was thirty-seven years old. Had she lived, she would turn fifty in July. Who would the beloved icon be if she were alive today? What would she be doing? And where? Monica Ali has imagined a different fate for Diana in her spectacular new novel.
Dragon's Time (Dragonriders of Pern Series) by Anne McCaffrey and Todd McCaffrey – For the first time in more than three years, bestselling authors Anne McCaffrey and her son Todd have teamed up again to do what they do best: add a fresh chapter to the most beloved science fiction series of all time.
The Map of Time by Félix J. Palma – This international bestseller, set in Victorian London boasts a triple play of intertwined plots in which a skeptical H. G. Wells is called upon to investigate purported incidents of time travel and to save lives and literary classics, including Dracula and The Time Machine, from being wiped from existence.
Friday, July 1st:
From Willa, With Love (Life of Willa Havisham Series #3) by Coleen Murtagh Paratore – It's August on Cape Cod and Willa has a lot to look forward to. Soon, JFK will return home from baseball camp, and Willa has an idea for an exciting new project that will challenge her to dream big. But life throws Willa some unexpected twists and turns, ensuring a summer full of romance and surprises!