Welcome to the Monday Morning Book Buzz (one day later, because of the July 4th holiday). Every week we'll take a look at some notable new books being released in the coming days.
If you would like to subscribe to the CA Library Blog, click the Entries (RSS) button at the top of the menu on the right and add the link to your favorite news aggregator. You can also follow us on Facebook by visiting http://www.facebook.com/calibrary and hitting the 'Like' button.
This Week's Notable New Releases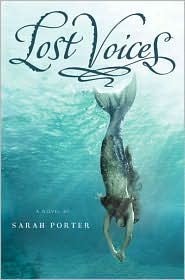 Monday, July 4th:
Lost Voices by Sarah Porter — When fourteen-year-old Luce is assaulted on the cliffs near an Alaskan village, she expects to die when she tumbles into the icy water below. Instead, she transforms into a mermaid.
Tuesday, July 5th:
Betrayal of Trust (J.P. Beaumont Series #20) by J.A. Jance — Seattle investigator J. P. Beaumont investigates a dark and deadly conspiracy that reaches deep into the halls of state government, in this latest thriller from New York Times bestselling author J. A. Jance
Escape by Barbara Delinsky — Delinsky explores a woman's desire to abandon the endless obligations of work and marriage—and the idea that the most passionate romance can be found with the person you know best.
Monument to Murder (Capital Crimes Series #25) by Margaret Truman — When private investigator Robert Brixton takes on a 20 year-old murder case in Savannah, GA, he learns that he could bring down Washington D.C.'s leading social hostess, if not the administration itself. But can he outwit an organization that is determined to keep its secrets—secrets that go all the way back to the assassinations of Jack and Bobby Kennedy?
Never Knowing by Chevy Stevens — A complex and compelling portrayal of one woman's quest to understand herself, her origins, and her family.
No Rest For The Dead: Twenty-Six Writers, One Mystery, with an Introduction by David Baldacci — More than twenty New York Times bestselling authors team up to create a first-rate serial novel — a collaboration that combines the skills of America's greatest storytellers to produce a gripping, spellbinding mystery.
Once Upon A River by Bonnie Jo Campbell — After the violent death of her father in rural Michigan, Margo Crane takes to the Stark River with only a few supplies and a biography of Annie Oakley, in search of her vanished mother. But the river is a dangerous place for a young woman traveling alone, and she must be strong to survive, using her knowledge of the natural world and her ability to look unsparingly into the hearts of those around her.
One Dog Night by David Rosenfelt — For six years Noah Galloway has lived with a horrible secret and the fear that his rebuilt life could be shattered at any moment. Now his dread has become a certainty, and he has been arrested for the arson murder of twenty-six people.
Overbite by Meg Cabot — Meena Harper has a special gift, the ability to predict how everyone she meets will die. Now the Palatine Guard—a powerful secret demon-hunting unit of the Vatican—has hired her to work at their new branch in Lower Manhattan.
Twisted (Pretty Little Liars Series #9) by Sara Shepard — It's been a year since the torturous notes from A stopped and the mystery of Alison DiLaurentis's disappearance was finally put to rest. Now seniors in high school, Aria, Spencer, Hanna, and Emily have more secrets than ever—twisted secrets that could destroy the perfect lives they've worked so hard to rebuild. This is the first in a planned 4-story continuation of the Pretty Little Liars series.
White Crow by Marcus Sedgwick — A thought-provoking and intensely scary new novel from the author of the award-winning Revolver and My Swordhand Is Singing. Rebecca has come to a small seaside village to spend the summer when she meets Ferelith, who offers to show Rebecca the secrets of the town…but at a price. Beautifully written and horrifically gripping.
Thursday, July 7th:
The End of Everything by Megan Abbott — In this psychological thriller, thirteen-year old Lizzie Hood and her next door neighbor Evie Verver are inseparable. When Evie disappears one afternoon, the only clue is a maroon sedan Lizzie spotted earlier in the day. Haunted by dreams of her lost friend and intrigued by her own new power at the center of the disappearance, Lizzie uncovers secrets and lies that make her wonder if she knew her best friend at all.