New Books on this Week's New York Times Bestseller Lists
Some notable new entries on this week's bestseller lists.
James Patterson's newest collaboration with Michael Ledwidge tops the fiction bestseller list; he also has the #1 position on the Children's Chapter Books list with Middle School, The Worst Years Of My Life. Michael Connelly's latest mystery featuring L.A. homicide detective Hieronymus Bosch makes it into the top 15 as well. And Dav Pilkey continues the epic story of a superhero rugrat with Super Diaper Baby 2.
"A Rock Star Life Imagined, But Never Actually Achieved" —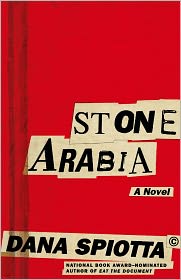 Michiko Kakutani reviews Stone Arabia by Dana Spiotta, a novel about family, obsession, memory, and the urge to create—in isolation, at the margins of our winner-take-all culture. The titular town is a crossroads in upstate New York — find it on Google Maps.
#1 — Now You See Her, by James Patterson and Michael Ledwidge — Nina Bloom, who years ago changed her identity to save her life, is forced to confront the past and the killer she thought she had escaped.
#15 — The Hypnotist, by Lars Kepler — In Tumba, Sweden, a 15-year-old boy witnesses the slaughter of his entire family, and a hypnotist is called in to help him with the trauma.
#5 — Deeper Than Midnight, by Lara Adrian — Protecting a woman once held prisoner by the vampire Dragos, the Breed called Hunter vows to seek justice.
#7 — The Creed Legacy, by Linda Lael Miller — Carolyn Simmons is looking for Mr. Right in Lonesome Bend. Instead she falls for the rough-and-tumble rodeo cowboy Brody Creed, the opposite of everything she wants.
#13 — Savor The Danger, by Lori Foster — She may be aloof, but Alani Rivers is the kind of woman the hot-blooded mercenary Jackson Savor can't forget.
#14 — The Black Echo, by Michael Connelly — Los Angeles homicide detective Hieronymus Bosch investigates the death of a fellow Vietnam veteran.
Children's Chapter Books (including Young Adult books)
#1 — Middle School, The Worst Years Of My Life, by James Patterson and Chris Tebbetts. Illustrated by Laura Park — Rafe breaks every rule in the book. (Ages 8 to 12)
#3 — Super Diaper Baby 2, written and illustrated by Dav Pilkey — The Invasion of the Potty Snatchers. (Ages 7 to 10)