New Books on this Week's New York Times Bestseller Lists
"A Captivity No Novelist Could Invent" — Janet Maslin reviews A Stolen Life: A Memoir by Jaycee Dugard, the account of Dugard's abduction at age 11 and the 18 years she spent imprisoned by a convicted rapist and his wife, including growing up in the couple's backyard and bearing two children.
Hardcover Fiction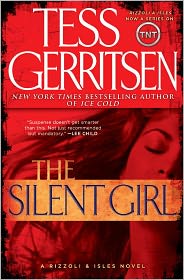 #3 — The Silent Girl (Rizzoli and Isles Series #9), by Tess Gerritsen — The homicide cop Jane Rizzoli and the medical examiner Maura Isles find a corpse and a severed hand in Boston's Chinatown.
#9 — Betrayal of Trust (J. P. Beaumont Series #20), by J. A. Jance — A teenage girl is murdered on film, and the Seattle investigator J.P. Beaumont must find out who sent the video to the governor's grandson.
#11 — Escape, by Barbara Delinsky — A Manhattan attorney flees her corporate job and returns to a New England town where she spent a momentous summer.
#13 — Hell's Corner (Camel Club Series #5), by David Baldacci — The former assassin John Carr, a.k.a. Oliver Stone, teams with an MI-6 agent to search for the perpetrators of a terrorist attack against the British prime minister.
#14 – A Storm of Swords, by George R. R. Martin — Wars continue to rage over the Iron Throne as alliances are made and broken; Book 3 of "A Song of Ice and Fire" series.