New Books on this Week's New York Times Bestseller Lists
"No Vaccine for Agony From Viral E-Mail" — Janet Maslin reviews This Beautiful Life by Helen Schulman. When a 15-year-old at a Manhattan prep school forwards an explicit video sent to him by a classmate, the effects reverberate throughout his family, the school and the community.
Hardcover Fiction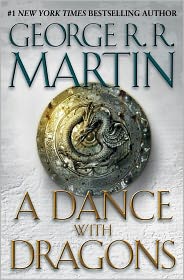 #1 – A Dance With Dragons, by George R. R. Martin – After a colossal battle, the Seven Kingdoms face new threats; Book 5 of "A Song of Ice and Fire."
#3 – Then Came You, by Jennifer Weiner – This timely tale delves into women's lives, with themes of class and entitlement, surrogacy and donorship.
#5 – Quinn, by Iris Johansen – A former Navy Seals member turned cop falls in love with a woman in need of his help and finds himself in the cross hairs of danger.
#7 – Before I Go To Sleep, by S. J. Watson – A woman's life is complicated by the fact that her memories disappear every time she falls asleep.
#10 – Iron House, by John Hart – A professional killer trying to leave the business must protect himself and his long lost brother.
#1 – A Stolen Life, by Jaycee Dugard – A woman's recollection of being kidnapped at the age of 11, spending 18 years imprisoned by a convicted rapist and his wife and bearing two daughters by him.
#5 – Of Thee I Zing, by Laura Ingraham with Raymond Arroyo – The talk radio host satirizes America's cultural decline, from muffin tops to body shots.
#12 – Sex On The Moon, by Ben Mezrich – The story of Thad Roberts, a NASA intern who stole a 600-pound safe containing priceless moon rock samples.
#14 – Absolute Monarchs, by John Julius Norwich – A chronicle of one of the most significant — and — controversial institutions in history: the papacy.