Welcome to the Monday Morning Book Buzz, a preview of notable books being released this week. Some of them will be added to the Academy Library collection; if you read about a title that you would like added to the collection, let me know by either commenting on this post or by contacting me directly at the Library.
If you would like to subscribe to the CA Library Blog, click the Entries (RSS) button at the top of the menu on the right and add the link to your favorite news aggregator. You can also follow us on Facebook by visiting http://www.facebook.com/calibrary and hitting the 'Like' button.
This week's releases are listed by category: Young Adult Fiction, Graphic Novels, General Fiction and Nonfiction. On-sale dates are indicated in parentheses.
Notable New Releases for the week of March 26th:
Young Adult Fiction
Chomp by Carl Hiaasen (3/27/2012) — The difficult star of the reality television show, "Expedition Survival," disappears on location in the Florida Everglades, where they were filming animals from the wildlife refuge run by Wahoo Crane's family. When Wahoo and classmate Tuna Gordon set out to find him, but they also must avoid Tuna's gun-happy father. "Mystery, action, humor, and exotic animals and settings, all tied together by a writer with an exceptional grasp of language, makes this a sure hit with any mystery-loving readers." — School Library Journal
Goddess Interrupted by Aimee Carter (3/27/2012) — Kate Winters, an immortal and Queen of the Underworld, must join Persephone and fight for Henry, ruler of the Underworld, when he is abducted by the King of the Titans and taken to Tartarus.
Forgiven (Demon Trappers Series #3) by Jana Oliver (3/27/2012) — Seventeen-year-old demon trapper Riley Blackthorne is on the run from the Vatican after her ex-boyfriend tells an elite team of demon hunters that she is working with Hell and worries her bargain with Heaven and promise to Lucifer will cause an all out war.
Invisible Sun by David Macinnis Gill (3/27/2012) — In this sequel to Black Hole Sun, sixteen-year-old Durango and his lieutenant–and girlfriend–continue their adventures as mercenaries on Mars.
Life Is But a Dream by Brian James (3/27/2012) — When fifteen-year-old Sabrina meets Alec at the Wellness Center where she is being treated for schizophrenia, he tries to persuade her that it is the world that is crazy, not them, and she should defy her doctors rather than lose what makes her creative and special.
After the Snow by S. D. Crockett (3/27/2012) — Fifteen-year-old Willo Blake, born after the 2059 snows created a new ice age, searches for his family, who mysteriously disappeared from their frozen mountain home, and encounters outlaws, halfmen, and an abandoned girl along the way. "Despite its grim take on humanity's willingness to do evil, it also demonstrates that, even under the most straitened circumstances, people are capable of unexpected kindness and altruism." — Publishers Weekly
Temptation (Solitary Tales Series #3) by Travis Thrasher (4/1/2012) — The latest entry in the Solitary Tales series follows the soul wrenching twists of Chris Buckley's journey as he heads deeper into a darkness that threatens all he loves most. As a reluctant student at Harrington High's summer school, Chris meets a fun-loving senior girl who offers a welcome diversion from his past.
Graphic Novels
A Game of Thrones: The Graphic Novel, Volume One by George R. R. Martin (3/27/2012) — Novelist Daniel Abraham and illustrator Tommy Patterson bring George R. R. Martin's epic fantasy masterwork "A Game of Thrones" to majestic new life in this full-color graphic novel. Includes the initial six issues of the graphic series.
General Fiction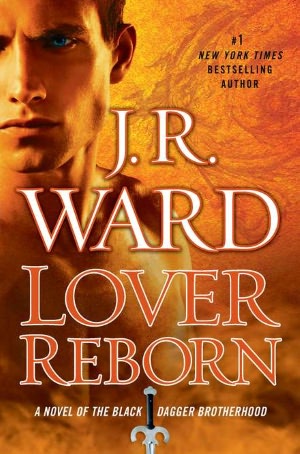 Lover Reborn (Black Dagger Brotherhood Series #10) by J. R. Ward (3/27/2012) — In this entry in the Black Dagger Brotherhood series, Tohrment, the Brother who had it all, but lost everything to the enemy, is destined for a second chance at love and life. But will the past and his bitterness hold him back?
Guilty Wives by James Patterson and David Ellis (3/26/2012) — Only minutes after Abbie Elliot and her three best friends step off of a private helicopter, they enter the most luxurious, sumptuous, sensually pampering hotel they have ever been to. But in the morning's harsh light, Abbie awakens on a yacht, surrounded by police. Something awful has happened–something impossible, unthinkable.
Betrayal by Danielle Steel (3/27/2012) — A successful woman's seemingly perfect world is shattered when she faces embezzlement by the last person she would ever suspect.
Elegy for Eddie (Maisie Dobbs Series #9) by Jacqueline Winspear (3/27/2012) — Early April, 1933. To the costermongers of Covent Garden—sellers of fruit and vegetables on the streets of London—Eddie Pettit was a gentle soul with a near-magical gift for working with horses. When Eddie is killed in a violent accident, the grieving costers are skeptical about the cause of Eddie's death. But who would want to kill Eddie—and why? "Recommended for all historical mystery enthusiasts, especially those interested in home-front war stories." — Library Journal
Letter from a Stranger by Barbara Taylor Bradford (3/27/2012) — Justine Nolan is a documentary film maker who lost her beloved grandmother a decade ago—the person who was the only source of love and comfort in her life. But when she inadvertently opens a letter addressed to her mother, she discovers that not only is her grandmother Gabri alive, but her mother has deliberately estranged the family from her for all these years.
The Memory of Blood (Peculiar Crimes Unit Series #8) by Christopher Fowler (3/27/2012) — Fowler's acclaimed Peculiar Crimes Unit novels crackle with sly wit, lively suspense, and twists as chilling as London's fog. Now the indomitable duo of Arthur Bryant and John May, along with the rest of their quirky team, return to solve a confounding case with dark ties to the British theater and a killer who may mean curtains for all involved.
The Unseen by Heather Graham (3/27/2012) — In wake of a killing spree in San Antonio, Texas Ranger Logan Raintree cannot sit by and let his city's most vulnerable citizens be slain. So when he is approached to lead a brand-new group of elite paranormal investigators working the case, he has no choice but to accept the challenge. And with it, his powerful ability to commune with the dead. "Graham deftly weaves elements of mystery, the paranormal, and romance into a tight plot that will keep the reader guessing at the true nature of the killer's evil." — Publishers Weekly
Nonfiction