Welcome to the Monday Morning Book Buzz, a preview of notable books being released this week. Some of them will be added to the Academy Library collection; if you read about a title that you would like added to the collection, let me know by either commenting on this post or by contacting me directly at the Library.
If you would like to subscribe to the CA Library Blog, click the Entries (RSS) button at the top of the menu on the right and add the link to your favorite news aggregator. You can also follow us on Facebook by visiting http://www.facebook.com/calibrary and hitting the 'Like' button.
This week's releases are listed by category: Young Adult Fiction, Graphic Novels, General Fiction and Nonfiction. On-sale dates are indicated in parentheses.
Notable New Releases for the week of April 23rd:
Young Adult Fiction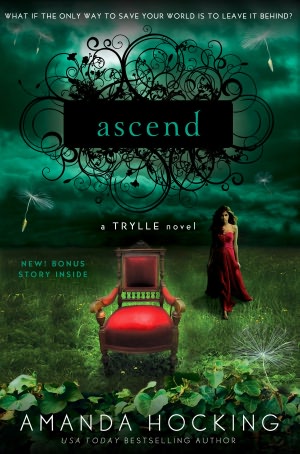 Ascend (Trylle Trilogy #3) by Amanda Hocking (4/24/2012) — Trylle queen Wendy Everly tries to stop the immortal Oren from destroying her and her friends, while having to make the choice of who she will love for the rest of her life. "Hocking saves the best for last in the final installment of the Trylle trilogy." — Kirkus Reviews
The Selection by Kiera Cass (4/24/2012) — Sixteen-year-old America Singer is living in the caste-divided nation of Illea, which formed after the war that destroyed the United States. America is chosen to compete in the Selection–a contest to see which girl can win the heart of Illea's prince–but all she really wants is a chance for a future with her secret love, Aspen, who is a caste below her. "A cross between The Hunger Games (minus the bloodsport) and The Bachelor (minus the bloodsport)." — Publishers Weekly
The Immortal Rules by Julie Kagawa (4/24/2012) — Allison Sekemoto survives in the Fringe, the outermost circle of a vampire city, until she too becomes an immortal vampire. Forced to flee into the unknown, outside her city walls, she joins a ragged band of humans who are seeking a legend–a possible cure to the disease that killed off most of humankind and created the rabids, the mindless creatures who threaten humans and vampires alike. "Allie's a smart, strong and compelling heroine, and readers will gladly join her for this adrenaline-rich ride." — Kirkus Reviews
The Killing (CHERUB Series) by Robert Muchamore (4/24/2012) — James embarks on a dangerous mission for the CHERUB agency, taking down the world's most powerful drug lord, putting his own safety aside in the hopes of ridding the streets of dangerous drugs.
Masque of the Red Death by Bethany Griffin (4/24/2012) — In this twist on Edgar Allen Poe's gothic short story, a wealthy teenage girl who can afford a special mask to protect her from the plague that decimated humanity in the mid-1800s, falls in love, becomes caught up in a conspiracy to overthrow an oppressive government, and faces the threat of a new plague. "In this incredible reimagining, Griffin captures the eerie atmosphere of Edgar Allan Poe's original short story while transporting the reader to a swampy, humid new world that is at once gothic and modern." — Voice of Youth Advocates
Eve of Destruction (Dark Eden Series #2) by Patrick Carman (4/24/2012) — Will Besting and the other teens whose phobias were "cured" at Fort Eden have been summoned back by Mrs. Goring. Her dying wish is to see them together one last time. Or is it? Ensnared in a dangerous, ever-deepening mystery, Will must lead his friends through a perilous underground trap masterminded by two devious souls at war with each other. "[Carman] delivers the cinematic adventure goods." — Booklist
The Story of Us by Deb Caletti (4/24/2012) — 18-year-old Cricket, having decided to take a break from her long-time boyfriend to sort out her love life, spends a week preparing for her mother's wedding and finds her life getting even more complicated by stepsisters who are against the marriage, a family secret revealed by her grandfather, the arrival of her mom's soon-to-be husband's ex, and feelings for a sweet and sexy guy she just met. "A thoughtful and enjoyable book with a bit more meat than many other relationship stories." — School Library Journal
Thumped by Megan McCafferty (4/24/2012) — In this sequel to Bumped, Melody and Harmony are without a doubt two of the most powerful pregnant teens on the planet, and there is only one thing they could do that would make them more famous than they already are: tell the truth. "A sparkling, imaginative romp that is nevertheless plenty provocative." — Kirkus Reviews
Social Suicide by Gemma Halliday (4/24/2012) — In this sequel to Deadly Cool, Hartley Featherstone's first big story for the school paper takes an unexpected turn when she discovers the girl she's supposed to interview dead in her swimming pool. "Hartley has enough smarts combined with obvious foibles to make her a likable heroine…suspenseful fun." — Kirkus Reviews
Purity by Jackson Pearce (4/24/2012) — 16-year-old Shelby finds it difficult to balance her mother's dying request to live a life without restraint with her father's plans for his "little princess," which include attending a traditional father-daughter dance that culminates with a ceremonial vow to live "whole, pure lives." "A purely satisfying look at mourning and sexuality–and even their connection." — Kirkus Reviews
Rebel Fire (Sherlock Holmes: The Legend Begins Series #2) by Andrew Lane (4/24/2012) — 14-year-old Sherlock Holmes knows that Amyus Crowe, his mysterious American tutor, has some dark secrets. But he didn't expect to find John Wilkes Booth, the notorious assassin, apparently alive and well in England and Crowe somehow mixed up in it. "The fast pace and astonishing adventures overshadow any stilted prose, rendering this a satisfying and engrossing read." — School Library Journal
Spirit's Princess by Esther Friesner (4/24/2012) — In ancient Japan, Himiko, the privileged daughter of her clan's leader, fights the constraints and expectations imposed on young women and finds her own path, which includes secret shaman lessons. "High appeal for those who enjoy immersing themselves in another time and place. Devoted readers of Friesner's Princesses of Myth series will welcome this newest heroine." — School Library Journal
Zero by Tom Leveen (4/24/2012) — After graduating from high school, aspiring artist Amanda "Zero" Walsh unexpectedly begins a relationship with a drummer in a punk rock band, which helps her come to terms with her feelings about herself, her falling out with her best friend, and her parents' personal problems. "Will appeal to teens who enjoy romance with a bit of an edge." — Voice of Youth Advocates
All the Right Stuff by Walter Dean Myers (4/24/2012) — The summer after his absentee father is killed in a random shooting, Paul volunteers at a Harlem soup kitchen where he listens to lessons about "the social contract" from an elderly African American man, and mentors a seventeen-year-old unwed mother who wants to make it to college on a basketball scholarship. "Myers fits a large cast and many motivations into a relatively small work, and they in turn transform this extended examination of political philosophy into a must-read novel." — Publishers Weekly
Graphic Novels
Hush, Hush (Graphic Novel) by Becca Fitzpatrick (4/24/2012) — In this graphic adaptation of Fitzpatrick's best-selling novel, for  Nora Grey, romance was not part of the plan. Not until Patch came along. With his easy smile and eyes that seem to see inside her, Nora is drawn to him against her better judgment. But after a series of terrifying encounters, Nora's not sure who to trust.
General Fiction
The Wind through the Keyhole: A Dark Tower Novel by Stephen King (4/24/2012) — Set between the events of Wizard and Glass and Wolves of the Calla, King returns to the rich landscape of Mid-World, the spectacular territory of the Dark Tower fantasy saga. When they encounter a terrible storm on their way to the Outer Baronies, Roland Deschaine and his ka-tet–Jake, Susannah, Eddie, and Oy the Bumbler–take shelter and Roland passes the time by sharing two stories from his past. "This is King at his most beguiling and most literarily distinguished." — Booklist starred review
Crystal Gardens by Amanda Quick (4/24/2012) — After novelist and professional companion Evangeline Ames was attacked in the London streets, she rents a cottage in Little Dixby, sensing paranormal energy in the nearby Crystal Gardens and being comforted by it she goes there when she feels threatened. There she meets the owner Lucas Sebastian and the two find that they may have a common enemy. "Delivers all that Quick fans swoon over." — Kirkus Reviews
Shadow Blizzard (Chronicles of Siala Series #3) by Alexey Pehov (4/24/2012) — In the third book in this bestselling epic fantasy  series, Shadow Harold, Siala's master thief, is on a quest for the magic Horn that will restore peace to his world, but must face the most fearsome obstacles yet – obstacles that have destroyed everyone before him.
Red, White, and Blood by Christopher Farnsworth (4/26/2012) — The Presidential campaign trail, 2012: a political operative and a volunteer are brutally murdered. Written in blood on the wall of the crime scene: IT'S GOOD TO BE BACK. And with that, a centuries-old horror known only as the Boogeyman returns to taunt Nathaniel Cade, the President's Vampire. "Farnsworth keeps the twists and explosive violence coming, keeping readers in suspense until the very last page." — Publishers Weekly
Nonfiction