Welcome to the Monday Morning Book Buzz, a preview of notable books being released this week. Some of them will be added to the Academy Library collection; if you read about a title that you would like added to the collection, let me know by either commenting on this post or by contacting me directly at the Library.
If you would like to subscribe to the CA Library Blog, click the Entries (RSS) button at the top of the menu on the right and add the link to your favorite news aggregator. You can also follow us on Facebook by visiting http://www.facebook.com/calibrary and hitting the 'Like' button.
This week's releases are listed by category: Young Adult Fiction, Graphic Novels, General Fiction and Nonfiction. On-sale dates are indicated in parentheses.
Notable New Releases for the week of June 18th:
Young Adult Fiction
Something Like Normal by Trish Doller (6/19/2012) — When Travis returns home from Afghanistan, his parents are splitting up, his brother has stolen his girlfriend and car, and he has nightmares of his best friend getting killed. But when he runs into Harper, a girl who has despised him since middle school, life actually starts looking up. "At its heart, this too-timely novel is purely honest." — Kirkus Reviews
This Is Not a Test by Courtney Summers (6/19/2012) — When six teens become trapped inside their high school during the zombie apocalypse, they quickly discover the line between the living and the dead isn't as clear as they think in this chilling story of survival from the author of Cracked Up to Be and Fall for Anything. "Zombie fans will eat this up, brains, heart, and all." — Booklist
Soulbound (The Legacy of Tril Series #1) by Heather Brewer (6/19/2012) — A new fantasy with a kick-butt heroine from the author of The Chronicles of Vladimir Tod. Seventeen-year-old Kaya, a Healer who wants to learn to fight, must attend Shadow Academy where fighting by Healers is outlawed, and so she asks two young men to train her in secret, leading to a choice that will change their lives forever. "Readers will be swept along as Kaya determinedly takes control of her own future in this predictable if spirited series opener." — Kirkus Reviews
Graphic Novels
The Walking Dead, Volume 16 by Robert Kirkman (6/19/2012) — Reprinting issues #91-96 of the Eisner Award-winning series, The Walking Dead.
General Fiction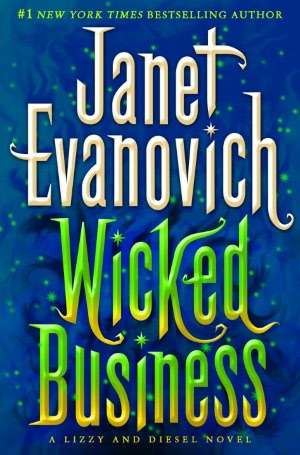 Wicked Business (Lizzy and Diesel Series #2) by Janet Evanovich (6/19/2012) — Dazzling her patrons with scrumptious cupcakes at her Salem, Massachusetts, bakery, Elizabeth Tucker continues to fall for the irresistible Diesel, who protects her from a villain who is seeking mystical stones tied to the seven deadly sins.
Gone by Cathi Hanauer (6/19/2012) — From the author of Sweet Ruin comes a compelling domestic drama about a woman who must hold her family together after her husband disappears. For the past fourteen years, Eve Adams has worked part-time while raising her two children and emotionally supporting her sculptor husband, Eric, through his early fame and success. Now, at forty-two, she suddenly finds herself with a growing career of her own—a private nutritionist practice and a book deal—even as Eric's career sinks deeper into the slump it slipped into a few years ago.
The Long Earth by Terry Pratchett and Stephen Baxter (6/19/2012) — Police officer Monica Jansson, while exploring the burned-out home of a reclusive scientist, finds a curious gadget which turns out to be something called a "stepper", which allows people to step into an alternate Earth at any place and time. "Stay tuned for the next episode of a very old-fashioned sf quest yarn (think Jules Verne and 2001) that, since Pratchett is involved, is crammed with scientifically informed amusement." — Booklist
Gone Missing (Kate Burkholder Series #4) by Linda Castillo (6/19/2012) — Rumspringa is the time when Amish teens are allowed to experience life without rules, but everything changes when a child goes missing and Chief of Police Kate Burkholder is called upon to assist.
The World Without You by Joshua Henkin (6/19/2012) — The Frankel family visits their summer home during on the Fourth of July to memorialize and grieve over the death of Leo, the youngest of four siblings and a journalist who was killed while on assignment in Iraq. "An intelligently written novel that works as a summer read and for any other time of the year." — Publishers Weekly
Tumbleweeds by Leila Meacham (6/19/2012) — Recently orphaned, eleven-year-old Cathy Benson feels she has been dropped into a cultural and intellectual wasteland when she is forced to move from her academically privileged life in California to the small town of Kersey in the Texas Panhandle where the sport of football reigns supreme. "Readers who love epic sagas that span a couple of generations will enjoy this soap opera tale of young love, betrayal, and living a life that might not have a happy ending." — Library Journal
Never Tell (Ellie Hatcher Series #4) by Alafair Burke (6/19/2012) — NYPD detective Ellie Hatcher discovers a world fraught with intense pressures and cyberbullying among Manhattan's elite teenagers when she is forced to open an investigation after the apparent suicide of sixteen-year-old Julia Whitmire."A smooth, compelling read that is proof positive that Burke continues to mature as a writer; this entry in the Ellie Hatcher series sings." — Kirkus Reviews
The Risk Agent by Ridley Pearson (6/19/2012) — When a Chinese national working for an American-owned construction company and his one-man security detail goes missing in Shanghai, the security firm hires Grace Chu, a forensic accountant, and Johnny Knox, a civilian with training in combat and street culture, to find the hostages before the ransom deadline."A cunning thriller worthy of the promised series." — Kirkus Reviews
The Kings of Cool: A Prequel to Savages by Don Winslow (6/19/2012) — In Savages, Don Winslow introduced Ben and Chon, 20-something best friends who risk everything to save O, the girl they both love. In this high-octane prequel, Winslow reaches back in time to tell the story of how Ben, Chon and O became the people they are. "Published to coincide with the release of Academy Award–winning filmmaker Oliver Stone's adaptation of Savages, this cool, clever entry is sure to be a royally popular summer read." — Booklist starred review
Bonefire of the Vanities (Sarah Booth Delaney Series #12) by Carolyn Haines (6/19/2012) — Sarah Booth Delaney takes a job as a maid so that she can explore the estate of psychic Sherry Cameron, who Sarah thinks is deceitfully taking money from wealthy grief-stricken individuals, and after discovering a few dead bodies, she is determined to uncover the truth.
A Hologram for the King by Dave Eggers (6/19/2012) — In a rising Saudi Arabian city, far from weary, recession-scarred America, a struggling businessman pursues a last-ditch attempt to stave off foreclosure, pay his daughter's college tuition, and finally do something great.
Existence by David Brin (6/19/2012) — Gerald Livingston is an orbital garbage collector and has been cleaning up things that have been abandoned in space for a hundred years when he comes across something "spinning" that isn't on the decades old orbital maps; when he captures it and brings it in, rumors fill Earth's infomesh about the alien artifact. "[Brin's] longtime fans will especially appreciate that this story could be read as a prequel to 1983's Startide Rising, while those not familiar with his work will find it an impressive introduction to one of SF's major talents." — Publishers Weekly
The Orphanmaster by Jean Zimmerman (6/19/2012) — From a debut novelist, a gripping historical thriller and rousing love story set in 17th-century Manhattan. Orphan children are going missing, and among those looking are a quick-witted 22-year-old trader and a dashing British spy. "A fascinating perspective on colonial politics and human behavior." — Booklist starred review
A Place in the Country by Elizabeth Adler (6/19/2012) — Newly-single mother Caroline Evans dreams of restoring an old barn into a restaurant, but her chance at happiness suddenly hangs in the balance as whispers of murder and vengeance find their way to her and her daughter.
Nonfiction