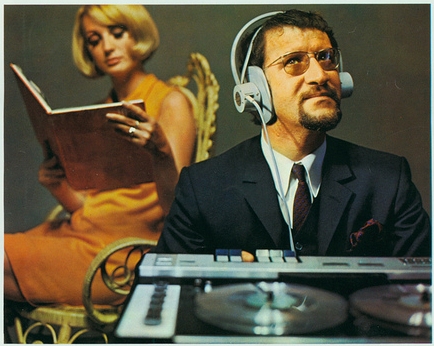 Welcome to Podcast Friday!, a weekly compilation of some of the more interesting podcasts from around the web, listed right here for your listening pleasure!
This page features the Yahoo! WebPlayer, an easy way to bring audio and video into a website. The podcasts listed below will open and play in the WebPlayer automatically. Cool!
2013 Winter Music Preview (Monday, December 24, 2012) — On this edition of the program, All Songs Considered hosts Bob Boilen and Robin Hilton invite a gaggle of other NPR Music peeps on the show to share some of the records they're most looking forward to in 2013. Hear new music from Low, fierce world rhythms from Red Baraat, a traditional latin love song from Ileana Cabra, a marriage of hip-hop and new jazz from Jose James, trippy electronica from FaltyDL, rapper Earl Sweatshirt and more!
Book Review Podcast (Friday, December 28, 2012) — This week, Jami Attenberg discusses her novel The Middlesteins; Leslie Kaufman has notes from the field; Maxwell Carter talks about The Art Forger by B. A. Shapiro; and Gregory Cowles has best-seller news. Sam Tanenhaus is the host.
NPR: 12-27-2012 Books (Thursday, December 27, 2012) — Stories:  1) No Sugar Plums Here: The Dark, Romantic Roots Of 'The Nutcracker' 2) 'Law & Order' Meets Tom Clancy In Dick Wolf's First Novel 3) Shake It Up! Vintage Cocktails Are Ripe For Revival 4) The 'Bitter' Tale Of The Budweiser Family 5) 5 Young Adult Novels That You'll Never Outgrow
Is it possible to use a leaf blower as a supercharger? (Thursday, December 27, 2012) — Leaf blowers are convenient, but are they living up to their potential? In this podcast, Marshall examines superchargers, explaining how a leaf blower can (theoretically) perform the same duties. Tune in and learn more about hacking leaf blowers.
What are carbide tips? (Wednesday, December 26, 2012) — Many cutting tools are made of materials like steel but have carbide tips, which stay sharper longer. Learn more about carbide tips in this podcast from HowStuffWorks.com.
How does high-speed rail work? (Friday, December 21, 2012) — Although it's common in some countries, high-speed rail service isn't available in the United States — yet. Tune in to learn more about this swift rail service — and how soon we're likely to have it in the U.S. — in this episode.
Adios, Old Year: Hellooo, New Year! (Thursday, December 27, 2012) — The transition between one year and the next is a momentous occasion that is celebrated all around the world in a variety of ways. In this episode, Matt and Rachel take a look at some of these New Year's traditions.
Our Very First Live Show (Friday, December 28, 2012) — This week on Pop Culture Happy Hour, NPR Monkey See's Linda Holmes, Stephen Thompson, Trey Graham and Glen Weldon talk about their favorite moments and performances of 2012 in their very first live show. This episode was recorded at NPR's Sale-a-bration on December 15, 2012. Linda also offers up one of her famous quizzes on the year in pop culture, along with audience participation. All that, plus What's Making Us Happy this week.
Episode 398: Jack Reacher (Sunday, December 23, 2012) — We review Jack Reacher and discuss new trailers for This is the End and Pain and Gain, plus we also talk This is 40 and holiday favourites like Elf, Jingle All the Way, and Christmas Vacation.
How Much Does a Good Boss Really Matter? (Wednesday, December 26, 2012) — It's harder than you'd think to measure the value of a boss. But some enterprising economists have done just that — and the news is good.
Why is red a sexy color? (Wednesday, December 26, 2012) — Most people associate red with passion, but why is that exactly? While some theories involve a subconscious physiological response, others focus more on cultural conditioning. Tracy and Holly sort out the (sometimes slightly graphic) details.
Anti-Christmas Movies (Friday, December 21, 2012) — Beyond the classic Christmas films, there's a whole world of movies that include Christmas, but aren't your standard fare. Tracy and Holly go way past "Die Hard" into a list of films that may surprise you (and even become your new holiday standards).
Creativity's Dark Side: Dan Ariely on Creativity, Rationalization and Dishonesty (Tuesday, December 25, 2012) — Dan Ariely is professor of behavioral economics at Duke University. He talks about the subject of his most recent book, The (Honest) Truth About Dishonesty: How We Lie to Everyone–Especially Ourselves.
Sound Opinions on Supergroups (Sunday, December 23, 2012) — Jim and Greg explore the history of the Supergroup. Plus they review the new album from "Girl on Fire" Alicia Keys.
The Shaman and the Scientist: Hallucination (Thursday, December 27, 2012) — Join Robert and Julie as they continue their discussion of the overlap between shamanism and cognitive neuroscience. What sort of experiences do substances like DMT, psilocybin and salvia grant users? Why do human bodies have trace elements of DMT?
The Shaman and the Scientist: My Egoic Mind (Friday, December 21, 2012) — A shaman consumes a psychedelic mushroom and visits the spirit world. Meanwhile, a scientist studies the effects of psilocybin on depression and conceptions of self. In this episode, Robert and Julie discuss the common ground shared by these disciplines.
Unearthed in 2012: Part 1 (Wednesday, December 26, 2012) — In this episode, we look back on some of the biggest historical news of 2012s. Tune in to learn how researchers revealed new theories regarding mercury's involvement in Tycho Brahe's death, and startling insights into the Great Wall of China.
Who was Good King Wenceslas? (Friday, December 21, 2012) — King Wenceslas is best known as a Christmas carol, but he was a real 10th-century Bohemian prince. Wenceslas was known for his kindness to children and promotion of Christianity, but he was murdered at only 22. Listen in to learn more about the Good King.
How Dog Shows Work (Thursday, December 27, 2012) — You know those shows where people wearing sensible shoes jog dogs around in circles? They actually represent the pinnacle of a long and complex path to glory for dogs and their owners. Join Chuck and Josh as they peek inside the American dog show.
Josh and Chuck's Christmas Extravaganza 2012 (Friday, December 21, 2012) — Kick back and raise a glass of eggnog to Josh and Chuck as they carry on a new holiday tradition of exploring the ins and outs of all things Christmas – and maybe even warm your heart along the way. Happy holidays, everybody!
Bliss (Monday, December 17, 2012) — Moments of total, world-shaking bliss are not easy to come by. Maybe that's what makes them feel so life-altering when they strike. And so worth chasing. This hour: stories of striving, grasping, tripping, and falling for happiness, perfection, and ideals.