* * * * *
Take a look at some of the latest nonfiction titles in the New Book section at CA Library:
Social Studies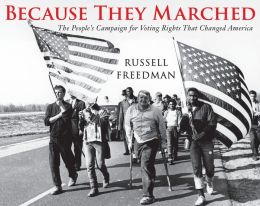 Because They Marched: The People's Campaign For Voting Rights That Changed America / Russell Freedman —
An illustrated account of the 1965 civil rights march from Selma to Montgomery, Alabama, an event that sparked the signing of the Voting Rights Act. "With a timeless narrative and a timely epilogue, this handsome volume offers a vivid account of a pivotal moment in American history." – Booklist starred review
Freedom Summer: The 1964 Struggle For Civil Rights In Mississippi / by Susan Goldman Rubin – An award-winning author offers a riveting account of the civil rights crusade in Mississippi 50 years ago that brought on shocking violence and the beginning of a new political order. "This well-researched and heartfelt work covers every angle, thereby honoring the brave inroads made by activists a half century ago. An educator's guide available on the publisher's website offers countless more leads for deeper research and lesson-plan inspiration." – Booklist starred review
An Indigenous Peoples' History Of The United States / Roxanne Dunbar-Ortiz — Acclaimed historian and activist Dunbar-Ortiz offers a history of the United States told from the perspective of Indigenous peoples and reveals how Native Americans, for centuries, actively resisted expansion of the US empire. "Meticulously documented, this thought-provoking treatise is sure to generate discussion." – Booklist
International Night: A Father And Daughter Cook Their Way Around The World : Including More Than 250 Recipes / Mark Kurlansky and Talia Kurlansky — Once a week in the Kurlansky home, Mark spins a globe and wherever his daughter's finger lands becomes the theme of that Friday night's dinner. Their tradition of International Night has afforded Mark an opportunity to share the recipes, stories, and insights he's collected over more than thirty years of traveling the world writing about food, culture, and history. "Both teens and adults will find the brief country profiles enlightening, and a bibliography of international cookbooks provides fine fodder for a family library." – Publishers Weekly
Science
The Big, Bad Book Of Botany / Michael Largo —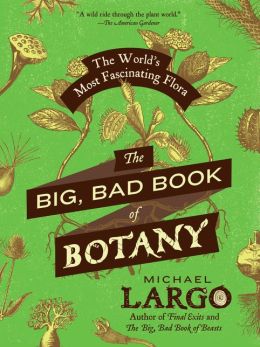 An entertaining and enlightening compendium of the world's most amazing and bizarre plants, revealing their secrets, history, and lore. "This gracefully written book will appeal to general readers interested in botany, who will enjoy browsing information on a wide variety of strange and/or useful plants." – Library Journal
Genetics: Breaking The Code Of Your DNA / Carla Mooney — An introduction to the field of genetics, including how DNA is structured, how genetic inheritance works, and how new discoveries in genetics have helped to cure or prevent diseases. "A solid resource that shows life science and biology students the practicalities and marvels of genetics." – Booklist
Health and Wellness
Beyond Texting: The Fine Art Of Face-To-Face Communication For Teenagers / Debra Fine — Fine, the bestselling author of The Fine Art of Small Talk, describes how to develop the ability to have in-person conversations, offering practical advice on balancing real-world and online relationships and gaining confidence to speak up in personal, educational, and professional atmospheres. "Fine is keenly aware of the role technology plays in teenage relationships, while recognizing that building meaningful connections still requires work." – Publishers Weekly
Do You Know Who You Are?: Discover The Real You / Megan Kaye — Created in collaboration with a professional psychologist who specializes in childhood and adolescence, this book provides an enjoyable and insightful journey for teenage girls who are interested in delving deeper into their true selves. "Teens, especially girls, will find this interactive book engaging and will enjoy reading it on their own or with a group of friends." – School Library Journal
Eating Disorders: The Ultimate Teen Guide / Jessica R. Greene — Greene examines the causes and varieties of teen eating disorders and offers advice on how to overcome them. She also looks at how eating disorders are defined, how common they are, and how they are tied into behavioral addictions. "There are many texts that deal with eating disorders, but this is one of the more comprehensive ones. The author not only covers the basics…of anorexia and bulimia, she also addresses lesser-known types of disordered eating, such as binge eating disorder and unclassified eating disorders. A strong resource." – School Library Journal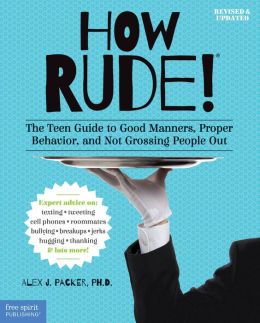 How Rude! : The Teen Guide To Good Manners, Proper Behavior, And Not Grossing People Out / Alex J. Packer, Ph.D. — Explaining etiquette from A ("Applause") to Z ("Zits"), Alex J. Packer blends humor with sound advice as he guides readers and explains why manners and etiquette are important. This revised and updated edition describes the basics of polite behavior in all kinds of situations at home, in school, online and in the world. "This is a fun guide that teens may dip into when facing a confounding situation, and Packer's good nature and good sense make it a useful book for most collections." – School Library Journal
Biography
Angry Optimist: The Life And Times Of Jon Stewart / Lisa Rogak — Biographer Lisa Rogak (And Nothing but the Truthiness: The Rise (and Further Rise) of Stephen Colbert and Haunted Heart: The Life and Times of Stephen King) charts Jon Stewart's unlikely rise to stardom, from his early days growing up in New Jersey, through his years as a struggling standup comic in New York, to The Daily Show, one of the most influential news programs on television today. "Rogak also maps the unstable realm of fake news as she explores how and why this self-deprecating and driven comedian became an inspiring international figure of political conscience and responsibility." – Booklist
Popular Culture
How Star Wars Conquered The Universe: The Past, Present, And Future Of A Multibillion Dollar Franchise / Chris Taylor — An energetic, fast-moving account of a creative and commercial phenomenon, How Star Wars Conquered the Universe explains how a young filmmaker's fragile dream beat out a surprising number of rivals to gain a diehard, multigenerational fan base — and why it will be galvanizing our imaginations and minting money for generations to come. "Taylor's fan-boy enthusiasm coupled with his inviting narrative style make this a fun and informative read for sf enthusiasts, media studies and marketing students, film industry professionals, and aspiring Jedi Knights." – Library Journal
Look for Part 2 of this post later this week!