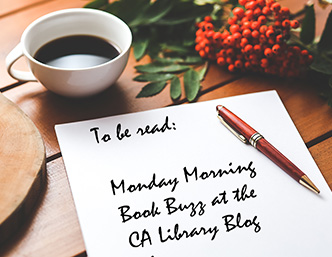 Welcome to the Monday Morning Book Buzz, a preview of notable books being released this week. Some of them will be added to the Academy Library collection; if you read about a title that you would like added, let me know by either commenting on this post or by contacting me directly at the Library — batemane@canandaiguaschools.org.
Notable New Releases for the week of November 30th:
Their Fractured Light (The Starbound Trilogy, Book 3) by Amie Kaufman and Meagan Spooner (12/1) — A year ago, Flynn Cormac and Jubilee Chase made the now-infamous Avon Broadcast, calling on the galaxy to witness LaRoux Industries' corruption. A year before that, Tarver Merendsen and Lilac LaRoux were the only survivors of the Icarus shipwreck, forced to live a double life after their rescue. Now, at the center of the galaxy on Corinth, all four are about to collide with two new players in the fight against LRI.
Hawthorn (Blythewood, Book 3) by Carol Goodman (12/1) — All Avaline Hall wants is to enjoy her senior year at Blythewood Academy, the boarding school where she's been trained to defend humankind from forces of dark magic. But when Ava is shown a glimpse into the future in the enchanted Blythe Wood, she discovers that the evil Judicus van Drood is rallying nations into a war that seems destined to destroy both the human and faerie worlds. "Blythewood fans will find plenty to enjoy in the fast-paced, high-stakes series finale… A satisfying end to an epic trilogy" (Kirkus Reviews).
Tarnished by Kate Jarvik Birch (12/1) — Ella was genetically engineered to be the perfect pet — graceful, demure…and kept. In a daring move, she escaped her captivity and took refuge in Canada. But while she can think and act as she pleases, the life of a liberated pet is just as confining as the Congressman's gilded cage. Her escape triggered a backlash, and now no one's safe, least of all the other pets. But she's trapped, unable to get back to Penn — the boy she loves — or help the girls who need her.
Forbidden by Eve Bunting (12/1) — In early-nineteenth century Scotland, sixteen-year-old Josie, an orphan, is sent to live with an aunt and uncle on the rocky, stormy northwest coast. Everything and everyone in her new surroundings, including her relatives, is sinister, threatening, and mysterious. She's told that Eli, the young man she's attracted to, is forbidden to her, but not why. Spirited, curious, and determined, Josie sets out to learn the village's secrets and discovers evil, fueled by heartless greed, as well as a ghostly presence eager for revenge. "A taut page-turner full of an eeriness that would be at home in any piece of gothic literature" (Booklist).
The Devil's Engine: Hellraiser by Alexander Gordon Smith (12/1) — When a sixteen-year-old troublemaker named Marlow Green is trapped in a surreal firefight against nightmarish creatures in the middle of his New York City neighborhood, he unwittingly finds himself amid a squad of secret soldiers dedicated to battling the legions of the devil himself. Powering this army of young misfits is an ancient machine from the darkest parts of history. Known as the devil's engine, it can make any wish come true-as long as you are willing to put your life on the line. "A chaotic pace, snarky humor, graphic descriptions, and strong language make this title just right for older horror enthusiasts" (School Library Journal).
All We Left Behind by Ingrid Sundberg (12/1) — When Marion Taylor, the shy bookworm, meets sexy soccer captain Kurt Medford at a party, what seems like a sure thing quickly turns into a total mess. One moment they're alone in the middle of a lake, igniting sparks of electricity. The next, they're on dry land, pretending they've never met. But rather than the end, that night is the beginning of something real, terrifying, and completely unforgettable for them both. "A poetic and tumultuous tale of love and loss that will appeal to fans of both realistic fiction and romance" (School Library Journal).
Not If I See You First by Eric Lindstrom (12/1) — Parker Grant doesn't need 20/20 vision to see right through you. That's why she created the Rules: Don't treat her any differently just because she's blind, and never take advantage. There will be no second chances. Just ask Scott Kilpatrick, the boy who broke her heart. "An unflinching exploration of trust, friendship, and grief" (Kirkus starred review).