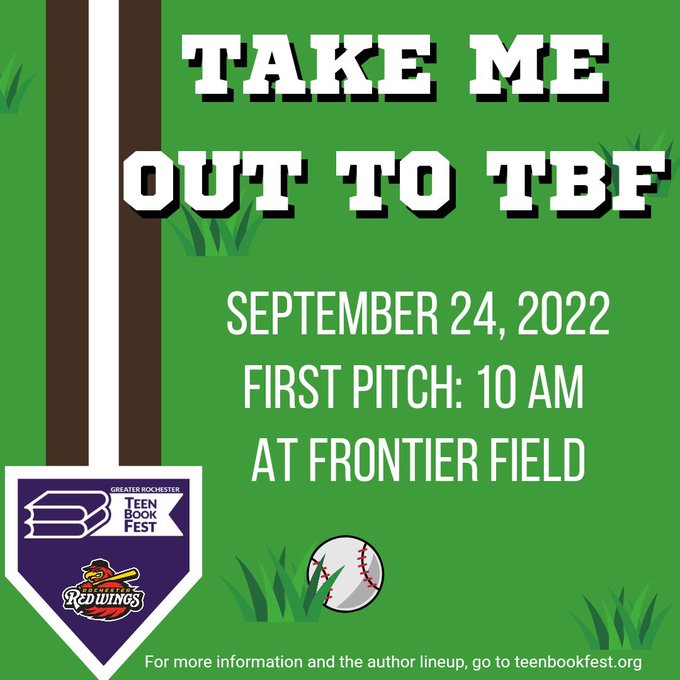 The Greater Rochester Teen Book Festival is Saturday, September 24th at Frontier Field!
The Teen Book Festival celebrates and promotes reading by connecting teens and authors, and with more than a dozen authors participating in 2022, there are plenty of chances to meet the ones you love!
Each week, we are featuring a TBF author here on the CA Library Blog. This week, we're taking a look at the works of A.S. King!
A.S. King has been called "One of the best Y.A. writers working today" by the New York Times Book Review. King is the author of highly-acclaimed novels including:
2021's Switch,
2020 Michael L. Printz Award winner and LA Times Book Prize finalist Dig.
2016's Still Life with Tornado,
2015's surrealist I Crawl Through It, Glory O'Brien's History of the Future and Reality Boy,
2012 Los Angeles Times Book Prize winner Ask the Passengers, and Everybody Sees the Ants,
2011 Michael L. Printz Honor Book Please Ignore Vera Dietz
…among others. She also writes Middle Grade fiction as Amy Sarig King.
In this short video, King offers a pep talk to keep you motivated! Listen to her thoughts on not being a guilty reader!
~~~~~~~~~~~~~~~~~~~~~~~~~~~~~~
Ask The Passengers by A.S. King — Astrid Jones, who realizes that she is a lesbian, deals with the gossip and rejection she faces by sending love up to the people on airplanes as they pass over her. "King's thoughtful, sad, funny, and frank book is finally about paradox and will appeal to any mature teen resisting the pressure to conform or rebel; anyone who wants to define herself on her own terms; and anyone whose family life belies the 1950s sitcom myth" (School Library Journal). Get the Audiobook
Dig. by A.S. King — Only a generation removed from being simple Pennsylvania potato farmers, Gottfried and Marla Hemmings managed to trade digging spuds for developing subdivisions and now sit atop a seven-figure bank account, wealth they've declined to pass on to their adult children or their teenage grand children. Now the five teenagers are lost in a tangled maze of family secrets. "Heavily meditative, this strange and heart-wrenching tale is stunningly original" (Kirkus Reviews). Get the eBook | Get the Audiobook
Everybody Sees The Ants by A.S. King — Overburdened by his parents' bickering and a bully's attacks, fifteen-year-old Lucky Linderman begins dreaming of being with his grandfather, who went missing during the Vietnam War, but during a visit to Arizona, his aunt and uncle and their beautiful neighbor, Ginny, help him find a new perspective. "A smart, funny, and passionate novel that embodies the idea that "It Gets Better" — when you take action" (Publishers Weekly). Get the Audiobook
Glory O'Brien's History of the Future by A.S. King — As her high school graduation draws near, Glory O'Brien begins having powerful and terrifying visions of the future as she struggles with her long-buried grief over her mother's suicide. "Elevating herself above the pack and imbuing her novel with incredible nuance, King artfully laces themes of disintegrating friendship, feminism, and sexuality into the narrative, as well as some provocative yet subtle commentary on the male gaze and the portrayal of women in our culture" (School Library Journal). Get the Audiobook
I Crawl Through It by A.S. King — A surrealist novel about four teenagers who find unconventional ways to escape standardized tests and their perilous world, and discover that the only escape from reality is to face it. " At once a statement on the culture of modern schools as well as mental health issues, this novel is an ambitious, haunting work of art" (School Library Journal).
Please Ignore Vera Dietz by A.S. King — When her best friend, whom she secretly loves, betrays her and then dies under mysterious circumstances, high school senior Vera Dietz struggles with secrets that could help clear his name. "King depicts the journey to overcome a legacy of poverty, violence, addiction and ignorance as an arduous one, but Vera's path glimmers with grace and hope" (Kirkus Reviews). Get the Audiobook
Reality Boy by A.S. King — An emotionally damaged seventeen-year-old boy in Pennsylvania who was once an infamous reality television show star, meets a girl from another dysfunctional family, and she helps him out of his angry shell. "As always, King's societal critique is spot-on and scathing, this time examining the dehumanization wrought by reality television on its "stars" and on its viewers in order to feel better about themselves" (Horn Book).
Still Life With Tornado by A.K. King — A talented 16-year-old artist slowly discovers the history of domestic violence behind why her brother left the family years earlier, and why she suddenly cannot make art. "A deeply moving, frank, and compassionate exploration of trauma and resilience, filled to the brim with incisive, grounded wisdom" (Booklist). Get the Audiobook
Switch by A.K. King — Set in a parallel version of America where time has stopped, the novel tells the story of one teenage girl trying to untangle her toxic family's secrets — and maybe restart the world's clocks in the process. "Timely and extraordinary, teen readers will find themselves immersed in this timeless world…Highly recommended" (School Library Journal). Get the eBook | Get the Audiobook