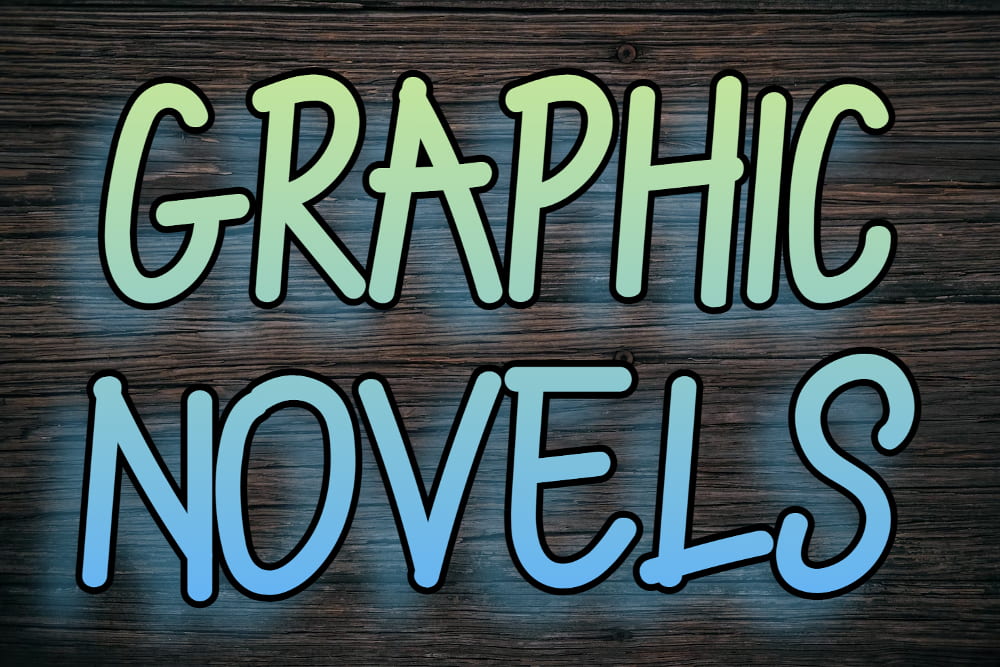 We continue our series of posts featuring some of the best books in the CA Library collection — today's featured titles are all Graphic Novels, both fiction and nonfiction. Follow the links for each book to learn more from the CA Library catalog!
---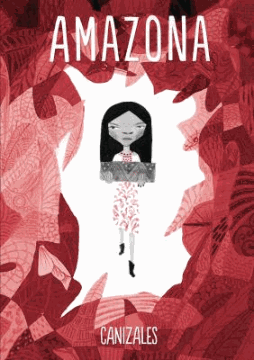 Amazona by Canizales — Andrea, a young Indigenous Colombian woman, has returned to the land she calls home. She comes to mourn her child — and to capture evidence of the illegal mining that displaced her family. "With characters sympathetic but never pathetic, the story — part thriller, part political drama — will grip readers from page 1" (Booklist).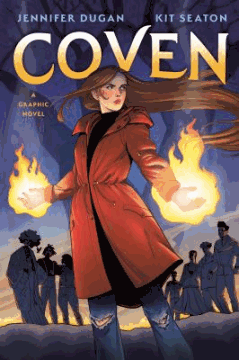 Coven by Jennifer Dugan and Kit Seaton — After members of her coven are murdered, sixteen-year-old Esmy moves across the country with her parents to master her neglected craft in order to find the killer and protect her coven. "Dugan's empathetic cast, whose interpersonal challenges and endearing romances flourish amid supernatural conflict, feel solidly teen, buoying this vividly illustrated graphic novel adventure" (Publishers Weekly).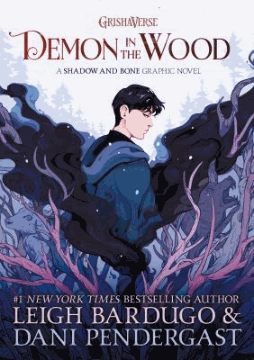 Demon In The Wood: A Shadow and Bone Graphic Novel by Leigh Bardugo and Dani Pendergast — A prequel to the "Grisha Trilogy" takes the reader into Ravka's mysterious past, when Grisha lived as fugitives and the Darkling took his first steps on the path to power. "Attractive, full-color art emphasizes characters' expressive faces, and the format is welcoming to Darkling fans coming to the series from the Netflix show. A poignant, humanizing backstory for the antagonist of this beloved, long-running series" (Kirkus Reviews).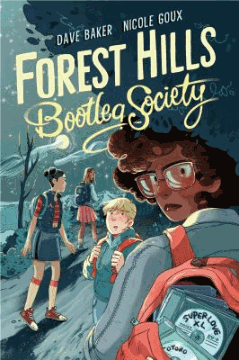 Forest Hill Bootleg Society by Dave Baker and Nicole Goux — Set in 2005, this gorgeously illustrated, funny, and honest graphic novel follows four teens who stumble into an illicit anime DVD-burning business that shakes up their conservative small town…and their friendship. "Paired with Baker and Goux's snappy dialogue and expressive, visually varied characters, the group's interpersonal challenges are deeply relatable and fully realized" (Publishers Weekly).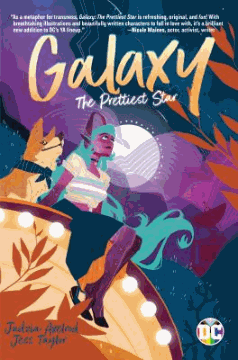 Galaxy: The Prettiest Star by Jadzia Axelrod and Jess Taylor — Taylor Barzelay seems to have the perfect life with good looks and good grades, but they are actually an alien princess from the planet Cyandii. After six long years of accepting the duty to remain in hiding as a boy on Earth, it all changes when they meet confident Metropolis city girl Katherine. "With beautiful artwork that features expressive figures highlighted against abstract backgrounds and a narrative that first breaks, then repairs readers' hearts, turning the final page is a sad affair" (Kirkus Reviews).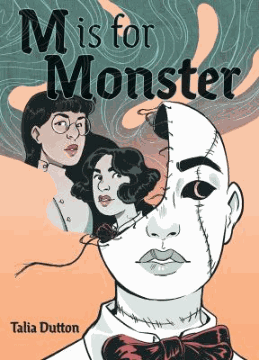 M Is For Monster by Talia Dutton — A stunning graphic novel inspired by the gothic horror classic Frankenstein by Mary Shelley. Bringing her sister back to life, scientist Dr. Frances Ai is faced with a dilemma when the girl who rises from the slab is clearly not Maura and wants nothing to do with Frances's attempts to turn her into something she's not. "While the gripping storytelling largely revolves around M's internal conflict and growth, the tri-color (black, white, and shades of green) art breathes life into the vivid setting and the intriguing supporting characters" (Horn Book).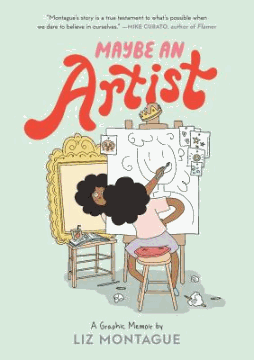 Maybe An Artist by Liz Montague — A graphic memoir by one of the first Black female cartoonists to be published in the New Yorker, at the age of 22. This is her story from the age 5 through 22, how she navigated life in her predominantly white New Jersey town, overcame severe dyslexia through art, excelled as a track star and found her calling in life. "Montague's story is sometimes poignant but ultimately sweet and uplifting, and it will provide inspiration for young artists everywhere" (School Library Journal).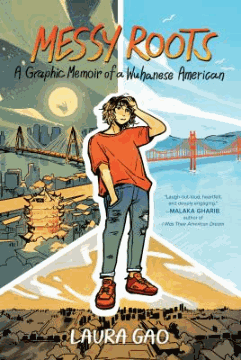 Messy Roots: A Graphic Memoir of a Wuhanese American by Laura Gao — Seamlessly toggling between past and present, this funny graphic memoir follows a queer Chinese American's immigration to Texas where she just wants to make the basketball team, escape Chinese school, and figure out why she is attracted to girls. "A tender story of self-acceptance that lifts the story of Wuhan beyond COVID and shines light on a region with a rich culture and history" (School Library Journal).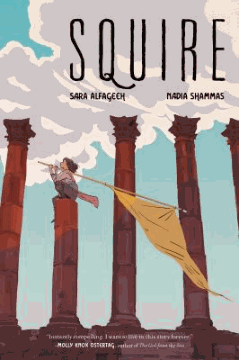 Squire by Sara Alfageeh and Nadia Shammas — Aiza has always dreamt of becoming a Knight, the highest military honor in the once-great Bayt-Sajji Empire, and as a member of the subjugated Ornu people, Knighthood is her only path to full citizenship. It's not how she imagined it, though, as Aiza realizes that the "greater good" that Bayt-Sajji's military promises might not include her, and that the recruits might be in greater danger than she ever imagined. "This alternative history of the Middle East and North Africa deftly tackles complex subjects such as war, loyalty, and imperialism, all made humane and relatable through a young, compelling protagonist" (Booklist).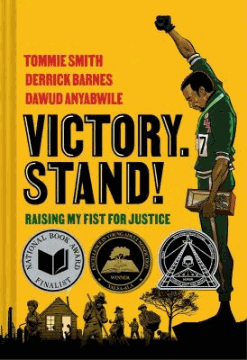 Victory. Stand! : Raising My Fist For Justice by Tommie Smith, Derrick Barnes and Dawud Anyabwile — A groundbreaking and timely graphic memoir from one of the most iconic figures in American sports — and a tribute to his fight for civil rights. On October 16, 1968, during the medal ceremony at the Mexico City Olympics, Tommie Smith, the gold medal winner in the 200-meter sprint, and John Carlos, the bronze medal winner, stood on the podium in black socks and raised their black-gloved fists to protest racial injustice inflicted upon African Americans. Both men were forced to leave the Olympics, received death threats, and faced ostracism and continuing economic hardships. "This evocative undertaking extends histories of 20th-century Black struggles for new generations, reminding us to continue to be brave, courageous, and organize for change. Authentic and inspiring" (Kirkus Reviews).