The Young Adult Library Services Association (or YALSA, for those who follow these things) released the 2011 list of Best Fiction For Young Adults this week. Until this year, the annual list of the best in young adult literature was called Best Books For Young Adults, but a decision last year resulted in a best-of list made up of just fiction titles…which is okay. I'll look at some nonfiction books in my next post.
Anyhoo, if you'd like to browse the entire list, here's the link. Most are already available at CA Library, with more coming in soon.
YALSA also publishes a Top Ten Best Fiction For Young Adults list, and here it is (titles marked with an * are available at CA Library):
* SHIP BREAKER by Paolo Bacigalupi — In a futuristic world, teenaged Nailer scavenges copper wiring from grounded oil tankers for a living, but when he finds a beached clipper ship with a girl in the wreckage, he has to decide if he should strip the ship for its wealth or rescue the girl.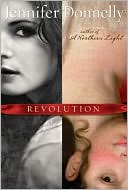 * REVOLUTION by Jennifer Donnelly — An angry, grieving seventeen-year-old musician facing expulsion from her prestigious Brooklyn private school travels to Paris to complete a school assignment and uncovers a diary written during the French revolution by a young actress attempting to help a tortured, imprisoned little boy–Louis Charles, the lost king of France.
* FINNIKIN OF THE ROCK by Melina Marchetta — Now on the cusp of manhood, Finnikin, who was a child when the royal family of Lumatere was brutally murdered and replaced by an imposter, reluctantly joins forces with an enigmatic young novice and fellow-exile, who claims that her dark dreams will lead them to a surviving royal child and a way to regain the throne of Lumatere.
* AMY & ROGER'S EPIC DETOUR by Morgan Matson — After the death of her father, Amy, a high school student and Roger, a college freshman, set out on a carefully planned road trip from California to Connecticut, but wind up taking many detours, forcing Amy to face her worst fears and come to terms with her grief and guilt.
HOLD ME CLOSER, NECROMANCER by Lish McBride — Sam LaCroix, a Seattle fast-food worker and college dropout, discovers that he is a necromancer, part of a world of harbingers, werewolves, satyrs, and one particular necromancer who sees Sam as a threat to his lucrative business of raising the dead.
TRASH by Andy Mulligan — A group of fourteen-year-old boys, who make a living picking garbage from the outskirts of a large city, finds something special and mysterious that brings terrifying consequences.
BAMBOO PEOPLE by Mitali Perkins — Two Burmese boys, one a Karenni refugee and the other the son of an imprisoned Burmese doctor, meet in the jungle and in order to survive they must learn to trust each other.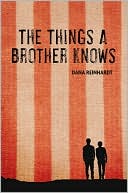 * THE THINGS A BROTHER KNOWS by Dana Reinhardt — Although they have never gotten along well, seventeen-year-old Levi follows his older brother Boaz, an ex-Marine, on a walking trip from Boston to Washington, D.C. in hopes of learning why Boaz is completely withdrawn.
* LAST NIGHT I SANG TO THE MONSTER by Benjamin Saenz — Eighteen-year-old Zach does not remember how he came to be in a treatment center for alcoholics, but through therapy and caring friends, his amnesia fades and he learns to face his past while working toward a better future.
REVOLVER by Marcus Sedgwick — Fourteen-year-old Sig is stranded at a remote cabin in the Arctic wilderness with his father, who died just hours earlier after falling through the ice, when a terrifying man arrives, claiming Sig's father owes him a share of a horde of stolen gold and that he will kill Sig if he does not get his money.
BTW, if you'd like to browse all of the Best Books/Fiction For Young Adults from years past available at CA Library, it's simple. Just visit the CA Library catalog and search for "Notable Best Books". Or, you can click here 🙂