Welcome to the Monday Morning Book Buzz. Every week we take a look at some notable new books being released in the coming days.
If you would like to subscribe to the CA Library Blog, click the Entries (RSS) button at the top of the menu on the right and add the link to your favorite news aggregator. You can also follow us on Facebook by visiting http://www.facebook.com/calibrary and hitting the 'Like' button.
This week's releases are listed by category: Young Adult Fiction, General Fiction and Nonfiction. On-sale dates are indicated in parentheses.
Notable New Releases for the week of October 24th:
Young Adult Fiction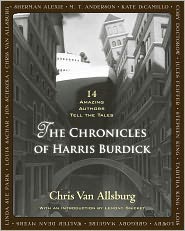 Au Revoir, Crazy European Chick by Joe Schreiber (10/25/2011) — It's prom night—and Perry just wants to stick to his own plan and finally play a much anticipated gig with his band in the Big Apple. But when his mother makes him take Gobija Zaksauskas—their quiet, geeky Lithuanian exchange student—to the prom, he never expects that his ordinary high school guy life will soon turn on its head. Perry finds that Gobi is on a mission, and Perry has no other choice but to go along for a reckless ride through Manhattan's concrete grid with a trained assassin in Dad's red Jag. "Plain and simple, it's a blast. A couple of them, actually." — Publishers Weekly
The Chronicles of Harris Burdick: Fourteen Amazing Authors Tell the Tales by Chris Van Allsburg (10/25/2011) — An inspired collection of short stories by an all-star cast of best-selling storytellers based on the thought-provoking illustrations in Chris Van Allsburg's The Mysteries of Harris Burdick. "Stories of zombies and vampires may be the obvious choice for a Halloween read, but the 14 surreal tales in this book offer a far more subtle and nape-tingling experience…All these tales are a pleasure to ponder." — The Washington Post
Desert Angel by Charlie Price (10/25/2011) — Fourteen-year-old Angel wakes up one morning at her desert trailer home to discover her mother has been murdered by a lowlife named Scotty, who has vanished. Angel has no water, no weapon, but she knows that Scotty, an expert tracker and hunter, will surface soon in order to eliminate her as a witness. She has to run, to disappear, if she is to survive and tell the world what happened. "[Angel] realizes that a new life can rise up out of an old life and that hope is present and can prevail…If suspense is your bag, this is a book to read." — VOYA
Destined (House of Night Series #9) by Kristin Cast and P.C. Cast (10/25/2011) — The House of Night series is an international phenomenon, reaching #1 on bestseller lists worldwide, and remaining a fixture on the New York Times Children's Series bestseller list for an amazing 116 weeks and counting. In Destined, the forces of Light and Dark collide as their epic struggle focuses on Tulsa's House of Night.
The Giver (Illustrated Gift Edition) by Lois Lowry, illustrated by Bagram Ibatoulline (10/25/2011) — A new, illustrated edition of Lowry's ground-breaking dystopian novel (winner of the 1994 Newbery Medal). Given his lifetime assignment at the Ceremony of Twelve, Jonas becomes the receiver of memories shared by only one other in his community and discovers the terrible truth about the society in which he lives.
The Iron Knight by Julie Kagawa (10/25/2011) — Book 4 in the Iron Fey series. Ash is about to learn something that will change everything. A truth that turns reality upside down, challenges his darkest beliefs and shows him that, sometimes, it takes more than courage to make the ultimate sacrifice.
Mastiff (Beka Cooper Series #3) by Tamora Pierce (10/25/2011) — The Legend of Beka Cooper gives Tamora Pierce's fans exactly what they want—a smart and savvy heroine making a name for herself on the mean streets of Tortall's Lower City—while offering plenty of appeal for new readers as well. "An involving police procedural wrapped in fantasy clothing, this novel provides both crackerjack storytelling and an endearingly complex protagonist." — Kirkus Reviews
Phantom (The Vampire Diaries Series: The Hunters) by L. J. Smith (10/25/2011) — A new series by the creator of the popular Vampire Diaries series (now a television series). Since meeting vampire brothers, Stefan and Damon Salvatore, Elena Gilbert has been to hell and back. Now that she and her friends have saved their hometown from a demonic spirit, everything can finally go back to normal. But Elena should know better than anyone that Fell's Church will never be normal.
General Fiction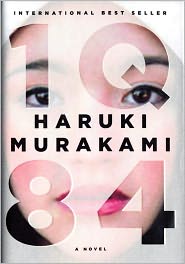 1Q84 by Haruki Murakami (10/25/2011) — In Tokyo in 1984, a young woman named Aomame follows a taxi driver's enigmatic suggestion and begins to notice puzzling discrepancies in the world around her. She has entered, she realizes, a parallel existence, which she calls 1Q84 —"Q is for 'question mark.' A world that bears a question." "Orwellian dystopia, sci-fi, the modern world (terrorism, drugs, apathy, pop novels)—all blend in this dreamlike, strange and wholly unforgettable epic." — Kirkus Reviews
A Christmas Homecoming by Anne Perry (10/25/2011) — Perry's ninth Christmas novel keeps readers poised on a razor's edge of suspense, hypnotized by a story in which the heartwarming power of goodness is challenged by the seductive power of inner darkness.
The Christmas Note by Donna VanLiere (10/25/2011) — From author of The Christmas Hope series, which has enthralled millions of readers, comes a new inspirational novel about an unlikely friendship between two women — one that will change each of their lives forever.
City of Whispers by Marcia Muller (10/26/2011) — Private eye Sharon McCone receives an e-mail asking for help from her emotionally disturbed half brother Darcy Blackhawk. She replies…but gets no response. As Sharon digs deeper, she discovers that Darcy sent his message from an Internet café in San Francisco, a city he's never been to before. "Alternating chapters narrated by different characters add to the suspense of the intricate plot, which propels readers…to a harrowing, haunting denouement." — Publishers Weekly
The Litigators by John Grisham (10/25/2011) — Law partners Oscar Finley and Wally Figg are content with trying low-profile cases — mostly divorces and DUIs — until a new partner encourages them to get involved in a big case, a class action lawsuit against a pharmaceutical company. "If you're a Grisham apostate, now might be the time to get reacquainted." — The Washington Post
The Night Eternal (Strain Trilogy #3) by Guillermo del Toro (10/25/2011) — It's been two years since the vampiric virus was unleashed in The Strain and the entire world now lies on the brink of annihilation. Humankind's only hope for salvation is Dr. Ephraim Goodweather—head of the Centers for Disease Control's team—and his ragtag band of freedom fighters. But who will pay the ultimate sacrifice—so that others may be saved?
The Snow Angel by Glenn Beck (10/25/2011) — Rachel Price has just one happy memory from her childhood: the moment her father took her hands while playing outside on a cold, snowy day and called her his angel. Years later, Rachel's daughter is the only light in what has become a dark life. Consumed by an abusive marriage, but secure in the safety of the familiar, she is too afraid to escape. Then an unexpected phone call from an old friend changes everything. "Beck's novel The Christmas Sweater topped holiday bestseller lists from coast-to-coast…his new yuletide story is an equally touching tale of family, recovery, and forgiveness." — Barnes & Noble
Nonfiction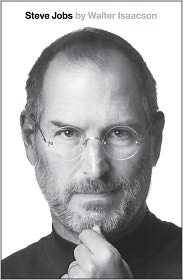 100 Unforgettable Dresses by Hal Rubenstein (10/25/2011) — Rubenstein, the fashion director of InStyle and one of its founding editors, shares stories, secrets, intrigue, and insights behind the most indelible dresses in our collective memories, celebrating the staying power of these creations as well as the lasting impact they've had in fashion, popular culture, and our own lives.
Harry Potter Page to Screen: The Complete Filmmaking Journey by Bob McCabe (10/25/2011) — Developed in collaboration with the creative team behind the celebrated Harry Potter film series, this deluxe, 500-plus page compendium features exclusive stories from the cast and crew, hundreds of never-before-seen photographs and concept illustrations sourced from the closed film sets, and rare memorabilia.
A History of the World in 100 Objects by Neil MacGregor (10/27/2011) — In this original and thought-provoking book, MacGregor, director of the British Museum, has selected one hundred man-made artifacts, each of which gives us an intimate glimpse of an unexpected turning point in human civilization. Based on the celebrated BBC Radio series. "This beautifully illustrated book demonstrates how much we can learn about past societies from the things they have left behind." — Kirkus Reviews
Jerusalem: The Biography by Simon Sebag Montefiore (10/25/2011) — From King David to Barack Obama, from the birth of Judaism, Christianity and Islam to the Israel-Palestine conflict, this is the epic history of three thousand years of faith, slaughter, fanaticism and coexistence. "Montefiore delivers Jerusalem's unfolding story as epic panorama and nuanced documentary history, suitable for general and scholarly audiences." — Publishers Weekly
Lidia's Italy in America by Lidia Matticchio Bastianich (10/25/2011) — After taking us on journeys into her own kitchen and into kitchens across Italy, Bastianich invites us on a road trip into the heart of Italian American cooking today. "This substantial collection furthers Bastianich's tradition of bringing Italian culture to American tables by way of mouthwateringly hearty cuisine." — Kirkus Reviews
Martha's Entertaining: A Year of Celebrations by Martha Stewart (10/25/2011) — Stewart welcomes you into her world, where she entertains in the expressive and beautiful style that she has made so famous. Whether a simple blueberry breakfast on a Sunday morning in Maine or a more lavish holiday dinner at Bedford, each of the gatherings is equally memorable.
Midnight Rising: John Brown and the Raid That Sparked the Civil War by Tony Horwitz (10/25/2011) — Plotted in secret, launched in the dark, John Brown's raid on Harpers Ferry was a pivotal moment in U.S. history. But few Americans know the true story of the men and women who launched a desperate strike at the slaveholding South. Bestselling author Horwitz portrays Brown's uprising in vivid color, revealing a country on the brink of explosive conflict. "By recalling the drama that fired the imagination and fears of Brown's time, Midnight Rising calls readers to account for complacency about social injustices today." — Library Journal
Pauline Kael: A Life in the Dark by Brian Kellow (10/27/2011) — The first biography of The New Yorker's influential, powerful, and controversial film critic. "In his fluent, immensely readable study, Kellow fairly represents Kael's tendency to hyperbole as well as hurtful ad hominem." — Publishers Weekly
Steve Jobs by Walter Isaacson (10/24/2011) — Based on more than forty interviews with Jobs conducted over two years—as well as interviews with over a hundred family members, friends, adversaries, competitors, and colleagues—Isaacson has written a riveting story of the roller-coaster life and searingly intense personality of a creative entrepreneur whose passion for perfection and ferocious drive revolutionized six industries: personal computers, animated movies, music, phones, tablet computing, and digital publishing.
Thinking, Fast and Slow by Daniel Kahneman (10/25/2011) — Kahneman (Eugene Higgins Professor of Psychology Emeritus at Princeton University) takes us on a groundbreaking tour of the mind and explains the two systems that drive the way we think. System 1 is fast, intuitive, and emotional; System 2 is slower, more deliberative, and more logical. Kahneman exposes the extraordinary capabilities—and also the faults and biases—of fast thinking, and reveals the pervasive influence of intuitive impressions on our thoughts and behavior. "a lucid, marvelously readable guide to spotting—and correcting—our biased misunderstandings of the world." — Publishers Weekly