The fourth annual United States Board on Books for Young People's (USBBY) Outstanding International Books committee has released the 2009 Outstanding International Books list, offering "the best of children's literature from faraway places—books that introduce readers to outstanding authors and illustrators from other countries, help them see the world from other points of view, and provide another perspective or address a topic that may be missing from children's books in the United States" (Angus).
Many of the 42 titles on this year's list are available in the Academy Library, including:
Crossing to Paradise by Kevin Crossley-Holland (U.K.) – Historical fiction at its best, this companion to Crossley-Holland's award-winning "Arthur" trilogy is Gatty's story. As chamber servant to Lady Gwyneth, Gatty sets out with the Welsh noblewoman and seven others on a pilgrimage to Jerusalem in 1203. Both the journey and Gatty's return to Caldicot are filled with extraordinary surprises.
Bog Child by Siobhan Dowd (U.K.) – In this perceptive look at the effect of politics and history on ordinary people in Ireland in 1981, Fergus discovers the ancient body of a murdered girl in a peat bog. As troubles mount, he finds it difficult to make his own way in an increasingly complex world.
The Graveyard Book by Neil Gaiman. illus. by Dave McKean (U.K.) – Bod, granted the Freedom of the Graveyard as a toddler, has grown up amongst the graveyard residents who maintain quirky characteristics from the time periods of their lives. After an exciting adventure in which Bod foils an evil conspiracy, he is released to fully experience Life outside the Graveyard.
Newes from the Dead by Mary Hooper (U.K.) – Class and gender inequalities of 17th-century England and the state of medicine at the time are explored through the real and gripping story of Anne Green, an innocent young woman who was hanged and presumed dead, but awakens on the dissection table. Alternate chapters are narrated by Anne and Robert, an Oxford medical student.
Would You by Marthe Jocelyn (Canada) – Much admired 18-year-old Claire is hit by a car, causing irreversible brain damage and death. Narrated by her younger sister, Natalie, this is an engaging, if sober, look at how one random incident changes lives forever.
The Swan Kingdom by Zoë Marriott (U.K.) – This clever retelling of Hans Christian Andersen's "The Wild Swans" pits Alexandra, the only daughter of the king, against his new and evil wife Zella. It is a story of romance, revenge, love, and transformation that is woven together as a powerful and magical fantasy.
Forever Rose by Hilary McKay (U.K.) – This fifth and final volume of the Casson family saga, narrated by youngest sibling Rose, brings hilarious and satisfying closure as Rose discovers a secret that reunites her delightful, messy, fiercely loving family.
The Knife of Never Letting Go by Patrick Ness (U.K.) – Todd is the only boy in a community of men who can hear what others are thinking and must constantly live with the noise and intrusion of others. Along with his dog and a girl he finds in the marshes, Todd flees his home. An intense look at adolescence, free will, and information overload.
Nation by Terry Pratchett (U.K.) – When Mau's world is destroyed by a great wave, he finds himself completely alone. Then Daphne, the only survivor of a ship wrecked in the same catastrophe, appears. From entirely different worlds, these two must work together to rebuild their lives, grappling with questions of religion, identity, responsibility, and culture.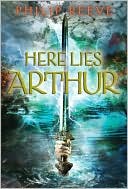 Here Lies Arthur by Philip Reeve (U.K.) – In this ingenious recounting of the Arthurian legend, Myrddin functions like a medieval press agent, spinning tales to create the myth behind the man seen as the hope for uniting Britain's warring tribes. Young Gwyna, who plays important roles in creating this heroic legend, eventually becomes a bard herself.
For the complete list, see the article "World Class: USBBY's Outstanding International Books For Young People" by Carolyn Angus in the February 2009 issue of School Library Journal.