We continue this week's look at the best books of 2009 with some of the titles on Booklist's Editor's Choice list for 2009…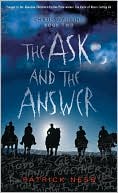 The Ask and the Answer by Patrick Ness — The second part of the Chaos Walking trilogy follows a boy and a girl who are caught in a warring town where thoughts can be heard — and secrets are never safe. Reaching the end of their tense and desperate flight in The Knife of Never Letting Go, Todd and Viola did not find healing and hope in Haven. They found instead their worst enemy, Mayor Prentiss, waiting to welcome them to New Prentisstown. There they are forced into separate lives — Viola is swept into the ruthless activities of the Answer, aimed at overthrowing the tyrannical government, and Todd faces impossible choices when forced to join the mayor's oppressive new regime. Torn by confusion and compromise, suspicion and betrayal, can their trust in each other possibly survive?
"This superb novel…uses a brilliant cast of well-developed characters and its singular setting and premise to present a provocative examination of the nature of evil and humanity. This is among the best YA science fiction novels of the year." — Publisher's Weekly review
Burn My Heart by Beverley Naidoo — What does it mean to be loyal? Mathew and Mugo, two boys–one white, one black–share an uneasy friendship in Kenya in the 1950s. They're friends even though Mathew's dad owns the land and everything on it. They're friends despite the difference in their skin color. And they're friends in the face of the growing Mau Mau rebellion, which threatens British settlers with violence as black Kenyans struggle to win back their land and freedom. But suspicions and accusations are escalating, and an act of betrayal could change everything.
"In addition to being an extremely effective tool in ethics discussions, the story will speak powerfully to readers concerned about justice and human rights, as well as those simply looking for a well-told story." — Library Journal Review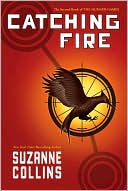 Catching Fire by Suzanne Collins — The sequel to the Hunger Games. By winning the annual Hunger Games, District 12 tributes Katniss Everdeen and Peeta Mellark have secured a life of safety and plenty for themselves and their families, but because they won by defying the rules, they unwittingly become the faces of an impending rebellion.
"This sequel has enough action to please Hunger Games fans and leaves enough questions tantalizingly unanswered for readers to be desperate for the next installment." — School Library Journal review
Claudette Colvin: Twice toward Justice by Phillip Hoose — On March 2, 1955, a slim, bespectacled teenager refused to give up her seat to a white woman on a segregated bus in Montgomery, Alabama. As police dragged her off to jail, Claudette Colvin decided she'd had enough of the Jim Crow segregation laws that had angered and puzzled her since she was a young child.
But instead of being celebrated, as Rosa Parks would be when she took the same stand nine months later, Claudette found herself shunned by many of her classmates and dismissed as an unfit role model by the black leaders of Montgomery. Based on extensive interviews with Colvin and many others, Hoose presents the first in-depth account of a major, yet little-known, civil rights figure whose story provides a fresh perspective on the Montgomery bus protest of 1955–56.
"This inspiring title shows the incredible difference that a single young person can make, even as it demonstrates the multitude of interconnected lives that create and sustain a political movement." — Booklist starred review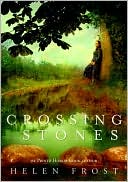 Crossing Stones by Helen Frost — Eighteen-year-old Muriel Jorgensen lives on one side of Crabapple Creek. Her family's closest friends, the Normans, live on the other. For as long as Muriel can remember, the families' lives have been intertwined, connected by the crossing stones that span the water. But now that Frank Norman—who Muriel is just beginning to think might be more than a friend—has enlisted to fight in World War I and her brother, Ollie, has lied about his age to join him, the future is uncertain.
As Muriel tends to things at home with the help of Frank's sister, Emma, she becomes more and more fascinated by the women's suffrage movement, but she is surrounded by people who advise her to keep her opinions to herself. How can she find a way to care for those she loves while still remaining true to who she is?
"The historical details and feminist messages are purposeful, but Frost skillfully pulls her characters back from stereotype with their poignant, private, individual voices and nuanced questions about how to recover from loss and build a joyful, rewarding future in an unsettled world." — Booklist review
The Eternal Smile by Gene Luen Yang & Derek Kirk Kim — A fantastical adventure through the worlds we live in and the worlds we create. From two masters of the graphic novel come three magical tales — The story of a prince who defeats his greatest enemy only to discover that maybe his world is not what it had seemed. The story of a frog who finds that just being a frog might be the way to go. The story of a women who receives an e-mail from Prince Henry of Nigeria asking for a loan to help save his family – and gives it to him. With vivid artwork and moving writing, Derek Kirk Kim and Gene Luen Yang test the boundaries between fantasy and reality, exploring the ways that the world of the imagination can affect real life.
"Smart teens will enjoy this thoroughly and will push it into friends's hands for discussions around topics ranging from political insights to how narrative creates personal identity." — School Library Journal starred review

Going Bovine by Libba Bray — All 16-year-old Cameron wants is to get through high school–and life in general–with a minimum of effort. But that's before he's given the news that he's dying. Hope arrives in the winged form of Dulcie, a loopy punk angel/possible hallucination with a bad sugar habit. She tells Cam there is a cure–if he's willing to go in search of it.
"Bray's wildly imagined novel, narrated in Cameron's sardonic, believable voice, is wholly unique, ambitious, tender, thought-provoking, and often fall-off-the-chair funny, even as she writes with powerful lyricism about the nature of existence, love, and death." — Booklist starred review
Heroes of the Valley by Jonathan Stroud — From the New York Times-bestselling author of the Bartimaeus Trilogy comes an epic new adventure–a hero's saga as well as a surprising look at what bravery really means. Halli Sveinsson, a mischievous young man who does not fit in with his peers and siblings, plays a trick on Ragnor that goes too far, forcing him to embark on a hero's quest in which he will face highway robbers, monsters, an intriguing girl, and truths about his family and the legends he grew up with.
"Offering more than just a grand adventure (which the tale certainly is), Stroud explores the consequences behind legend-worthy acts of glory and the power and peril of blind faith and hero-worship." — Publisher's Weekly starred review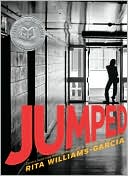 Jumped by Rita Williams-Garcia — Acclaimed Coretta Scott King Honor author Rita Williams-Garcia delivers a fast-paced, gritty narrative about three girls — Leticia, Dominique, and Trina — whose lives are irrevocably intertwined through the course of one violent day in an urban high school. After Leticia overhears Dominique's plans to beat up Trina, she must decide whether or not to get involved. Told with refreshing honesty, this is an insightful look at high school dynamics and a revealing portrait of bullying.
"Teens will relate to Leticia's dilemma even as they may criticize her motives, and the ethical decision she faces will get readers thinking about the larger issues surrounding community, personal responsibility, and the concept of 'snitching'." — School Library Journal review
Rosie and Skate by Beth Ann Bauman — It's off-season at the Jersey shore, when the boardwalk belongs to the locals. Rosie is 15 and her sister Skate is 16. Their dad, an amiable drunk, is spending a few weeks in jail while their cousin Angie looks after them in their falling-down Victorian on the beach. Skate and her boyfriend Perry are madly in love, inseparable—until now, when Perry goes off to Rutgers. Rosie is shyer than Skate, but she's drawn to Nick, a boy in their Alateen group. What happens to Rosie and Skate in a few tumultuous weeks is deftly shaded, complex, and true. Readers will be caught up in each girl's shifting feelings as the story plays out within the embrace of their warmhearted community.
"Rosie is dear and hopeful, and Skate, nicknamed for her skateboarding abilities, is knowing and crisp. Bauman's subtle melding of their personalities as life shapes them shows surprising skill from a debut author." — Booklist starred review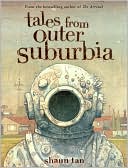 Tales from Outer Suburbia by Shaun Tan — An exchange student who's really an alien, a secret room that becomes the perfect place for a quick escape, a typical tale of grandfatherly exaggeration that is actually even more bizarre than he says… These are the odd details of everyday life that grow and take on an incredible life of their own in tales and illustrations that Shaun Tan's many fans will love.
"The thoughtful and engaged reader will take from these stories an experience as deep and profound as with anything he or she has ever read." — Booklist starred review
Wintergirls by Laurie Halse Anderson — Lia and Cassie are best friends, wintergirls frozen in fragile bodies, competitors in a deadly contest to see who can be the thinnest. But then Cassie suffers the ultimate loss-her life-and Lia is left behind, haunted by her friend's memory and racked with guilt for not being able to help save her. In her most powerfully moving novel since Speak, award-winning author Laurie Halse Anderson explores Lia's struggle, her painful path to recovery, and her desperate attempts to hold on to the most important thing of all-hope.
"What happens to Lia in the end is much less the point than traveling with her on her agonizing journey of inexplicable pain and her attempt to make some sense of her life." — School Library Journal starred review