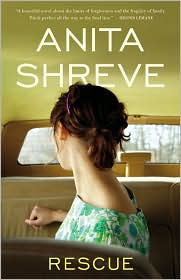 We recently added over three dozen new fiction titles to the Academy Library collection, including:
Lipstick in Afghanistan by Roberta Gately — This lyrical and authentic debut novel—inspired by Gately's own experiences as a nurse in third world war zones—is one woman's moving story of offering help and finding hope in the last place she expected.
Picture the Dead by Adele Griffin and Lisa Brown — Against the brutal, vivid backdrop of the American Civil War, Griffin and Brown have created a spellbinding mystery where the living cannot always be trusted and death is not always the end. "Serious readers of historical fiction will be pleased to discover a book with a unique perspective on such a well-represented period of American history as well as a good story with suspense and a determined heroine." — School Library Journal
Rescue by Anita Shreve — "Paramedic Pete Webster is worried about his daughter, Rowan, a high-school senior whom he has raised single-handedly ever since she was two. Rowan has adopted very untypical behavior, ignoring her studies and drinking heavily. Alternating between the life-and-death scenarios Pete encounters on the job and the fraught family tension between father and daughter, Shreve pulls readers right into her story. Since 2001, Shreve's books have spent more than 100 weeks on the New York Times best-seller lists; her sixteenth novel will no doubt follow suit." — Booklist
Sapphique by Catherine Fisher — The sequel to Incarceron. After his escape from the sentient prison of the first novel,  Finn finds that the Realm is not at all what he expected, and he does not know whether he is to be its king, how to free his imprisoned friends, or how to stop Incarceron's quest to be free of its own nature.
Dash & Lily's Book of Dares by Rachel Cohn & David Levithan — Two of today's best young adult authors team up again (after 2006's Nick & Norah's Infinite Playlist). Told in the alternating voices of Dash and Lily, two sixteen-year-olds carry on a wintry scavenger hunt at Christmas-time in New York, neither knowing quite what–or who–they will find.
To see what else is new in the fiction section — check the catalog!