New Books on this Week's New York Times Bestseller Lists
Some notable new entries on this week's bestseller list. First up, Curtis Sittenfeld reviews Untold Story, Monica Ali's new novels that explores the question "What if Princess Diana didn't die in a Paris car crash, but was actually living under an assumed name in a Midwestern suburb after faking her own death?" You'll also find new books by Tom Clancy, David Baldacci and Ann Brashares, who continues her Sisterhood of the Traveling Pants series with a new adult novel that follows the sisterhood's friendship into the girls' late 20's in Sisterhood Everlasting.
"An Alternative Life For Princess Diana" – Curtis Sittenfeld, author of American Wife, reviews Monica Ali's new novel Untold Story.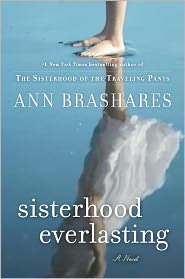 Print and eBook Fiction
#2 – Against All Enemies, by Tom Clancy – Maxwell Moore pursues the terrorists who killed his C.I.A. colleagues in a bomb attack in Pakistan.
#4 – One Summer, by David Baldacci – After the death of his devoted wife, a father struggles to keep his family together, and in the process learns to love again.
#7 – Carte Blanche, by Jeffery Deaver – A young James Bond, on a global mission for a unit of British security, must foil a plot to kill thousands of citizens.
#10 – Folly Beach, by Dorothea Benton Frank – A widow returns to her childhood home in South Carolina and finds love and a literary puzzle.
#11 – Before I Go To Sleep, by S. J. Watson – After a mysterious accident, an amnesiac cannot remember her past or form new memories.
#14 – Sisterhood Everlasting, by Ann Brashares – The friends from the Traveling Pants series, now in their late 20s, plan a reunion in Greece.
#2 – The Original Argument, by Glenn Beck with Joshua Charles – The Federalists' case for the Constitution, adapted for the 21st century.
#7 – Demonic, by Ann Coulter – The columnist compares the Democratic Party to a mob.
#9 – My Horizontal Life, by Chelsea Handler – A memoir of one-night stands.
#12 – Through My Eyes, by Tim Tebow with Nathan Whitaker – The Broncos quarterback chronicles his personal and professional course, from his career at the University of Florida to his rookie season in Denver.
#13 – Outliers: The Story of Success, by Malcolm Gladwell – Why some people succeed; it has to do with luck and opportunities as well as talent.
Children's Chapter Books (including Young Adult books)
#2 – Theodore Boone: Kid Lawyer, by John Grisham – The "kid lawyer" uses his legal skills to find a missing friend. (Ages 8 to 12)
#5 – Miss Peregrine's Home For Peculiar Children, by Ransom Riggs – An island, an abandoned orphanage and a collection of curious photographs. (Ages 12 and up)
#7 – Tiger's Quest (Tiger's Curse Series #2), by Colleen Houck – Danger forces Kelsey on another Indian quest to break the Tiger's Curse. (Ages 12 and up)
#9 – Out Of My Mind, by Sharon M. Draper – A brilliant girl with cerebral palsy longs for a way to speak. (Ages 10 and up)