Welcome to the Monday Morning Book Buzz. Every week we'll take a look at some notable new books being released in the coming days.
If you would like to subscribe to the CA Library Blog, click the Entries (RSS) button at the top of the menu on the right and add the link to your favorite news aggregator. You can also follow us on Facebook by visiting http://www.facebook.com/calibrary and hitting the 'Like' button.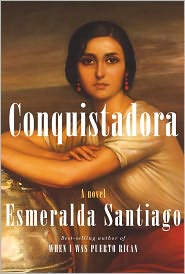 This Week's Notable New Releases
Tuesday, July 12th
Absolute Monarchs: A History of the Papacy by John Julius Norwich — In this epic and compelling book, British historian and travel writer Norwich tells the astonishing story of some of history's most revered and reviled figures, men who still cast light and shadows on the Vatican and the world today.
Blood Work by Kim Harrison — When Ivy met Rachel, the result wasn't exactly love at first sight. Sparks flew as the living vampire and the stubborn witch learned what it meant to be partners. Now Kim Harrison, the acclaimed author of Pale Demon and Black Magic Sanction, turns back the clock to tell the tale—in an original full-color graphic novel.
Conquistadora by Esmeralda Santiago — In nineteenth-century Spain, Ana Cubillas is drawn to the exotic island of Puerto Rico by the diaries of an ancestor who traveled there with Ponce de León. A gorgeous epic of love, discovery, and adventure by the author of When I Was Puerto Rican.
A Dance with Dragons (A Song of Ice and Fire #5) by George R. R. Martin — The epic fantasy series continues. In the aftermath of a colossal battle, the future of the Seven Kingdoms hangs in the balance—beset by newly emerging threats from every direction.
Dragon's Oath by P.C. Cast and Kristin Cast — The first in a new mini-series of novellas from the #1 bestselling authors of the House of Night, Dragon's Oath tells the story behind the House of Night's formidable fencing instructor – the love that will transform him, and the promise that will haunt him.
Dreams of the Dead (Nina Reilly Series #13) by Perri O'Shaughnessy — In this spellbinding new thriller, O'Shaughnessy plunges defense attorney Nina Reilly back into the center of a murderous family game, and reawakens a very real nightmare she had every reason to believe was dead . . . and buried.
Eyes Wide Open by Andrew Gross — Jay Erlich's nephew has been found at the bottom of a cliff at Morrow Bay. It's all just a tragic suicide, until secrets from the past begin to rear up again. Did a notorious killer, jailed for many decades, have his hand in the death?
Forever (Wolves of Mercy Falls Series #3) by Maggie Stiefvater — The thrilling conclusion to the best-selling Wolves of Mercy Falls trilogy from Maggie Stievater. In Shiver, Grace and Sam found each other. In Linger, they fought to be together. Now the stakes are even higher than before. Wolves are being hunted, lives are being threatened, and love is harder to hold on to as death comes closing in.
The Hidden Coronet (Relic Master Series #3) by Catherine Fisher –The third installment in the Relic Master quartet. The coronet, a potent ancient relic, might be the only way to defeat the power that is destroying Anara. But it has been lost for centuries, and only legend tells of its whereabouts. Will Galen and Raffi be able to find it before the Watch does?
Iron House by John Hart — At the Iron Mountain Home for Boys, there was nothing but time for two young orphans to learn that life isn't won without a fight. Julian survives only because his older brother, Michael, is fearless and fiercely protective. When tensions boil over and a boy is brutally killed, there is only one sacrifice left for Michael to make: he flees the orphanage and takes the blame with him.
Quinn by Iris Johansen — As a former Navy SEAL turned cop, Joe Quinn has seen the face of evil and knows just how deadly it can be. When he first met Eve Duncan, he never expected to fall in love with a woman whose life would be defined by her dual desires to bring home her missing daughter and discover the truth behind her disappearance no matter how devastating.
Sometimes It Happens by Lauren Barnholdt — On the last day of her junior year, Hannah's boyfriend Ryan dumped her. Facing a summer of loneliness, Hannah turns to her best friend Ava, who does what BFFs do: she stays by Hannah's side…until it's time for Ava to head up to Maine for the summer. Also left behind is Ava's boyfriend, Noah, and things get…complicated.
Texas Gothic by Rosemary Clement-Moore — Amy Goodnight's family is far from normal. She comes from a line of witches, but tries her best to stay far outside the family business. Her summer gig? Ranch-sitting for her aunt with her wacky but beautiful sister. Only the Goodnight Ranch is even less normal than it normally is.
A Stolen Life: A Memoir by Jaycee Dugard — In the summer of 1991, Jaycee Dugard was a normal kid who did normal things, with friends and a mother who loved her. Then her life was stolen; abducted and held prisoner for eighteen years, she was an object for someone to use and abuse.
Then Came You by Jennifer Weiner — With startling tenderness and laugh-out-loud humor, Jennifer Weiner once again takes readers into the heart of women's lives in an unforgettable, timely tale that interweaves themes of class and entitlement, surrogacy and donorship, the rights of a parent and the measure of motherhood.
Undercurrent (Siren Trilogy Series #2) by Tricia Rayburn — Nothing has been normal since Vanessa Sands learned that her sister was murdered by sirens—femme fatales of the watery depths—and that everything she believed about her family was a lie. Her boyfriend Simon's been the only person Vanessa feels she can really trust. But now there are some secrets she can't tell even him. This second novel in the Siren trilogy is a seductive paranormal romance that will leave you breathless.
Wildcat Fireflies (Meridian Series #2) by Amber Kizer — Meridian Sozu is a Fenestra—the half-human, half-angel link between the living and the dead. She has the dark responsibility of helping souls transition safely into the afterlife. Having recently lost her beloved Auntie—the woman who showed her what it meant to be a Fenestra—Meridian has hit the road with Tens, her love and sworn protector, in hopes of finding another like her.