Welcome to the Monday Morning Book Buzz. Every week we take a look at some notable new books being released in the coming days.
If you would like to subscribe to the CA Library Blog, click the Entries (RSS) button at the top of the menu on the right and add the link to your favorite news aggregator. You can also follow us on Facebook by visiting http://www.facebook.com/calibrary and hitting the 'Like' button.
This week's releases are listed by category: Young Adult Fiction, General Fiction and Nonfiction. On-sale dates are indicated in parentheses.
Notable New Releases for the week of October 3rd:
Young Adult Fiction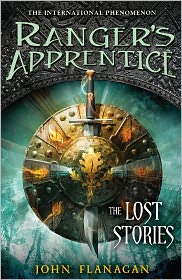 A Beautiful Friendship (Stephanie Harrington Series #1) by David Weber (10/4/2011) — Stephanie Harrington always expected to be a forest ranger on her homeworld of Meyerdahl . . . until her parents relocated to the frontier planet of Sphinx in the far distant Star Kingdom of Manticore. It should have been the perfect new home — a virgin wilderness full of new species of every sort, just waiting to be discovered — but Sphinx is a far more dangerous place than ultra-civilized Meyerdahl. Stephanie is determined to make discoveries, and the biggest one of all awaits her: an intelligent alien species.
The Lost Stories (Ranger's Apprentice Series #11) by John Flanagan (10/4/2011) — Inspired by questions and letters his loyal readers have sent over the years, John Flanagan offers a gift in response: a collection of "lost" tales that fill in the gaps between Ranger's Apprentice novels. "A most welcome postscript to a scintillating series." — Barnes & Noble
Palace of the Damned by Darren Shan (10/3/2011) — After failing his mentor and killing the entire crew of a ship in a bout of revenge for the death of his assistant, Larten is bereft with guilt. He no longer has the drive to live the vampiric life, and hides out in Paris, masquerading as a human. But the darkness inside him is too great for humanity, and he is forced to make a choice: hide in the shadows of the human world, or take his place among the vampire clan and protect those weaker than himself.
Silence (Hush, Hush Saga #3) by Becca Fitzpatrick (10/4/2011) — Patch and Nora have overcome the secrets riddled in Patch's dark past…bridged two irreconcilable worlds…faced heart-wrenching tests of betrayal, loyalty and trust. Armed with nothing but their absolute faith in one another, Patch and Nora enter a desperate fight to stop a villain who holds the power to shatter everything they've worked for—and their love—forever.
The Sleepwalkers by J. Gabriel Gates (10/3/2011) — A chilling horror novel guaranteed to keep the pages turning, the mind reeling, and the lamp on any reader's bedside table on long after midnight. Privileged and popular Caleb Mason is celebrating his high school graduation when he receives a mysterious, disturbing letter from his long-lost childhood playmate, Christine. When he travels back to his hometown to find her, Caleb discovers the town has taken a horrifying turn for the worse.
The Son of Neptune (Heroes of Olympus Series #2) by Rick Riordan (10/4/2011) — With an ever-expanding cast of brave-hearted heroes and formidable foes, this second book in The Heroes of Olympus series offers all of the action, pathos, and humor that Rick Riordan fans crave.
Variant by Robison Wells (10/4/2011) — Benson Fisher thought that a scholarship to Maxfield Academy would be the ticket out of his dead-end life. He was wrong. Now he's trapped in a school that's surrounded by a razor-wire fence. A school where video cameras monitor his every move. Where the kids have split into groups in order to survive. But when Benson stumbles upon the school's real secret, he realizes that playing by the rules could spell a fate worse than death, and that escape—his only real hope for survival—may be impossible. "Variant should join the ranks of today's must-read science fiction and fantasy series." — Voice of Youth Advocates
General Fiction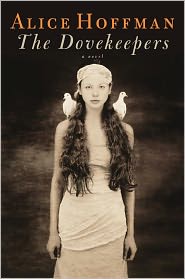 Changes (Collegium Chronicles Series #3) by Mercedes Lackey (10/4/2011) — In Lackey's coming-of-age story, the orphan Magpie pursues his quest for his parent's identity with burning urgency-while also discovering another hidden talent and being trained by the King's Own Herald as an undercover agent for Valdemar.
The Dovekeepers by Alice Hoffman (10/4/2011) — Hoffman delivers her most masterful work yet—one that draws on her passion for mythology, magic, and archaeology and her inimitable understanding of women. In 70 C.D., nine hundred Jews held out for months against armies of Romans on a mountain in the Judean desert, Masada. According to the ancient historian Josephus, two women and five children survived. Based on this tragic historical event, Hoffman weaves a spellbinding tale of four extraordinary, bold, resourceful, and sensuous women, each of whom comes to Masada by a different path. "An enthralling tale rendered with consummate literary skill." — Kirkus Reviews
Lionheart by Sharon Kay Penman (10/4/2011) — From the New York Times-bestselling novelist, a stunning story of a great medieval warrior-king, the accomplished and controversial son of Henry II and Eleanor of Aquitaine: Richard, Coeur de Lion. "Penman expertly weaves well-researched historical events into her fast-paced revisionist story." — Library Journal
Murder Unleashed: A Novel by Rita Mae Brown (10/4/2011) — Unscrupulous bankers, abandoned homes, and a cold-blooded killer on the loose: Mags Rogers and her wire-haired dachshund, Baxter, dig up the dirt in the second scintillating novel in New York Times bestselling author Brown's delightful new series featuring some doggedly determined canine sleuths and their intrepid human companions.
Neverwinter (Neverwinter Series #2) by R. A. Salvatore (10/4/2011) — With the last of his trusted companions having fallen, Drizzt is alone–and free–for the first time in almost a hundred years. Guilt mingles with relief, leaving Drizzt uniquely vulnerable to the persuasions of his newest companion–Dahlia, a darkly alluring elf and the only other member of their party to survive the cataclysm at Mount Hotenow.
The Night Strangers by Chris Bohjalian (10/4/2011) — In a dusty corner of a basement in a rambling Victorian house in northern New Hampshire, a door has long been sealed shut with 39 six-inch-long carriage bolts. The home's new owners are Chip and Emily Linton and their twin ten-year-old daughters. Together they hope to rebuild their lives there after Chip, an airline pilot, crash-landed a jet, killing 39 of the passengers. "Brims with high intensity action and the uncertainty of high suspense." — Barnes & Noble
Shock Wave (Virgil Flowers Series #5) by John Sandford (10/4/2011) — The superstore chain PyeMart has its sights set on a Minnesota river town, but two very angry groups want to stop it: local merchants, fearing for their businesses, and environmentalists, predicting ecological disaster. The protests don't seem to be slowing the project, though, until someone decides to take matters into his own hands. "Sandford effortlessly conjures up the rhythms and personalities of a small town in one of his best outings to date." — Publishers Weekly
Nonfiction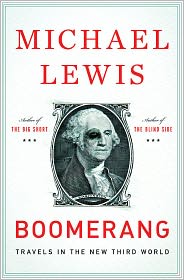 Boomerang: Travels in the New Third World by Michael Lewis (10/3/2011) — The tsunami of cheap credit that rolled across the planet between 2002 and 2008 was more than a simple financial phenomenon: it was temptation, offering entire societies the chance to reveal aspects of their characters they could not normally afford to indulge. This is Michael Lewis's investigation of bubbles both at home and beyond our shores. "A sharp-edged narrative that leaves readers with a visceral understanding of the fiscal recklessness that lies behind today's headlines." — New York Times
How to Win Friends and Influence People in the Digital Age by Carnegie & Associates, Inc. (10/4/2011) — Dale Carnegie's  commonsense approach to communicating has endured for a century, touching millions and millions of readers. In today's world, where more and more of our communication takes place across wires and screens, Carnegie's lessons have not only lasted but become all the more critical. Though he never could have predicted technology's trajectory, Carnegie proves a wise and helpful teacher in this digital landscape. "A winner for individuals and libraries alike." — Library Journal
Seriously… I'm Kidding by Ellen DeGeneres (10/4/2011) — A collection of humorous observations by the popular daytime talk show host. — "Whatever the topic, DeGeneres's compulsively readable style will appeal to fans old and new." — Publishers Weekly
The Sparkpeople Cookbook: Love Your Food, Lose the Weight by Meg Galvin (10/4/2011) — From the team that brought you SparkPeople.com, America's #1 weight-loss and fitness site, and the New York Times bestseller The Spark, comes this practical yet inspirational guide, which is based on the same easy, real-world principles as the SparkPeople program.
Sweetness: The Enigmatic Life of Walter Payton by Jeff Pearlman (10/4/2011) — Crafted from interviews with more than 700 sources, acclaimed sportswriter Pearlman has produced the first definitive biography of the charismatic sports legend. From Payton's childhood in segregated Mississippi, where he ended a racial war by becoming the star of his integrated high school's football team, to his college years and his twelve-year NFL career, Sweetness brims with stories of all-American heroism, and covers Payton's life off the field as well. — "An inspirational read." — Barnes & Noble
This Is Herman Cain!: My Journey to the White House by Herman Cain (10/4/2011) — While Cain has been the host of a popular conservative Atlanta-area radio talk show, a different name originally captured American interest. As CEO, Cain transformed Godfather's Pizza from a company teetering on the verge of bankruptcy into a household word. In this thrilling memoir, he describes his past and present…and the future he is determined to create, a future that will put our country back on track.