Welcome to the Monday Morning Book Buzz. Every week we take a look at some notable new books being released in the coming days.
If you would like to subscribe to the CA Library Blog, click the Entries (RSS) button at the top of the menu on the right and add the link to your favorite news aggregator. You can also follow us on Facebook by visiting http://www.facebook.com/calibrary and hitting the 'Like' button.
This week's releases are listed by category: Young Adult Fiction, General Fiction and Nonfiction. On-sale dates are indicated in parentheses.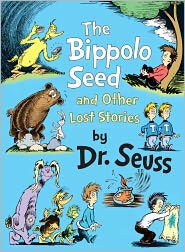 Notable New Releases for the week of September 26th:
Of Special Note
The Bippolo Seed and Other Lost Stories by Dr. Seuss (9/27/2011) — Seuss scholar/collector Charles D. Cohen has hunted down seven rarely seen stories by Dr. Seuss, originally published in magazines between 1950 and 1951. In an introduction to the collection, Cohen explains the significance these seven stories have, not only as lost treasures, but as transitional stories in Dr. Seuss's career. "Fans old and young will deem these "lost" stories a tremendous find." — Publishers Weekly
Young Adult Fiction
Abarat: Absolute Midnight by Clive Barker (9/27/2011) — The long-awaited third book in the epic story of sixteen-year-old Candy Quackenbush and her journeys through the world of the Abarat, where every hour is an island in one eternal day, and nothing is as it seems.
Beautiful Dead: Phoenix by Eden Maguire (10/1/2011) — Not alive. Not dead. Somewhere in between lie the Beautiful Dead. After everything Darina has been through, she knows it's time. She must expose the secrets behind Phoenix's death and set him free for eternity, even though it means this will be their last good-bye.
Brooklyn, Burning by Steven Brezenoff (9/28/2011) — When you're sixteen and no one understands who you are, sometimes the only choice left is to run. If you're lucky, you find a place that accepts you, no questions asked. And if you're really lucky, that place has a drum set, a place to practice, and a place to sleep. For Kid, the streets of Greenpoint, Brooklyn, are that place. "For readers with little use for labels, it's an intimate yet wonderfully open rock 'n' roll love story." — Publishers Weekly
Daughter of Smoke and Bone by Laini Taylor by (9/27/2011) — Meet Karou. She fills her sketchbooks with monsters that may or may not be real; she's prone to disappearing on mysterious "errands"; she speaks many languages–not all of them human; and her bright blue hair actually grows out of her head that color. Who is she? That is the question that haunts her, and she's about to find out.
In Trouble by Ellen Levine (9/28/2011) — Living in New York City in 1956, Jamie and Elaine have been best friends forever, and now they're finally juniors in high school. Elaine has a steady boyfriend, and Jamie could have one–if she'd just open her eyes and see Paul. Then Elaine gets "in trouble"–something they thought only happened to "other" girls. Are there any good choices for a girl in trouble? "In Trouble should be available in every library serving young adults." — School Library Journal
Lola and the Boy Next Door by Stephanie Perkins (9/29/2011) — In this companion novel to Anna and the French Kiss, two teens discover that true love may be closer than they think. "Lola indulges her inner angst plenty, but her self-deprecating sense of humor and Perkins's skill at capturing Lola's seesawing emotions make for a lively romance about a girl trying to understand who she is under all the gowns and glitter." — Publishers Weekly
Lost In Time (A Blue Bloods Novel) by Melissa de la Cruz (9/27/2011) — The young Blue Bloods of Manhattan descend upon Egypt in the epic sixth book in Melissa de la Cruz's New York Times and USA Today best-selling Blue Bloods series.
Modelland by Tyra Banks (9/28/2011) — No one gets in without being asked. And with her untamable hair, large forehead, and gawky body, Tookie De La Crème isn't expecting an invitation. Modelland—the exclusive, mysterious place on top of the mountain—never dares to make an appearance in her dreams. "The combination of absurdity, social commentary, and familiar tropes makes it an enjoyable guilty pleasure." — Publishers Weekly
The Name of the Star: Shades of London by Maureen Johnson (9/29/2011) — The day Rory Deveaux arrives in London marks a memorable occasion. For Rory, it's the start of a new life at a London boarding school. But for many, this will be remembered as the day a series of brutal murders broke out across the city — gruesome crimes mimicking the horrific work of Jack the Ripper in the autumn of 1888. "Departing from her previous works, [Johnson] turns paranormal on its head, mocking vampires and werewolves while creating ghosts that are both realistic and creepy. A real page-turner." — School Library Journal
The Phantom Limb by William Sleator (10/1/2011) — Lonely Isaac wishes someone would reach out to him, and then someone does—a phantom limb within a strange mirror box that he finds in his new house. It signs to Isaac about a growing danger: someone who has murdered before and is out to get Isaac's mother next.
Reasons to Be Happy by Katrina Kittle (10/1/2011) — Hannah, grieving over the tragic death of her mother who was considered Hollywood royalty, resorts to bulimia to live up to the image of her mom and gain acceptance into the popular eighth-grade clique at her Beverly Hills school, and, even though her father is too preoccupied to notice her condition, the quirky outsider Jasper knows something is wrong and tries to help her. "With a forthright intensity, Kittle's tale examines a complex subject." — Kirkus Reviews
The Unbecoming of Mara Dyer by Michelle Hodkin (9/27/2011) — Mara Dyer doesn't think life can get any stranger than waking up in a hospital with no memory of how she got there. It can. She believes there must be more to the accident she can't remember that killed her friends and left her mysteriously unharmed. There is. "A strong, inventive tale." — Kirkus Reviews
Vampire Kisses: Graveyard Games #1 by Ellen Schreiber (9/27/2011) — Things might finally be back to normal for Raven and Alexander— as normal as they can be for a goth teen in a small town and her dreamy vampire boyfriend. But the secretive couple soon discovers that Alexander's now full-blooded vampire cousin Claude and his friends are still lingering in Dullsville. A graphic novel.
General Fiction
1225 Christmas Tree Lane by Debbie Macomber (9/27/2011) — The people of Cedar Cove know how to celebrate Christmas. Like Grace and Olivia and everyone else, Beth Morehouse expects this Christmas to be one of her best. Her small Christmas-tree farm is prospering, her daughters and her dogs are happy and well, and her new relationship with local vet Ted Reynolds is showing plenty of romantic promise.
The Affair (Jack Reacher Series #16) by Lee Child (9/27/2011) — Everything starts somewhere, and for elite military cop Jack Reacher, that somewhere is Carter Crossing, Mississippi. A young woman is dead, and solid evidence points to a soldier at a nearby military base. Reacher is ordered undercover—to find out everything he can, to control the local police, and then to vanish. Reacher is a good soldier. But when he gets to Carter Crossing, he finds layers no one saw coming, and the investigation spins out of control.
Aleph by Paulo Coelho (9/27/2011) — In his most personal novel to date, internationally best-selling author Paulo Coelho returns with a remarkable journey of self-discovery. Like the main character in his much-beloved The Alchemist, Paulo is facing a grave crisis of faith. As he seeks a path of spiritual renewal and growth, he decides to begin again: to travel, to experiment, to reconnect with people and the landscapes around him.
Castle: Deadly Storm by Brian Michael Bendis (9/28/2011) — CASTLE fans rejoice! For the first time anywhere, CASTLE's titular hero Derrick Storm comes to life in the pages of this all-new graphic novel. This "adaptation" of Derrick Storm's first novel adventure takes our hero from the gritty world of the private eye all the way to the globe-hopping intrigue of the CIA.
Feast Day of Fools (Hackberry Holland Series #3) by James Lee Burke (9/27/2011) — Sheriff Hackberry Holland patrols a small Southwest Texas border town with a deep and abiding respect for the citizens in his care. When alcoholic ex-boxer Danny Boy Lorca witnesses a man tortured to death in the desert and reports it, Hack's investigation leads to the home of Anton Ling, a regal, mysterious Chinese woman who is known for sheltering illegals. Ling denies having seen the victim or the perpetrators, but there is something in her steely demeanor and aristocratic beauty that compels Hackberry to return to her home again and again as the investigation unfolds.
A Lawman's Christmas: A McKettricks of Texas Novel by Linda Lael Miller (9/27/2011) — The sudden death of the town marshal leaves Blue River, Texas, without a lawman…and twenty-five-year-old Dara Rose Nolan without a husband. As winter approaches and her meager seamstress income dwindles, she has three options. Yet she won't give up her two young daughters, refuses to join the fallen women of the Bitter Gulch Saloon and can't fathom condemning herself to another loveless marriage. Unfortunately she must decide—soon—because there's a new marshal in town, and she's living under his roof.
Nightwoods by Charles Frazier (9/27/2011) — The extraordinary author of Cold Mountain and Thirteen Moons returns with a dazzling new novel of suspense and love set in small-town North Carolina in the early 1960s. With his brilliant portrait of Luce, a young woman who inherits her murdered sister's troubled twins, Frazier has created his most memorable heroine.
An O'Brien Family Christmas by Sherryl Woods (9/27/2011) — Dating Matthew O'Brien—a playboy and a younger man—cost Laila Riley her career and her parents' respect. A high price, even for love—and when Laila decides it was just a fling, she breaks it off, despite Matthew's objections. But the O'Brien family has other ideas, and they conspire to get Laila to join them on a Dublin holiday.
Nonfiction
George Harrison: Living in the Material World by Olivia Harrison (9/27/2011) — Drawing on George Harrison's personal archive of photographs, letters, diaries, and memorabilia, Olivia Harrison reveals the arc of his life, from his guitar-obsessed boyhood in Liverpool, to the astonishment of the Beatles years, to his days as an independent musician and bohemian squire. Among its previously unpublished riches are photographs taken by Harrison himself beginning in the mid-1960s. It is a rich tribute to a man who died far too young, but who touched the lives of millions.
Killing Lincoln: The Shocking Assassination that Changed America Forever by Bill O'Reilly (9/27/2011) — A riveting historical narrative of the heart-stopping events surrounding the assassination of Abraham Lincoln, and the first work of history from mega-bestselling author Bill O'Reilly. Featuring some of history's most remarkable figures, vivid detail, and page-turning action, Killing Lincoln is history that reads like a thriller.
Rin Tin Tin: The Life and the Legend by Susan Orlean (9/27/2011) — He believed the dog was immortal. So begins Susan Orlean's sweeping, powerfully moving story of Rin Tin Tin's journey from orphaned puppy to movie star and international icon. From the moment in 1918 when Corporal Lee Duncan discovers Rin Tin Tin on a World War I battlefield, he recognizes something in the pup that he needs to share with the world. The canine hero's legacy is cemented by Duncan and a small group of others who devote their lives to keeping him and his descendants alive.
The Swerve: How the World Became Modern by Stephen Greenblatt (9/26/2011) — One of the world's most celebrated scholars, Greenblatt has crafted both an innovative work of history and a thrilling story of discovery, in which one manuscript, plucked from a thousand years of neglect, changed the course of human thought and made possible the world as we know it.
Throw Like a Girl: How to Dream Big & Believe in Yourself by Jennie Finch (9/28/2011) — Throw Like a Girl inspires, motivates, and answers questions on issues that are specific to being a female athlete. Finch addresses the entire life of today's girl — not just fitness or physical preparation, but how to integrate the lessons of sports into life.