Welcome to the Monday Morning Book Buzz. Every week we take a look at some notable new books being released in the coming days.
If you would like to subscribe to the CA Library Blog, click the Entries (RSS) button at the top of the menu on the right and add the link to your favorite news aggregator. You can also follow us on Facebook by visiting http://www.facebook.com/calibrary and hitting the 'Like' button.
This week's releases are listed by category: Young Adult Fiction, General Fiction and Nonfiction. On-sale dates are indicated in parentheses.
Notable New Releases for the week of November 14th:
Young Adult Fiction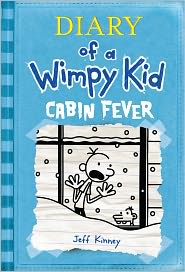 The Always War by Margaret Peterson Haddix (11/15/2011) — For as long as Tessa can remember, her country has been at war. When local golden boy Gideon Thrall is awarded a medal for courage, it's a rare bright spot for everyone in Tessa's town—until Gideon refuses the award, claims he was a coward, and runs away. Tessa is bewildered, and can't help but follow Gideon to find out the truth. "This dystopian drama examines the human aspect of war, and also how technology may redefine war in the future." — Kirkus Reviews
Cabin Fever (Diary of a Wimpy Kid Series #6) by Jeff Kinney (11/15/2011) — Greg Heffley is in big trouble. School property has been damaged, and Greg is the prime suspect. But the crazy thing is, he's innocent. Or at least sort of. The authorities are closing in, but when a surprise blizzard hits, the Heffley family is trapped indoors. "The idea behind the book is that as you're growing up, you're forging your identity, and that identity becomes hard to escape later on." — Jeff Kinney in Entertainment Weekly
The Pledge by Kimberly Derting (11/15/2011) — In the violent country of Ludania, the language you speak determines what class you are, and there are harsh punishments if you forget your place—looking a member of a higher class in the eye can result in immediate execution. Seventeen-year-old Charlaina (Charlie for short) can understand all languages, a dangerous ability she's been hiding her whole life. "Derting (Desires of the Dead) is right on when depicting the bonds of family, friendship, and first love." — Publishers Weekly
Shatter Me by Tahereh Mafi (11/15/2011) — No one knows why Juliette's touch is fatal, but The Reestablishment has plans for her. Plans to use her as a weapon. But Juliette has plans of her own. After a lifetime without freedom, she's finally discovering a strength to fight back for the very first time—and to find a future with the one boy she thought she'd lost forever. "Rip-roaring adventure and steamy romance scenes, with a relationship teens will root for as much as they did for Bella and Edward." — Booklist
The Space Between by Brenna Yovanoff (11/15/2011) — Daphne is the half-demon, half-fallen angel daughter of Lucifer and Lilith. Life for her is an endless expanse of time, until her brother Obie is kidnapped – and Daphne realizes she may be partially responsible. Determined to find him, Daphne travels from her home in Pandemonium to the vast streets of Earth, where everything is colder and more terrifying. "A dreamy, atmospheric take on Judeo-Christian mythology that prioritizes character." — Kirkus Reviews
General Fiction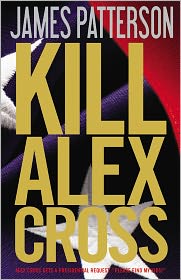 Devil's Gate: A Kurt Austin Adventure (NUMA Files Series) by Clive Cussler (11/14/2011) — A Japanese cargo ship cruises the eastern Atlantic near the Azores- when it bursts into flames. A gang of pirates speeds to take advantage of the disaster-when their boat explodes. As the NUMA Special Assignments Team rush to investigate, they find themselves drawn into the extraordinary ambitions of an African dictator, the creation of a weapon of almost mythical power, and an unimaginably audacious plan to extort the world's major nations.
Kill Alex Cross (Alex Cross Series #18) by James Patterson (11/14/2011) — The President's son and daughter are abducted, and Detective Alex Cross is one of the first on the scene. But someone very high-up is using the FBI, Secret Service, and CIA to keep him off the case and in the dark.
Star Wars The Old Republic #3: Revan by Drew Karpyshyn (11/15/2011) — There's something out there: a juggernaut of evil bearing down to crush the Republic—unless one lone Jedi, shunned and reviled, can stop it. Revan: hero, traitor, conqueror, villain, savior.
V is for Vengeance (Kinsey Millhone Series #22) by Sue Grafton (11/14/2011) — A woman with a murky past who kills herself-or was it murder? A dying old man cared for by the son he pummeled mercilessly. A lovely woman whose life is about to splinter into a thousand fragments. And Kinsey Millhone, whose thirty-eighth-birthday gift is a punch in the face that leaves her with two black eyes and a busted nose. "Kinsey plays a smaller role in this story, which may not please some of her many fans, but Grafton's pioneering sleuth is as clever and witty as ever." — Library Journal
Nonfiction
1,000 Places to See Before You Die, Revised Edition by Patricia Schultz (11/15/2011) — The world's bestselling travel book is back in a more informative, more experiential, more budget-friendly full-color edition. A #1 New York Times bestseller, 1,000 Places reinvented the idea of travel book as both wish list and practical guide. The new edition adds over 200 entirely new entries, including visits to 28 countries like Lebanon, Croatia, Estonia, and Nicaragua, that were not in the original edition. "For anyone who yearns to travel, this is the ultimate dream book." — Barnes & Noble
Bowing to Beijing: How Barack Obama Is Hastening America's Decline and Ushering a Century of Chinese Domination by Brett M. Decker and William C. Triplett, II (11/15/2011) — Decker, editorial page editor for the Washington Times, and Triplett, the former Chief Republican Counsel to the Senate Foreign Relations Committee, contend China's rapid rise directly correlates with America's decline—and outline the dangerous consequences this trend holds. "[Decker and Triplett] make clear that regardless of the vast economic relations between China and the U.S., unless we maintain our military deterrence capability, a serious confrontation looms just over the horizon." — Admiral James A. Lyons, Jr., former commander in chief of the U.S. Pacific Fleet
Exile on Wall Street: One Analyst's Fight to Save the Big Banks from Themselves by Mike Mayo (11/15/2011) — Wall Street analyst Mayo writes about one of the biggest financial and political issues of our time – the role of finance and banks in the U.S. and the holes that still exist on Wall Street and in the banking system. "Mike Mayo is one of the best financial analysts on Wall Street. He brings clarity to a world full of uncertainty." — Maria Bartiromo, financial commentator
Gabby: A Story of Courage and Hope by Gabrielle Giffords & Mark Kelly (11/15/2011) — From one of the most admired and beloved couples in recent American history, an extraordinarily moving story of public service, risk-taking, romance—and the journey toward recovery. This book delivers hope and redemption in the face of the tragic shooting, and introduces two unforgettable heroes.
How Georgia Became O'Keeffe: Lessons on the Art of Living by Karen Karbo (11/15/2011) — A fresh, revealing look at the artist who continues to inspire new generations of women. Karbo cracks open the O'Keeffe icon in her characteristic style, making one of the greatest women painters in American history vital and relevant for yet another generation. "This intimate, quirky, and sassy essay makes its iconic subject into an accessible, relevant figure with whom readers, particularly women, can identify." — Publishers Weekly
How I Got This Way by Regis Philbin (11/15/2011) — In this entertaining memoir, the irrepressible Regis Philbin—consummate talk show host, man about town, loving husband, father, and yes, obsessive sports fan—looks back at his years in show business.
Howard Cosell: The Man, the Myth, and the Transformation of American Sports by Mark Ribowsky (11/14/2011) — Howard Cosell was one of the most recognizable and controversial figures in American sports history. His colorful bombast, fearless reporting, and courageous stance on civil rights soon captured the attention of listeners everywhere. With more than forty interviews, Mark Ribowsky presents Cosell's life as part of an American panorama, examining racism, anti-Semitism, and alcoholism, among other sensitive themes. "The definitive word on a loved, loathed, maddeningly complex broadcasting legend." — Kirkus Reviews
Imperfect Justice: Prosecuting Casey Anthony by Jeff Ashton (11/15/2011) — On July 5, 2011, nearly three years after her initial arrest, Casey Anthony walked away, virtually scot-free, from one of the most sensational murder trials of all time. She'd been accused of killing her daughter, Caylee, but the trial only left behind more questions. Prosecutor Jeff Ashton, one of the principal players in the case's drama, sheds light on those questions and much more, telling the behind-the-scenes story of the investigation, the trial, and the now-infamous verdict.
Legacy of Steve Jobs: A Tribute from the Pages of Fortune by the editors of Fortune Magazine (11/15/2011) — The  richly illustrated story of Steve Jobs' life at the helm of Apple, based in part on three decades of Fortune stories about the cultural icon who revolutionized computing, telephones, movies, music, retailing, and product design.
The Louvre: All the Paintings with commentaries by Vincent Pomarede (11/15/2011) — The Louvre is the world's most visited art museum, with 8.5 million visitors annually, and houses the most celebrated and important paintings of all time. For the first time ever, The Louvre: All the Paintings collects all 3,022 paintings currently on display in the permanent collection in one beautifully curated volume. The included DVD-ROM is easily browsable by artist, date, school, art historical genre, or location in the Louvre.
The Oprah Winfrey Show: Reflections on an American Legacy by Deborah Davis (11/15/2011) — Arguably the most influential television personality of all time, Oprah Winfrey and her show have had an impact on American culture that cannot be overstated. This beautifully illustrated book explores and celebrates the legacy of the show using essays and tributes from a stellar group of contributors including Maya Angelou, Bono, Ellen DeGeneres, Nelson Mandela, Toni Morrison, Julia Roberts, Maria Shriver, Gloria Steinem, John Travolta, and more. "[T]he book shines when it stays away from mythmaking and gives us…behind-the-scenes glimpses of the empty studio, the primping process…and the vast army of producers and writers behind Oprah's magic." — Publishers Weekly
Pacific Crucible: War at Sea in the Pacific, 1941-1942 by Ian W. Toll (11/14/2011) — The epic tale of the first searing months of the Pacific war, when, following the surprise Japanese attack on Pearl Harbor, the U.S. Navy shook off the worst defeat in American military history and seized the strategic initiative. "Revealing and poignant, Toll's latest deftly navigates the rough waters of the Pacific struggle with flying colors." — Publishers Weekly
Saul Bass: A Life in Film and Design by Pat Kirkham and Jennifer Bass (11/16/2011) — Design historian Pat Kirkham has written the definitive study that design and film enthusiasts have been eagerly anticipating: the first book to be published on one of the greatest American designers of the 20th century, who was as famous for his work in film as for his corporate identity and graphic work. Designed by Jennifer Bass, Saul Bass's daughter, the book includes over 1,400 images from the Bass archive.
Shaq Uncut: My Story by Shaquille O'Neal (11/15/2011) — Four-time NBA champion Shaq is famous for his playful and, at times, provocative personality. In this rollicking new autobiography, he discusses his remarkable journey, from growing up in difficult circumstances and getting cut from his high school basketball team to his larger-than-life basketball career, including his candid thoughts on teammates and coaches like Kobe Bryant, Dwyane Wade, LeBron James, Phil Jackson, and Pat Riley. "O'Neal offers an entertaining, if undeniably self-serving chronicle of his unique career." — Kirkus Reviews
Then Again by Diane Keaton (11/15/2011) — More than just the autobiography of a legendary actress, Keaton's book is about a very American family with very American dreams. To write about herself, Diane realized she had to write about her mother, too, and how their bond came to define both their lives.
Time Steve Jobs: The Genius Who Changed Our World by the editors of Time Magazine (11/15/2011) — The man who revolutionized personal technology is celebrated by the writers and editors of Time magazine in a beautifully illustrated look back on his life and legacies. With new pieces by renowned Time writers Lev Grossman, Richard Corliss, Harry McCracken and James Poniewozik.
Who's in Charge?: Free Will and the Science of the Brain by Michael S. Gazzaniga (11/15/2011) — The father of cognitive neuroscience offers a provocative argument against the common belief that our lives are wholly determined by physical processes and we are therefore not responsible for our actions. "A fascinating affirmation of our essential humanity." — Kirkus Reviews