Welcome to the Monday Morning Book Buzz, a preview of notable books being released this week. Some of them will be added to the Academy Library collection; if you read about a title that you would like added to the collection, let me know by either commenting on this post or by contacting me directly at the Library.
If you would like to subscribe to the CA Library Blog, click the Entries (RSS) button at the top of the menu on the right and add the link to your favorite news aggregator. You can also follow us on Facebook by visiting http://www.facebook.com/calibrary and hitting the 'Like' button.
This week's releases are listed by category: Young Adult Fiction, General Fiction and Nonfiction. On-sale dates are indicated in parentheses.
Notable New Releases for the week of July 16th:
Young Adult Fiction
Spark (Sky Chasers Series #2) by Amy Kathleen Ryan (07/17/2012) — In this sequel to Glow, Waverly, Kieran and Seth are in a race against time – and with the future of humanity hanging in the balance, there's no room for mistakes. After a desperate escape from the enemy ship, Waverly has finally made it back to the Empyrean. Forced to leave her captive parents behind on the New Horizon, she's returned only to find that Kieran has become a strict leader and turned the crew against Seth. Now Waverly's not sure whom she can trust. "Delivers a page-turning plot while delving deeper into questions of leadership, trauma and violence." — Kirkus Reviews
House of Night: Legacy by Kristin Cast and P.C. Cast and others (07/17/2012) — Based on the bestselling series of novels by P.C. Cast and Kristin Cast, House of Night: Legacy follows Zoey and her group of devoted friends as they turn to The Fledgling Handbook, a historical vampyre tome, in hopes of better understanding this big, new world of vampyrism.
Wicked Jealous : A Love Story by Robin Palmer (07/19/2012) — A fresh and funny twist on Snow White from the author of Cindy Ella and Geek Charming. Simone never saw herself as the "cute girl"—she was always the chunky smartmouth. But after a year of avoiding her wicked almost-stepmonster through Zumba class, Simone's now sporting a whole new retro style. One thing: her stepmonster seems to be trying to accidentally kill her, or at least fatten her back up. "A quick read, a light and fluffy fairy tale set against a fantasy LA/Hollywood." — VOYA Review
A World Away by Nancy Grossman (07/17/2012) — Sixteen-year-old Eliza Miller has never made a phone call, never tried on a pair of jeans, never sat in a darkened theater waiting for a movie to start. She's never even talked to someone her age who isn't Amish, like her. So when she leaves her close-knit family to spend the summer as a nanny in suburban Chicago, a part of her can't wait to leave behind everything she knows. "[Grossman] produces a heartfelt tale that will be difficult for readers to resist." — Kirkus Reviews
The Girl With Borrowed Wings by Rinsai Rossetti (07/19/2012) — Controlled by her father and bound by desert, Frenenqer Paje's life is tediously the same, until a small act of rebellion explodes her world and she meets a boy, but not just a boy–a Free person, a winged person, a shape-shifter. At night, he flies them to the far-flung places of their childhoods to retrace their pasts. But when the delicate balance of their friendship threatens to rupture into something more, Frenenqer must confront her isolation, her father, and her very sense of identity, breaking all the rules of her life to become free. "Despite Frenenqer's apparent lack of agency, she is actually strong, willful, passionate, and quite funny, and watching her come into her own is thrilling. A breath of fresh air." — Publishers Weekly
General Fiction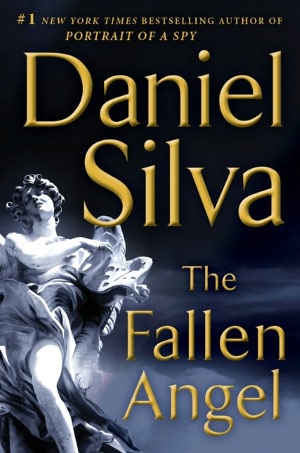 The Fallen Angel (Gabriel Allon Series #12) by Daniel Silva (07/17/2012) — When a body is found beneath Michelangelo's dome, Gabriel Allon is summoned to secretly investigate the death that has been ruled a suicide–a case that brings about an unthinkable act of sabotage.
Creole Belle (Dave Robicheaux Series #19) by James Lee Burke (07/17/2012) — Dave Robicheaux is in a recovery unit in New Orleans, where a Creole girl named Tee Jolie Melton visits him and leaves him an iPod with the country blues song "Creole Belle" on it. Then she disappears. Dave becomes obsessed with the song and the memory of Tee Jolie. "A darkly magnificent treat for Dave's legion of admirers." — Kirkus Reviews
The Sandcastle Girls by Chris Bohjalian (07/17/2012) — This spellbinding tale travels between Aleppo, Syria, in 1915 and Bronxville, New York, in 2012 — a sweeping historical love story steeped in the author's Armenian heritage, making it his most personal novel to date. "This is a powerful and moving story based on real events seldom discussed. It will leave you reeling." — Booklist
Ripper by David L. Golemon (07/17/2012) — The real Jack the Ripper is loose, and this time he's brought friends to the darkness of the deep desert in the newest adrenaline rush from David Golemon, The New York Times bestselling author of Legacy.
Close Your Eyes by Iris Johansen and Roy Johansen (07/17/2012) — Kendra Michaels, blind for the first twenty years of her life until a surgery corrected her sight, has the incredible ability to pick up the most subtle audio, olfactory, and tactile cues which makes her a sharp observer and problem solver. Now agent Adam Lynch wants her to help him find a killer.
Some Like It Hawk (Meg Langslow Series #14) by Donna Andrews (07/17/2012) — All the public buildings in Caerphilly, Virginia were foreclosed on, but the town clerk, Mr. Throckmorton, has barricaded himself in the courthouse basement for more than a year with the aid of the townspeople and a secret tunnel. When he is framed for a murder, Meg Langslow must find the real killer before Mr. Throckmorton is evicted and town's secret is revealed.
Earth Unaware by Orson Scott Card and Aaron Johnston (07/17/2012) — The first of a trilogy that are prequels to Ender's Game. The asteroid mining ship El Cavador is far out in the solar system working on Kuiper Belt beyond Pluto, when its crew discover that something very large is quickly approaching the solar system and they rush to get a warning message back to Earth, but will it reach them in time? "Quite as grim as it is excellent." — Booklist starred review
Leader of the Pack (Andy Carpenter Series #10) by David Rosenfelt (07/17/2012) — Attorney Andy Carpenter has always believed his client Joey Desimone, who has been in jail for the past nine years, is innocent. When Andy agrees to visit Joey's elderly Uncle Nick, he learns Nick may know something that could prove Joey's innocence.
Tigers in Red Weather by Liza Klaussmann (07/17/2012) — After Nick's husband returns home from World War II, the family attempts to rekindle the sense of possibility they had before the war, but their children unearth old secrets, lies, and the family's dark history; meanwhile, Nick's cousin Helen travels to Hollywood to marry charismatic Avery Lewis.
Nonfiction