Welcome to the Monday Morning Book Buzz, a preview of notable books being released this week. Some of them will be added to the Academy Library collection; if you read about a title that you would like added to the collection, let me know by either commenting on this post or by contacting me directly at the Library.
If you would like to subscribe to the CA Library Blog, click the Entries (RSS) button at the top of the menu on the right and add the link to your favorite news aggregator. You can also follow us on Facebook by visiting http://www.facebook.com/calibrary and hitting the 'Like' button.
This week's releases are listed by category: Young Adult Fiction, General Fiction and Nonfiction. On-sale dates are indicated in parentheses.
Notable New Releases for the week of August 13th:
Young Adult Fiction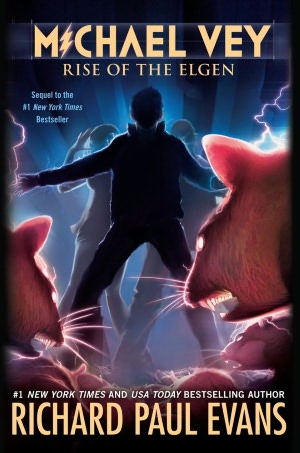 Rise of the Elgen (Michael Vey Series #2) by Richard Paul Evans (8/14/2012) — The sequel to Michael Vey, The Prisoner of Cell 25. Fifteen-year-old Michael Vey, born with Tourette's syndrome and special electromagnetic powers, joins his techno-genius best friend and an alliance of other "electric" teenagers to battle powerful foes in the jungles of Peru, where Michael learns the Order of Elgen's plan to "restructure" the world.
The Demigod Diaries: The Heroes of Olympus by Rick Riordan (8/14/2012) — Four short stories plus original art, interviews, puzzles, and games, reveal new insights into the world of Percy Jackson and the other heroes of Olympus.
The Kill Order (Maze Runner Prequel) by James Dashner (8/14/2012) — Mark and Trina struggle to survive as modern civilization is destoryed by sun flares and mutating diseases. "Blending past, present and future, this is a gritty and unnerving look at a post-apocalyptic world that both recalls early classics of the genre and looks forward to Dashner's already-established trilogy." — Kirkus Reviews
Forsaken (Fallen Series #4) by Thomas E. Sniegoski (08/14/2012) — The war between Heaven and Hell rages on. The devil has possessed Lucifer's body and is intent on unleashing unfathomable chaos in the world. But no matter the cost, Aaron, half angel and half human, and the other Nephilim are determined to protect humanity.
The Rising (Department 19 Series #2) by Will Hill (08/16/2012) — Now an official member of Department 19, Jamie is part of an elite agency of vampire hunters who must find the stolen remains of Dracula before the vampire can return and seize power. "From UV grenades to exploding stake bombs to a giant anti-vampire superweapon, the gadgets add a neat modern twist to the traditional stakings. Fans will devour the pages and thirst for the next volume." — Kirkus Reviews
The Treachery of Beautiful Things by Ruth Long (08/16/2012) — Seven years after the forest seemingly swallowed her brother whole, seventeen-year-old Jenny, whose story about Tom's disappearance has never been believed, sets out to finally say goodbye, but instead she is pulled into a mysterious world of faeries and other creatures where nothing is what it seems.
Blood Crave by Jennifer Knight (08/14/2012) — Faith Reynolds, Lucas, her werewolf boyfriend, and her viran, part vampire and part werewolf, friend, Lucas, must deal with the vampire attacks on campus and the fight between vampires and werewolves.
Frozen by Mary Casanova (08/15/2012) — Set during the roaring 20s in the beautiful, wild area on Rainy Lake where Minnesota meets Canada, this is the story of Sadie Rose, whose mother died under strange circumstances the same night that Sadie Rose was found, unable to speak, in a snowbank.
Kissing Shakespeare by Pamela Mingle (08/14/2012) — Although her parents are renowned Shakespearean actors, Miranda's performance in a school play is disastrous — but before she can get away to hide, Stephen, a castmate, whisks her to sixteenth century England to meet–and save–the young Will Shakespeare.
My Sister Lives on the Mantelpiece by Annabel Pitcher (08/14/2012) — With his family still grieving over his sister's death in a terrorist bombing seven years earlier, ten-year-old Jamie is far more interested in his cat, Roger, his birthday Spider-Man T-shirt, and keeping his new Muslim friend, Sunya, a secret from his father. "Realistic, gritty and uplifting." — Kirkus starred review
Counting Backwards by Laura Lascarso (08/14/2012) — After stealing a car and assaulting a police officer, sixteen-year-old Taylor is sent to a boarding school that functions as a juvenile psychiatric correctional facility, where she struggles to hold onto her sanity as she battles her parents, overbearing therapists, and a group of particularly nasty fellow patients.
General Fiction
The Inn at Rose Harbor by Debbie Macomber (8/14/2012) — Jo Marie Rose opens the Rose Harbor Inn bed and breakfast in Cedar Cove in order to start a new life, but the inn and its first guests bring surprises into Jo's life.
The Kingmaker's Daughter by Philippa Gregory (8/14/2012) — Anne, daughter of Richard Neville, Earl of Warwick, is married at age fourteen but soon becomes widowed and fatherless. With her mother in sanctuary and her sister married to the enemy, Anne decides to escape by marrying Richard, Duke of Gloucester, leading her to both the loss of loved ones and tremendous power. "Gregory's many fans as well as readers who enjoy lush, evocative writing, vividly drawn characters, and fascinating history told from a woman's point of view will love her latest work." — Library Journal
Where'd You Go, Bernadette by Maria Semple (8/14/2012) — When Bee aces her report card, she claims her reward — a trip to Antarctica. But her mother, Bernadette, disappears due to her intensifying allergy to Seattle and people in general, which has made her so agoraphobic that a virtual assistant in India now runs her most basic errands. "A fun beach read for urban sophisticates or those who think they are." — Kirkus reviews
The St. Zita Society by Ruth Rendell (8/14/2012) — The psychologically charged affairs between residents and servants on a posh London street escalate to violence involving a handsome valet who is sleeping with a lord's wife and daughter, an au pair who aids her mistress's affair, and a disturbed gardener.
And When She Was Good by Laura Lippman (8/14/2012) — Suburban prostitute Heloise decides to leave the profession and disappear with her child after another prostitute is found dead, and must stay a step ahead of a convicted murderer–and the father of her child–whose sentence is about to be overturned. "[A] psychologically astute, diabolically witty, intricately suspenseful, and stylishly righteous tale of atrocities and revenge." — Booklist starred review
The Second Empress: A Novel of Napoleon's Court by Michelle Moran (8/14/2012) — Marie-Louise, having left her country and true love to marry Napoleon at his request, finds her marriage to the emperor threatened by his sister, Pauline, who wants to marry her brother and rule along side him.
Nonfiction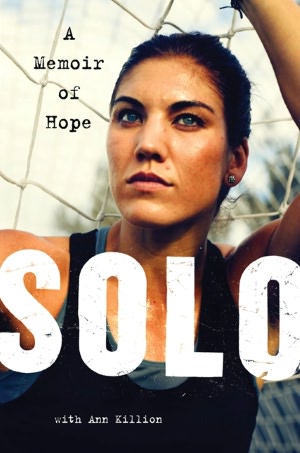 Solo: A Memoir of Hope by Hope Solo (8/14/2012) — The Glass Castle meets A League of Their Own in this candid and moving memoir about family, loss, and reconciliation from the supremely talented and headline-making goalkeeper for the U.S. women's national soccer team.
Paris: A Love Story by Kati Marton (8/14/2012) — This is a memoir for anyone who has ever fallen in love in Paris, or with Paris. In this remarkably honest account, award-winning journalist Marton narrates an impassioned and romantic story of love, loss, and life after loss.
Obama's America: Unmaking the American Dream by Dinesh D'Souza (8/13/2012) — A former White House domestic policy analyst and the current president of King's College, D'Souza argues that President Obama's recent actions prove his anti-colonialist roots and predicts how much worse America will be if President Obama wins a second term.
The New New Deal: The Hidden Story of Change in the Obama Era by Michael Grunwald (8/14/2012) — Time magazine senior correspondent Grunwald analyzes the impact of the American Recovery and Reinvestment Act — the stimulus bill — signed into law soon after President Obama's inauguration in 2009. "An impressive book about the startling gap between facts and media spin." — Publishers Weekly
Dreamland: Adventures in the Strange Science of Sleep by David K. Randall (8/13/2012) — Journalist David K. Randall examines the science behind sleep and explores the research that is investigating those dark hours that make up nearly a third of our lives. Taking readers from military battlefields to children's bedrooms, Dreamland shows that sleep isn't as simple as it seems.
My Teenage Dream Ended by Farrah Abraham (8/14/2012) — A memoir of Farrah Abraham, star of reality television show Teen Mom, focusing on her relationship with Derek Underwood, their unplanned pregnancy, and how she has dealt with Derek's unexpected death.