Welcome to the Monday Morning Book Buzz, a preview of notable books being released this week. Some of them will be added to the Academy Library collection; if you read about a title that you would like added to the collection, let me know by either commenting on this post or by contacting me directly at the Library.
If you would like to subscribe to the CA Library Blog, click the Entries (RSS) button at the top of the menu on the right and add the link to your favorite news aggregator. You can also follow us on Facebook by visiting http://www.facebook.com/calibrary and hitting the 'Like' button.
This week's releases are listed by category: Young Adult Fiction, General Fiction and Nonfiction. On-sale dates are indicated in parentheses.
Notable New Releases for the week of August 20th:
Young Adult Fiction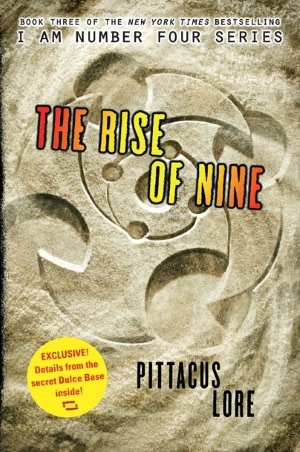 The Rise of Nine (Lorien Legacies Series #3) by Pittacus Lore (8/21/2012) — John–aka Number Four–continues his quest to find the rest of the Lorien Nine before the Mogadorians can, and, with time running out, Number Six goes off alone while John teams up with Number Nine.
The Empty City (Survivors #1) by Erin Hunter (8/21/2012) — In the aftermath of the Big Growl that destroyed his city, a Lone Dog named Lucky must find a way to work with other dogs in order to survive in this frightening new world. "A promising new start for the many fans of the Warriors and Seekers adventure series." — Booklist
Heaven (Halo Trilogy #3) by Alexandra Adornetto (8/21/2012) — Bethany, an angel sent to Earth, and her mortal boyfriend, Xavier, defy Heavenly law and marry–leading to a confrontation with the Sevens, rogue angels bent on keeping Beth and Xavier apart, destroying Gabriel and Ivy, and darkening angelic power in the heavens.
Palace of Stone (Princess Academy Series #2) by Shannon Hale (8/21/2012) — Miri returns to Asland and calls upon all of her knowledge of rhetoric and other useful lessons learned at the Princess Academy when she and the other girls face strong opposition while working for a new, fair charter. "Miri's story comes to a satisfying end; readers who have been waiting since 2005 will find their patience well rewarded." — Kirkus reviews
The Key (Magnificent 12 Series #3) by Michael Grant (8/21/2012) — Even though Mack MacAvoy hates doing homework, he must learn the magical language of Vargran in order to defeat the Pale Queen and her evil daughter, Risky; and along with Jarrah, Xiao, Dietmar, and Stefan, he travels to Europe to find the key that will unlock the power of Vargran. "Action, adventure, fantasy, humor and a glimpse of a potential budding romance are all here, making this a great end-of-summer read." — Kirkus Reviews
Over You by Emma McLaughlin and Nicola Kraus (8/21/2012) — After seventeen-year-old Max got her heart broken, she made it her mission to help girls across New York City get over being dumped, but when her ex shows up in her neighborhood, Max questions whether she is really over him. "Fans of McLaughlin and Kraus' megahit The Nanny Diaries (2002) . . . will be anticipating the latest from the duo." — Booklist
General Fiction
You Are the Love of My Life: A Novel by Susan Richards Shreve (8/20/2012) — Children's book illustrator and single mother of two, Lucy Painter, leaves New York and the married father of her children for her childhood home in Washington hoping for a fresh start, but secrets and shame lie in her way. "Prolific and perceptive Shreve (A Student of Living Things, 2006) handles complex themes of identity, loyalty, privacy, and commitment with finesse, delicacy, and insight, ensuring that her latest is a worthy book-club recommendation." — Booklist starred review
One Last Thing Before I Go by Jonathan Tropper (8/21/2012) — Drew Silver, father of Casey, a pregnant teenager bound for Princeton, and a divorced drummer who makes his living playing in wedding bands, decides not to have emergency lifesaving heart surgery. "Eminently quotable, hilariously funny, and emotionally draining, this arresting tour de force will entertain well after the book is done." — Library Journal
Trickster's Point (Cork O'Connor Series #12) by William Kent Krueger (8/21/2012) — Cork O'Connor becomes a suspect in the murder of Jubal Little, soon to be the first Native American elected governor of Minnesota, when his arrow is found through his heart, Cork works to clear his name and find the real killer. "Krueger's intimate knowledge of Minnesota's northern reaches and respect for Native American life, ancient and modern, provide an intricate setting for this gem of a mystery." — Publishers Weekly
Wards of Faerie: The Dark Legacy of Shannara by Terry Brooks (8/21/2012) — Druid Aphenglow Elessedil — living in a world in which elves have distanced themselves from other races, a sinister politician is the head of the Federation, and the Druid order is threatened with extinction — learns the truth about the vanished Elfstones, becomes the target of assassins, and joins an expedition to locate the missing stones. "And although Brooks has written some 20 books in the Shannara saga to date . . . he shows little sign of slowing his pace." — Kirkus Reviews
Lionel Asbo: State of England by Martin Amis (8/21/2012) — Thug Lionel Asbo, having always watched after his orphaned nephew, Desmond Pepperdine, who yearns for a different life and guards a deadly family secret, wins millions of dollars in the lottery while in prison, and, after being released, finds his and Desmond's problems multiplying. "This deliciously shivery, sly, and taunting page-turner provokes a fresh assessment of the poverty of place, mind, and spirit and the wondrous blossoming of against-all-odds goodness." — Booklist starred review
The Orchardist by Amanda Coplin (8/21/2012) — In a rural stretch of the Pacific Northwest, a reclusive orchardist, William Talmadge, tends to his apples and apricots. After two teenage girls steal his fruit from the market, they return to the outskirts of his orchard to see the man who gave didn't pursue them. Feral, scared, and very pregnant, the girls take up on Talmadge's land. "Coplin's lyrical style and forceful storytelling provide many unexpected twists before the poignant conclusion. A breathtaking work from a genuinely accomplished writer." — Library Journal
Memoirs of an Imaginary Friend by Matthew Dicks (8/21/2012) — Imaginary friend Budo narrates this heartwarming story of love, loyalty, and the power of the imagination–the perfect read for anyone who has ever had a friend, real or otherwise. "An incredibly captivating novel about the wonder of youth and the importance of friendship." — Booklist
Fate of Worlds: Return from the Ringworld by Larry Niven and Edward M. Lerner (8/21/2012) — After decades of battle for control of the Ringworld, the planet disappears and the rival war fleets look to the Puppeteers as a new conquest. "This fifth installment of Niven and Lerner's collaborative Fleet of Worlds series brings to a close a sweeping, multilayered Known Space saga that began in 1970 with the publication of the first Ringworld novel." — Booklist
The Absent One (Department Q Series #2) by Jussi Adler-Olsen (8/21/2012) — Detective Carl Moorck investigates the twenty-year-old murders of a brother and sister whose confessed killer may actually be innocent, a case with ties to a homeless woman and powerful adversaries. "An insightful look at ruthless people seduced by violence and hiding behind their wealth fuels the surprise-filled plot." — Publishers Weekly
A Killing in the Hills by Julia Keller (8/21/2012) — In this debut from a Pulitzer Prize-winning journalist, a mother and a daughter try to do right by a town and each other before it's too late when three men are killed at a local diner in West Virginia. "A page-turner with substance and depth, this is as suspenseful and entertaining as it is accomplished." — Booklist starred review
Nonfiction
Paterno by Joe Posnanski (8/21/2012) — Having gained unprecedented access to the late Penn State football coach Joe Paterno, as well as the coach's personal notes and files, Sports Illustrated senior writer Joe Posnanski spent the last two years of Paterno's life covering the coach, on (and off) the field and through the scandal that ended Paterno's legendary career.
Diaries by George Orwell (8/20/2012) — Collects eleven diaries covering the period 1931-1949 from George Orwell's early years as a writer up to his last literary notebook. "Thickly annotated, this selection will be appreciated by historical researchers as well as curious browsers." — Booklist
Embers of War: The Fall of an Empire and the Making of America's Vietnam by Fredrik Logevall (8/21/2012) — Logevall, a history professor at Cornell University, explores the beginning of the conflict in Vietnam from the early struggle for independence from French colonizers to the start of America's involvement in the 1950s. "Logevall's exhaustive study shows chapter and verse why not–and why the ensuing American war was doomed to fail." — Kirkus Reviews