Welcome to the Monday Morning Book Buzz, a preview of notable books being released this week. Some of them will be added to the Academy Library collection; if you read about a title that you would like added to the collection, let me know by either commenting on this post or by contacting me directly at the Library.
If you would like to subscribe to the CA Library Blog, click the Entries (RSS) button at the top of the menu on the right and add the link to your favorite news aggregator. You can also follow us on Facebook by visiting http://www.facebook.com/calibrary and hitting the 'Like' button.
This week's releases are listed by category: Young Adult Fiction, General Fiction and Nonfiction. On-sale dates are indicated in parentheses.
Notable New Releases for the week of October 15th:
Young Adult Fiction
Hidden (House of Night Series #10) by P. C. Cast (10/16/2012) — Zoey and friends may finally have proven themselves worthy of aid in their fight against Neferet after she reveals her true nature to the Vampyre High Council.
Second Chance (The Slayer Chronicles Series #2) by Heather Brewer (10/16/2012) — Joss is summoned by Abraham to New York City and told he must prove his loyalty to the Slayer Society by successfully leading a team in hunting a murderous Manhattan vampire, or his life will be forfeit. "Solid staking action keeps the pages turning." — Kirkus Reviews
Zom-B by Darren Shan (10/16/2012) — B, who does not buy into his father's racism, but goes along with it to avoid being abused, acts out at school by getting into fights and being mean, but, when zombies attack, he must try to find students with whom to team up in order to fend them off. "Character development is impressive for a relatively short book, and Shan executes the transition from normalcy to wholesale terror masterfully." — Publishers Weekly
Starstruck (Fame Game Series #2) by Lauren Conrad (10/16/2012) — Drama ensues when the girls discover they all have a crush on the same guy, and while Madison Parker is punished with community service hours for her admission to stealing, newcomer Kate Hayes is reveling in her song's overnight success, and aspiring actress Cameron Curtis struggles to step out from her famous mother's shadow.
Ashen Winter (Ashfall Series #2) by Mike Mullin (10/16/2012) — More than six months after the eruption of the Yellowstone supervolcano, Alex and Darla retrace their steps to Iowa hoping to find Alex's parents and bring them to the tenuous safety of Illinois, but the journey is ever more perilous as the remaining communities fight to the death for food and power. "Teens who enjoyed The Hunger Games series and Michael Grant's Gone series will find Mullin's story equally engaging." — School Library Journal
Out of Reach by Carrie Arcos (10/16/2012) — Accompanied by her brother's friend, Tyler, sixteen-year-old Rachel ventures through San Diego and nearby areas seeking her brother, eighteen-year-old Micah, a methamphetamine addict who ran away from home. "Ellen Hopkins fans will find another look at methamphetamine addiction in this quick, realistic debut." — Kirkus Reviews
Sanctum by Sarah Fine (10/16/2012) — When seventeen-year-old Lela Santo's best friend Nadia kills herself and a farewell ritual goes wrong, she finds herself standing in paradise. Determined to save the soul of her best friend, she enters hell and is captured by the Guards, enormous, not-quite-human creatures, whose leader Malachi has his own plans for Lela.
Beta by Rachel Cohn (10/16/2012) — On a futuristic island paradise where humans are served by enslaved clones, a sixteen-year-old clone named Elysia seeks her own freedom. "Cohn's large following will be eager to dive into the author's first foray into science fiction." — Booklist
Break My Heart 1,000 Times by Daniel Waters (10/16/2012) — In the aftermath of the Event, which made seeing the dead a part of life, Veronica and her friend Kirk investigate why the ghosts seem to be gaining power and stumble upon the sinister plot of a teacher who is seeking a replacement for his dead daughter. "Waters not only causes hearts to race, but brains to ponder the possibilities of ghosts." — Kirkus Reviews
The Innocents by Lili Peloquin (10/16/2012) — Sisters Alice and Charlie have seen their relationship survive struggles with friends, fights over boys, and their family falling apart, but after arriving at Serenity Point, they find the world of secrets and lies testing their bond. "Gossip Girl for Connecticut's Gold Coast." — Publishers Weekly
General Fiction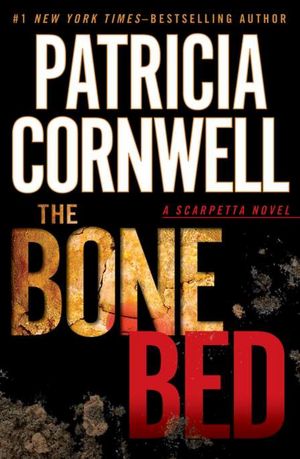 The Bone Bed (Kay Scarpetta Series #20) by Patricia Cornwell (10/16/2012) — Chief Medical Examiner Kay Scarpetta finds that evidence from the disappearance of a paleontologist in the wilderness of Canada seems tied to a local murder, tortures, and artifacts from the last living dinosaurs. "An ingenious murder method, more hours in the mortuary and forensics lab than usual, an uncharacteristically muffled killer, and all the trademark battles among the regulars and every potential ally who gets in their way." — Kirkus Reviews
The Panther (John Corey Series #6) by Nelson DeMille (10/16/2012) — Anti-terrorist task force agent John Corey and his FBI agent wife, Kate Mayfield, search for the mastermind behind the bombing of the USS Cole in Yemen. "A first-class thriller, regardless of whether John Corey is the reader's old friend or a new acquaintance." — Booklist starred review
The Twelve (Passage Trilogy Series #2) by Justin Cronin (10/16/2012) — In the present, three individuals — Lila, a pregnant doctor, Kittridge, a loner, and April, a teenager caring for her younger brother — struggle to survive as a man-made apocalypse unfolds. One hundred years in the future, Amy and others support the Twelve as they fight a dark enemy with plans for humankind that are worse than extinction. "Strongly recommended for readers who enjoy thrillers, science fiction, and epic adventure tales." — Library Journal
The Secret Keeper by Kate Morton (10/16/2012) — Fifty years after she witnessed a shocking crime at her family's farm in the English countryside, Laurel, now a successful London actress, returns to the farm and is overwhelmed by family secrets she has not thought of in decades. "The suspense mounts throughout, culminating in a shocking twist." — Kirkus Reviews
Sleep No More (Eve Duncan Series) by Iris Johansen (10/16/2012) — Entreated by her mother to help find a missing woman named Beth who has escaped from a mental hospital, forensic sculptor Eve Duncan is shocked to discover the woman's true identity and enlists the help of rogue FBI profiler Kendra Michaels to survive a plot by a killer who is targeting her family. "Series fans will be pleased to discover that Beth, like Eve, is a strong woman who has endured many trials in her past." — Publishers Weekly
The 13th Day of Christmas by Jason F. Wright (10/15/2012) — When eight-year-old Charlee and ninety-year-old Marva are both diagnosed with cancer, the prospects of having a merry Christmas seem bleak — until a series of letters and gifts that coincide with the 12 days of Christmas begin appearing.
An Irish Country Wedding by Patrick Taylor (10/16/2012) — Resolving to handle his usual round of eccentric patients before marrying his sweetheart, Dr. O'Reilly helps clear the name of a pigeon-hunting cat and encourages a promising student while his assistant, Barry, considers a romance with a politically outspoken teacher. "Gentle, colorful, feel-good stories of a peaceable life long gone. Think Mayberry with Dr. O'Reilly as Sheriff Taylor." — Kirkus Reviews
Sacrifice Fly by Tim O'Mara (10/16/2012) — Ex-police officer turned schoolteacher Raymond Donne searches for a student, Frankie, when he stops showing up to school and finds Frankie's father murdered in their apartment and Frankie and his sisters gone. "Donne is the type of character who keeps readers coming back for more…here's hoping we see much more of him in the future." — Booklist
The Walking Dead: The Road to Woodbury by Robert Kirkman (10/16/2012) — The zombie plague unleashes its horrors on the suburbs of Atlanta without warning, pitting the living against the dead. Caught in the mass exodus, Lilly Caul struggles to survive in a series of ragtag encampments and improvised shelters. But the Walkers are multiplying.
Death in the Floating City (Lady Emily Series #7) by Tasha Alexander (10/16/2012) — Emma Callum, Emily's childhood nemisis, turns to Emily when her father-in-law is murdered and her husband, an Italian count, has fled, and when a fifteenth-century ring is found in the victim's hand, Emily must sort through a connection with a centuries-old love affair. "An exceptionally good bet for readers who appreciate historical mysteries and the combination of past and present voices." — Library Journal
Nonfiction