Welcome to the Monday Morning Book Buzz, a preview of notable books being released this week. Some of them will be added to the Academy Library collection; if you read about a title that you would like added to the collection, let me know by either commenting on this post or by contacting me directly at the Library.
If you would like to subscribe to the CA Library Blog, click the Entries (RSS) button at the top of the menu on the right and add the link to your favorite news aggregator. You can also follow us on Facebook by visiting http://www.facebook.com/calibrary and hitting the 'Like' button.
This week's releases are listed by category: Young Adult Fiction, General Fiction and Nonfiction. On-sale dates are indicated in parentheses.
Notable New Releases for the week of November 12th:
Young Adult Fiction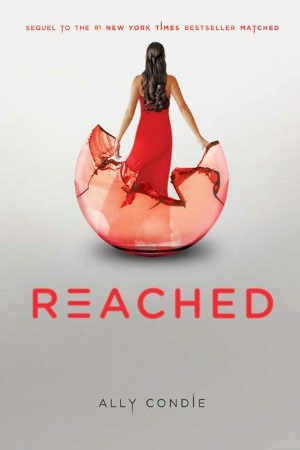 Reached (Matched Trilogy Series #3) by Ally Condie (11/13/2012) — The conclusion to Condie's bestselling Matched trilogy. After leaving Society and desperately searching for the Rising — and each other — Cassia and Ky have found what they were looking for, but at the cost of losing each other yet again. "Unpredictable twists and revelations…will leave readers satisfied with the fates of their favorites." — Publishers Weekly
The Third Wheel (Diary of a Wimpy Kid Series #7) by Jeff Kinney (11/13/2012) — As the day of the Valentine's Day dance approaches, Greg Heffley worries he will be left out until a twist of fate lands Greg with a date, but leaves his best friend, Rowley, on his own.
Execution (Escape from Furnace series, Book 5) by Alexander Gordon Smith (11/13/2012) — Alex Sawyer has escaped his underground nightmare to discover the whole world has become a prison, and Alfred Furnace is its master. Monsters rule the streets, and Alex is a monster too. He is the only one who can stop Furnace — but in doing so he could destroy everything.
Echo (Soul Seekers Series #2) by Alyson Noël (11/13/2012) — Daire Santos just saved her grandmother's life—and her soul. But at a cost. The Richters, a dark family of sorcerers, have been let loose in the Lowerworld, and Daire and her boyfriend, Dace, must once again work together to find them before they upset the balance between good and evil.
Black City by Elizabeth Richards (11/13/2012) — In a city where humans and Darklings are now separated by a high wall and tensions between the two races still simmer after a terrible war, sixteen-year-olds Ash Fisher, a half-blood Darkling, and Natalie Buchanan, a human and the daughter of the Emissary, meet and do the unthinkable–they fall in love. "Insatiable fans of saccharine paranormal romances or gritty dystopian novels will devour it greedily as it provides a balanced combination of romance, action, and fantasy." — School Library Journal
Witch World (Witch World Series #1) by Christopher Pike (11/13/2012) — On a high school graduation road trip to Las Vegas, Jessie, still in love with ex-boyfriend Jimmy, discovers that she possesses extraordinary powers and the ability to exist in both the real world and an alternate one.
Sacred by Elana K. Arnold (11/13/2012) — Since her older brother died, Scarlett has felt emotionally cutoff from everyone on Catalina Island–except for her horse–and struggles with anorexia, but when she meets a strange boy named Will Cohen, Scarlett begins to rediscover herself.
Katya's World by Jonathan L. Howard (11/13/2012) — The distant and unloved colony world of Russalka has no land, only the raging sea. Beneath the waves, the people live in pressurized environments and take what they need from the boundless ocean. It is a hard life, but it is theirs and they fought a war against Earth to protect it. But wars leave wounds that never quite heal, and secrets that never quite lie silent. "SF fans looking to stretch their range will find much to love and will look forward to the planned second installment." — Publishers Weekly
Ashes of Twilight by Kassy Tayler (11/13/2012) — Sixteen-year-old Wren MacAvoy works as a coal miner for a domed city where, after 200 years, society is complacent and coal is diminishing until she unwittingly becomes a catalyst for a revolution that destroys the dome, which could mean the end of everything.
Under the Bridge by Michael Harmon (11/13/2012) — Tate, a skateboarding street boy from Spokane, tries to convince his younger brother, Indy, to come back home, but when Indy's life is in jeopardy, Tate wears a police wire to confront the drug dealer who threatens to kill his brother. "Harmon offers a down-to-earth portrait of teenagers and adults alike working hard to exert control over their lives, a daily grind that is messy, complicated, and never easy." — Publishers Weekly
Secrets and Lies (Capital Girls Series #2) by Ella Monroe (11/13/2012) — As the girlfriend of the president's son, Jackie, a senior at an exclusive Washington, D.C., prep school, looks to her best friends, the Capital Girls, for support when she becomes the target of a stalker and experiences a devastating betrayal.
Graphic Novel
The Girl with the Dragon Tattoo (The Graphic Adaptation, Book 1) by Denise Mina (11/13/2012) — DC Comics/Vertigo is publishing the official graphic novel adaptation of Stieg Larsson's Millennium Trilogy, starting with The Girl With The Dragon Tattoo, the international publishing phenomenon. Each book in the Millennium Trilogy will be adapted in two hardcover graphic novel volumes.
General Fiction
Merry Christmas, Alex Cross by James Patterson (11/12/2012) — Alex Cross and his family are celebrating Christmas Eve when a father takes his ex-wife and children hostage, but just as this situation is being dealt with a second situation explodes that puts millions at risk and Alex is forced to make a decision that may end as many lives as it saves.
The Last Man (Mitch Rapp Series #13) by Vince Flynn (11/13/2012) — When a CIA black ops master with ties to disreputable figures in Afghanistan goes missing, Mitch Rapp is ordered to track the missing man at all costs and finds himself enmeshed in a dangerous plot involving the interests of numerous countries.
Sweet Tooth by Ian McEwan (11/13/2012) — Cambridge student Serena Frome's beauty and intelligence make her the ideal recruit for MI5. The year is 1972 and the Cold War is far from over. England's legendary intelligence agency is determined to manipulate the cultural conversation by funding writers whose politics align with those of the government. The operation is code named "Sweet Tooth." "This novel has a greatly compelling story line braced by the author's formidable wisdom about—well, the world." — Booklist starred review
Annihilation: Star Wars (The Old Republic) by Drew Karpyshyn (11/13/2012) — The Sith Empire is in flux. The Emperor is missing, presumed dead, and an ambitious Sith lord's attempt to seize the throne has ended fatally. Still, Darth Karrid, commander of the fearsome Imperial battle cruiser Ascendant Spear, continues her relentless efforts to achieve total Sith domination of the galaxy.
The Testament of Mary by Colm Toibin (11/13/2012) — In the ancient town of Ephesus, Mary lives alone, years after her son's crucifixion. She has no interest in collaborating with the authors of the Gospel. They are her keepers, providing her with food and shelter and visiting her regularly. She does not agree that her son is the Son of God; nor that his death was "worth it"; nor that the "group of misfits he gathered around him, men who could not look a woman in the eye," were holy disciples. "A stunning interpretation that is as beautiful in its presentation as it is provocative in its intention." — Booklist starred review
Cross Roads by William Paul Young (11/13/2012) — From the bestselling author of The Shack comes a new story about the incremental transformation of a man caught in the torments of his own creation, somewhere between Heaven and Earth. Anthony Spencer is egotistical, proud of being a self-made business success at the peak of his game, even though the cost of winning was painfully high. When cerebral hemorrhage leaves Tony comatose in a hospital ICU, he 'awakens' to find himself in a surreal world, a 'living' landscape that mirrors dimensions of his earthly life, from the beautiful to the corrupt.
Dear Life: Stories by Alice Munro (11/13/2012) — A collection of fourteen short stories by Alice Munro that deal with the moment a life is forever altered. "While many of these pieces appeared in the New Yorker, they read differently here; not only has Munro made changes, but more importantly, read together, the stories accrete, deepen, and speak to each other." — Publishers Weekly
The Lawgiver by Herman Wouk (11/13/2012) — For more than fifty years, legendary author Herman Wouk has dreamed of writing a novel about the life of Moses. Finally, at age ninety-seven, he has found an ingeniously witty way to tell the tale in The Lawgiver, a romantic and suspenseful epistolary novel about a group of people trying to make a movie about Moses in the present day. The story emerges from letters, memos, e-mails, journals, news articles, recorded talk, Skype transcripts, and text messages. "Brisk, funny, and incisive, Wouk's romantic comedy of art versus love slyly updates the story of the beloved star of his indelible novel Marjorie Morningstar while nimbly…retelling the story of Moses." — Booklist starred review
A Death in the Small Hours (Charles Lenox Series #6) by Charles Finch (11/13/2012) — Charles Lenox is at the pinnacle of his political career and is a delighted new father. His days of regularly investigating the crimes of Victorian London now some years behind him, he plans a trip to his uncle's estate, Somerset, in the expectation of a few calm weeks to write an important speech. When he arrives in the quiet village of Plumley, however, what greets him is a series of strange vandalisms upon the local shops: broken windows, minor thefts, threatening scrawls. "The sixth in Finch's steadily improving series develops the congenial continuing characters further while providing quite a decent mystery." — Kirkus Reviews
Red Country by Joe Abercrombie (11/13/2012) — Shy South hoped to bury her bloody past and ride away smiling, but she'll have to sharpen up some bad old ways to get her family back, and she's not a woman to flinch from what needs doing. She sets off in pursuit with only a pair of oxen and her cowardly old step father Lamb for company. But it turns out Lamb's buried a bloody past of his own. And out in the lawless Far Country the past never stays buried. "This tale of a young woman's determination and an old man's redemption stands on its own, bolstered by strong characters and a sure hand at storytelling." — Library Journal
Victory at Yorktown: A Novel by Newt Gingrich and William R. Forstchen (11/13/2012) — New York Times bestselling authors Gingrich and Forstchen present the triumphant conclusion to their George Washington series — a novel of leadership, brotherhood, loyalty, and the victory of the American cause. "The authors shine brightly in describing the depth of his emotion flowing from the victory at Yorktown." — Kirkus Reviews
Nonfiction
Mastery by Robert Greene (11/13/2012)