Welcome to the Monday Morning Book Buzz, a preview of notable books being released this week. Some of them will be added to the Academy Library collection; if you read about a title that you would like added to the collection, let me know by either commenting on this post or by contacting me directly at the Library.
If you would like to subscribe to the CA Library Blog, click the Entries (RSS) button at the top of the menu on the right and add the link to your favorite news aggregator. You can also follow us on Facebook by visiting http://www.facebook.com/calibrary and hitting the 'Like' button.
This week's releases are listed by category: Young Adult Fiction, General Fiction and Nonfiction. On-sale dates are indicated in parentheses.
Notable New Releases for the week of November 19th:
Young Adult Fiction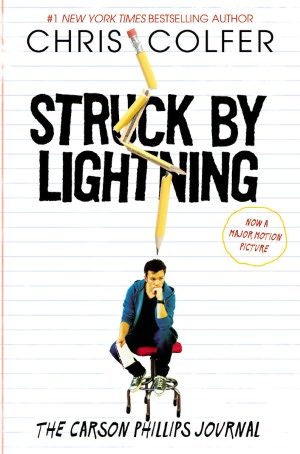 Struck By Lightning: The Carson Phillips Journal by Chris Colfer (11/20/2012) — The story of outcast high school senior Carson Phillips who blackmails the most popular students in his school into contributing to his literary journal to bolster his college application; his goal in life is to get into Northwestern and eventually become the editor ofThe New Yorker.
Middle Ground by Katie Kacvinsky (11/20/2012) — The sequel to Awaken. In 2060, seventeen-year-old Maddie is sent to a Los Angeles detention center and subjected to brainwashing to get her to accept a world in which nearly all personal interaction is done online. "Maddie's sensuous, suspenseful voyage of discovery offers an intense, emotionally charged snapshot of the future that's rare in science fiction. Lyrical, provocative, passionate and thought-provoking." — Kirkus Reviews
Graphic Novels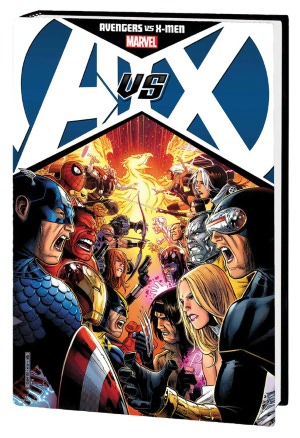 Avengers vs. X-Men by Brian Michael Bendis (11/21/2012) — The Avengers and the X-Men fight each other when the Phoenix Force comes back and the two teams have different ideas about how to deal with it.
Superman Vol. 1: What Price Tomorrow? (The New 52) by George Perez (11/20/2012) — Metropolis fears him. The Daily Planet agrees. This new volume of Superman finds our hero with a startling new status quo. As Superman finds ways to dodge the scrutiny placed upon him by the public and media, he must stop a monstrous threat to Metropolis — one that he somehow is the cause of.
Interview with the Vampire: Claudia's Story by Anne Rice, art and adaptation by Ashley Marie Witter (11/20/2012) — A graphic novel adaptation pulled from the pages of Anne Rice's Interview with the Vampire, in which Claudia grows tired of being treated like a child, especially since she has lived longer than most humans and has a strong desire for blood.
General Fiction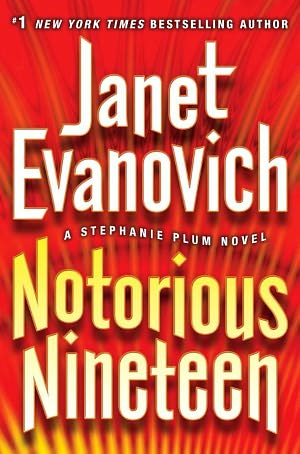 Notorious Nineteen (Stephanie Plum Series #19) by Janet Evanovich (11/20/2012) — When con man Geoffrey Cubbin mysteriously disappears from a hospital, it is up to Stephanie Plum to track him down, but when a second felon goes missing from the same hospital, she ends up working side-by-side with police officer Joe Morelli.
The Forgotten by David Baldacci (11/20/2012) — Army Special Agent John Puller investigates the death of his aunt in Paradise, Florida, believing it was not an accident and she knew about a conspiracy being hidden behind the beauty of the Golf Coast community.
Agenda 21 by Glenn Beck with Harriet Parke (11/20/2012) — In a dystopian future in which America has become the non-democratic Republic and a life has no meaning unless it can contribute either cleaner energy or more life, Emmeline discovers how bleak her existence is when the Authorities come for her mother.
Cat Bearing Gifts (Joe Grey Series #18) by Shirley Rousseau Murphy (11/20/2012) — Feline private investigator Joe Grey finds himself on the case after his friend Kate Osborne and her tortoise-shell Kit are involved in a car crash, and their car and the secret stash of jewels and gold inside are stolen. "Anyone unfamiliar with this cozy series will be quickly drawn in by the complete believability of Murphy's crime-solving felines and their helpful human companions." — Publishers Weekly
The Buzzard Table by Margaret Maron (11/20/2012) — Judge Deborah Knott and Sheriff's Deputy Dwight Bryant are back home in Colleton County with all their family and courthouse regulars. When a murderer strikes, they once again work together to solve the crime and uncover long-buried family secrets. "As always, Maron skillfully layers an absorbing plot with the doings of Deborah's large extended family and the domestic details of their semirural lifestyle." — Booklist
Fox Tracks (Sister Jane Foxhunting Series #8) by Rita Mae Brown (11/20/2012) — The latest in Brown's foxhunting mystery series featuring "Sister" Jane Arnold and a boisterous company of horses and hounds. Now, as a string of bizarre murders sweeps the East Coast, this unlikely alliance must smoke out a devious killer who may be closer than they first think.
Heroes Proved by Oliver North (11/20/2012) — Retired Marine Corps Lt. Colonel North applies his experience as a combat-decorated U.S. Marine and counterterrorism expert in this explosive novel of global intrigue, military action, and cutting-edge suspense.
Nonfiction