* * * * *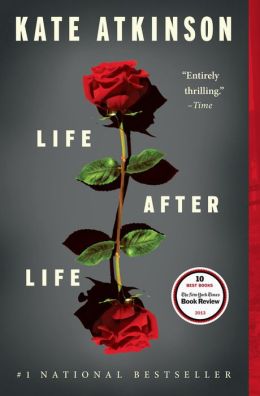 Normally I focus on books for teens and young adults on the CA Library blog — they are our primary audience, with CA Library being a high school library and all — but I also pay attention to what's happening in books for adults too.
So, just as I did for the Best YA Books of 2013, I have been compiling year-end best adult books lists from a variety of review sources around the interwebz — book retailers (Amazon and Barnes & Noble), review journals (School Library Journal, Booklist), mainstream magazines (Time, Entertainment Weekly) and newspapers (The New York Times, The Washington Post).
I looked at 16 best adult fiction lists in all, which collectively named over 200 titles as the best of 2013. Interestingly, most of the titles recommended only showed up on one list — only 36 books appeared on 3 or more lists.
By far the most highly recommended adult fiction title of 2013 is Kate Atkinson's Life After Life, "a masterpiece about how even the smallest choices can sometimes change the course of history" (J. Courtney Sullivan). Life After Life appears on 11 of the 16 best fiction lists I checked, making it the CA Library pick for the Best Adult Fiction Book of 2013.
Tied for second, with 9 appearances on the best books lists, are Donna Tartt's The Goldfinch, "a long-awaited, elegant meditation on love, memory, and the haunting power of art" (Kirkus reviews) and Bleeding Edge by Thomas Pynchon, "a pitch-perfect portrait of pre-9/11, pre-social media New York that's both seductive and impossibly innocent" (Vogue).
The top 20 books showed up on 5 or more best of 2013 lists. So, with much fanfare, here is the CA Library Best Adult Fiction of 2013 Superlist!