* * * * *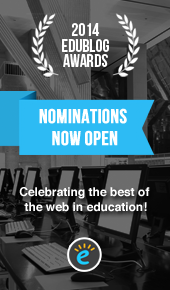 "The Edublog Awards started in 2004 in response to community concerns relating to how schools, districts and educational institutions were blocking access of learner and teacher blog sites for educational purposes.  The purpose of the Edublog awards is promote and demonstrate the educational values of these social media."
Do you know a teacher,
librarian
or administrator who maintains a blog at Edublogs? If so, you can nominate them for an Edublog Award!
This year, the nomination process has been greatly simplified – an easy nomination form is available here:
You can nominate in as many categories as you'd like (but you can't nominate yourself!) Nominations are open until November 24
th
; blogs with the most nominations go on to the voting round.
* * * * *