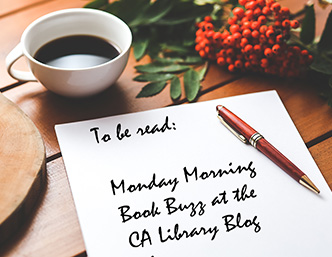 Welcome to the Monday Morning Book Buzz, a preview of notable books being released this week. Some of them will be added to the Academy Library collection; if you read about a title that you would like added, let me know by either commenting on this post or by contacting me directly at the Library — batemane@canandaiguaschools.org.
Notable New Releases for the week of November 23rd:
Queen (Blackcoat Rebellion series, Book 3) by Aimée Carter (11/24) — Kitty Doe is a Blackcoat rebel and a former captive with a deadly connection to the most powerful and dangerous man in the country, Prime Minister Daxton Hart. Forced to masquerade as Daxton's niece, Lila Hart, Kitty has helped the Blackcoats take back the prison known as Elsewhere. But Daxton has no intention of ceding his position of privilege—or letting Kitty expose his own masquerade.
Promises I Made by Michelle Zink (11/24) — The sequel to Lies I Told. Grace Fontaine was trained to carry out perfect crimes. But when a mistake was made the night her family tried to execute their biggest heist yet, her world fell apart. Haunted by the way she betrayed her brother, her friends, and Logan—the only boy she's ever loved—Grace decides she must return to the place every thief knows you should avoid: the scene of the crime.
Rules For 50/50 Chances by Kate McGovern (11/24) — Seventeen-year-old Rose Levenson has a decision to make: Does she want to know how she's going to die? Because when Rose turns eighteen, she can take the test that tells her if she carries the genetic mutation for Huntington's disease, the degenerative condition that is slowly killing her mother. With a fifty-fifty shot at inheriting her family's genetic curse, Rose is skeptical about pursuing anything that presumes she'll live to be a healthy adult-including her dream career in ballet and the possibility of falling in love.
Light Of Day by Allison van Diepen (11/24) — When Gabby Perez is almost drugged at a nightclub, she decides to take action. Teaming up with a mysterious stranger known as X, the two go after a gang who is drugging and kidnapping innocent girls off the Miami streets and forcing them into prostitution. As their search deepens, Gabby and X can't ignore their undeniable attraction to each other. Then Gabby discovers the truth about who X really is and the danger that surrounds him. Can their love survive the light of day?
Reckless Hearts by Sean Olin (11/24) — The second book in the Wicked Games series. What do you do if you find yourself fantasizing about kissing your best friend? Sensitive guitarist Jake has been asking himself that same question for a long time, and there's no easy answer. Telling his dream girl—talented anime artist Elena—about his feelings might lead to the ultimate rejection, but not telling her just might kill him.