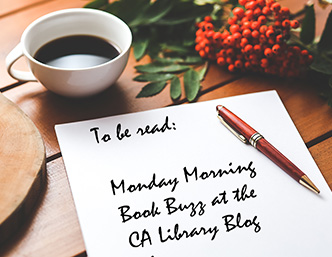 Welcome to the Monday Morning Book Buzz, a preview of new YA books being released this week. Some of them will be added to the Academy Library collection; if you read about a title that you would like added, let me know by either commenting on this post or by contacting me directly at the Library — batemane@canandaiguaschools.org.
Notable New Releases for the week of December 14th:
Untamed (A Spintered Companion) by A.G. Howard (12/15) — Alyssa Gardner went down the rabbit hole and took control of her destiny. She survived the battle for Wonderland and the battle for her heart. In this collection of three novellas, join Alyssa and her family as they look back at their memories of Wonderland. ""Alyssa is one of the most unique protagonists I've come across in a while. Splintered is dark, twisted, entirely riveting, and a truly romantic tale" (USA Today review of Splintered).
Frozen Tides (Falling Kingdoms series, Book 4) by Morgan Rhodes (12/15) — The plans are laid and the players are determined…but nothing can prepare these unlikely warriors for what the elemental gods of Mytica have in store. "From an opening dripping with blood, magic, and betrayal through complex interweaving plots detailing treachery, deceit, and forbidden love, this novel is the first in a projected series that will immediately engage readers and keep them intrigued" (Booklist review of Falling Kingdoms, Book 1).
Vision Quest by Terry Davis (12/15) — Reissue of the 1979 novel on which the 1985 film was based. Louden Swain is a high school wrestler who is working hard to cut his weight down. All he wants is to win his weight division in the state championships. But he's distracted from his goals by the older girl with car trouble that is staying with his family for a while. He is quickly falling in love with her, but can Louden make a relationship work and reach his wrestling goals at the same time? "Vision Quest is the truest novel about growing up since The Catcher in the Rye and it's a better novel about wrestling and wrestlers than The World According to Garp" (John Irving).