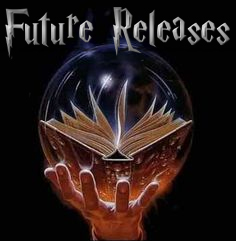 Here's a look at some of the books we're looking forward to reading in November!
Note: Dates listed are on sale dates, not when they will be available in the library. Look for them in the New Books section a couple of weeks after their release dates.
November 1
Blood For Blood by Ryan Graudin (November 1) — In this thrilling sequel to Wolf By Wolf, death camp survivor Yael, who has the power to skinshift, is on the run in 1950s Germany: the world has just seen her shoot and kill Hitler. But the truth of what happened is far more complicated, and its consequences are deadly. "Graudin crafts another fast-paced, enthralling tale of sacrifice and dogged determination as she fuses alternate history and spy-thriller suspense" (Publishers Weekly starred review).
The Dog, Ray by Linda Coggin (November 1) — Daisy, age twelve, has died in a car accident. She finds herself in the afterworld, which resembles nothing more than a job center. Her soul is being returned to Earth, but not as a human being—she's returning as a dog. A dog who retains Daisy's thoughts and pluck and is determined to get back to her parents and to get back home. What she doesn't expect is that life as a dog named Ray would come with such worries—and moments of jubilation—as she grows to care for others in a whole new way. "Coggin's subtle narrative transitions her protagonist from dog-inhabited-by-the-soul-of-a-girl to solely-dog with exquisite grace, leading to a wholly original homecoming theme. A powerful story brought to heart-beating life by its cogent craftsmanship" (Kirkus starred review).
Legalizing Marijuana: Promises and Pitfalls by Margaret J. Goldstein (November 1) — With the increase in states legalizing marijuana, understanding the debate about marijuana is more important than ever. Learn about the movement to legalize, the arguments on each side, and what it means for patients, state economies, and legal systems. "Goldstein…draws a telling parallel between Prohibition and the rise of violent gang-related alcohol crimes and the horrifying cartel-controlled trade in marijuana that the war on drugs has only exacerbated. Hers is the eye of a science journalist, and she writes with levelheaded clarity" (Kirkus starred review).
Saving Hamlet by Molly Booth (November 1) — Emma Allen couldn't be more excited to start her sophomore year. Not only is she the assistant stage manager for the drama club's production of Hamlet, but her crush Brandon is directing, and she's rocking a new haircut that's sure to get his attention. But soon after school starts, everything goes haywire. One night after rehearsal, Emma stays behind to think through her life's latest crises and distractedly falls through the stage's trap door…landing in the basement of the Globe Theater in 1601 London. "This entertaining and original novel deals not just with growing up, but with a fresh and different interpretation of 'to be or not to be'" (Kirkus starred review).
The Sun Is Also A Star by Nicola Yoon (November 1) — Natasha: "I'm a girl who believes in science and facts. Not fate. Not destiny. Or dreams that will never come true. I'm definitely not the kind of girl who meets a cute boy on a crowded New York City street and falls in love with him". Daniel: "I've always been the good son, the good student, living up to my parents' high expectations. Never the poet. Or the dreamer. But when I see her, I forget about all that". "Lyrical and sweeping, full of hope, heartbreak, fate…and the universal beating of the human heart" (Booklist starred review).
November 8
Florence Nightingale: The Courageous Life of the Legendary Nurse by Catherine Reef (November 8) — Most people know Florence Nightingale was a compassionate and legendary nurse, but they don't know her full story. This riveting biography explores the exceptional life of a woman who defied the stifling conventions of Victorian society to pursue what was considered an undesirable vocation. "A vividly written, richly layered portrait of a fascinating woman whose life and work influenced and inspired many" (Kirkus starred review).
Four-Four-Two by Dean Hughes (November 8) — A thought-provoking, action-packed page-turner based on the little-known history of the Japanese Americans who fought with the 442nd Regimental Combat Team during World War II. "Hughes' writing effectively evokes the horrors of war and the internal conflict of young men fighting for a country that has treated them unjustly" (Booklist starred review).
Heartless by Marissa Meyer (November 8) — Long before she was the terror of Wonderland, she was just a girl who wanted to fall in love. Catherine may be one of the most desired girls in Wonderland, and a favorite of the unmarried King of Hearts, but her interests lie elsewhere. Cath is determined to define her own destiny and fall in love on her terms. But in a land thriving with magic, madness, and monsters, fate has other plans. "Meyer has woven all the elements of darkness and light, fate and free will, and love and hatred into an unforgettable story of the evolution of the Red Queen from a young girl who dreamed of true love and freedom to a madwoman best remembered for the phrase 'Off with his head'" (School Library Journal starred review).
Jess, Chunk, and the Road Trip to Infinity by Kristin Elizabeth Clark (November 8) — The last time Jess saw her father, she was a boy. Now she's a high school graduate, soon to be on her way to art school. But first she has some unfinished business with her dad, so she's driving halfway across the country to his wedding with her best friend, Christophe―nicknamed Chunk. Along the way, they learn a few things about themselves―and each other―which call their feelings about their relationship into question. "A thoughtful, engaging examination of a transition that is fraught with misunderstandings. This compelling novel…deserves a place at the forefront of the growing body of literature about transgender teens" (Booklist starred review).
Merrow by Ananda Braxton-Smith (November 8) — Twelve-year-old Neen Marrey must separate town gossip from town lore to learn the truth about her mother—and herself. The people of Carrick Island have been whispering behind Neen's back ever since her father drowned and her mother disappeared. The townspeople say her mother was a merrow and has returned to the ocean. Neen, caught in her hazy new in-between self—not a child, but not quite grown up—can't help but wonder if the villagers are right. "This exquisitely told work examines the power of stories and how a well-told tale can transcend truth and history" (School Library Journal starred review).
November 15
My Sister Rosa by Justine Larbalestier (November 15) — What if the most terrifying person you know is your ten-year-old sister? Seventeen-year-old Aussie Che Taylor loves his younger sister, Rosa. But he's also certain that she's a psychopath—clinically, threateningly, dangerously. Recently Rosa has been making trouble, hurting things — and Che is the only one who knows. "This dark thriller is the 1956 film The Bad Seed meets 2016; readers will be simultaneously terrified when Rosa's present and afraid to let her out of their sight" (Kirkus starred review).
The Nerdy and the Dirty by B.T. Gottfried (November 15) — His classmates may consider him a nerd, but Benedict Pendleton knows he's destined for great things. All he has to do is find a worthy girlfriend, and his social station will be secured. Pen Lupo is sick and tired of hiding who she is. On the outside, Pen is popular, quiet, and deferential to her boyfriend. On the inside, however, Pen is honest, opinionated–and not sure that she's quite like other girls. Despite their differences, Pen and Benedict are drawn together. But is there such a thing as happily ever after for this unlikely pair? "Debut author Gottfred captures the starry-eyed exhilaration of first love (and nervous first explorations of sex) with tenderness and humor" (Publishers Weekly starred review).
And Then The Sky Exploded by David A. Poulsen (November 15) — While attending the funeral of his great-grandfather, ninth-grader Christian Larkin learns that the man he loved and respected was a member of the Manhattan Project, the team that designed and created the atomic bombs dropped on Japan during the Second World War. "[Hiroshima survivor] Yuko's story and her meeting with Christian are worth reading and can start the conversation with young readers about Hiroshima and Nagasaki" (Kirkus Reviews).
November 22
Scythe by Neil Shusterman (November 22) — A world with no hunger, no disease, no war, no misery: humanity has conquered all those things, and has even conquered death. Now Scythes are the only ones who can end life—and they are commanded to do so, in order to keep the size of the population under control. "Instead of exploring the ways in which men are monsters, [Shusterman's latest] deals in what happens to men when there are no monsters" (Booklist starred review).
November 29