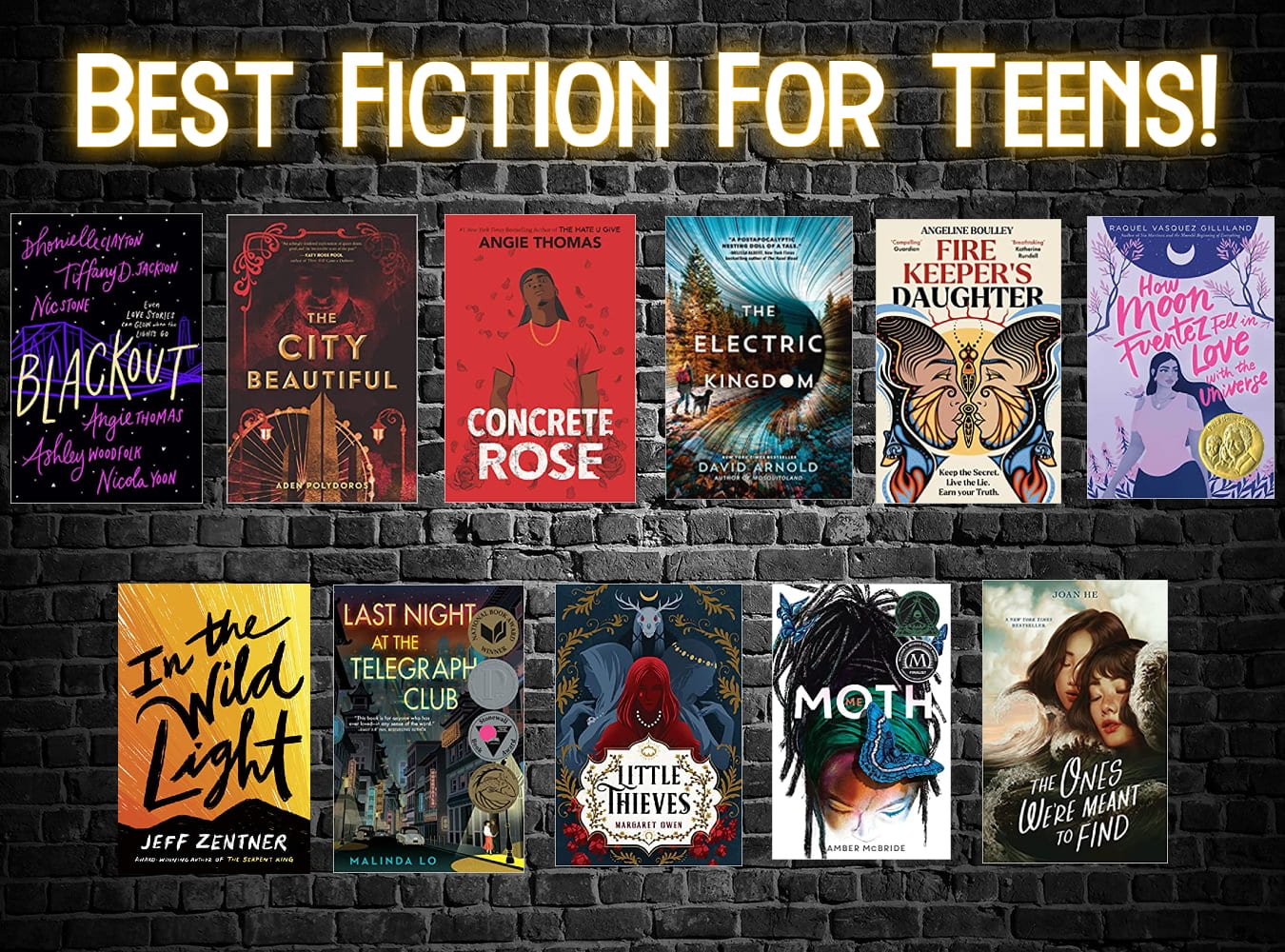 I love a good best books list, and the blogging team who worked on this year's Best Fiction For Young Adults has compiled a doozy! 89 titles published in the last 14 months encompassing the very best in YA fiction are included. A big shout-out to the the Young Adult Library Services Association (YALSA) for continuing to compile such great lists year after year!
Most of this year's picks are either in the CA Library collection already, or have been ordered and are on their way. Titles link to the CA Library catalog; if an eBook and/or audiobook are available, there are links for those, too.
Titles marked with a star (🌟) were selected for the Top Ten Eleven Best Fiction For Young Adults list!
Ace of Spades by Faridah Àbíké-Íyímídé — When two Niveus Private Academy students, Devon Richards and Chiamaka Adebayo, are selected to be part of the elite school's senior class prefects, it looks like their year is off to an amazing start. But shortly after the announcement is made, someone who goes by the name Aces begins using anonymous text messages to reveal secrets about the two of them that turn their lives upside down and threaten every aspect of their carefully planned futures. Get the eBook | Get the Audiobook
Amari and the Night Brothers by B.B. Alston — Artemis Fowl meets Men in Black in this exhilarating debut fantasy, the first in a trilogy filled with #blackgirlmagic. Get the eBook | Get the Audiobook
American Betiya by Anuradha D. Rajurkar — Eighteen-year-old Rani, a budding photographer, grapples with first love, family boundaries, and the complications of a cross-cultural relationship. Get the eBook | Get the Audiobook

The Awakening of Malcolm X by Ilyasah Shabazz and Tiffany D. Jackson — While in Charlestown Prison in the 1940s, young Malcolm Little reads all the books in the library, joins the debate team and the Nation of Islam, and emerges as Malcolm X. Get the eBook | Get the Audiobook
The Barren Grounds by David A. Robertson — Narnia meets traditional Indigenous stories of the sky and constellations in an epic fantasy series from award-winning author David Robertson. Get the eBook
Beasts of Prey by Ayana Gray — Sixteen-year-old indentured beastkeeper Koffi and seventeen-year-old warrior candidate Ekon forge an unusual alliance and venture into the Greater Jungle to hunt down a monster that has been menacing their city for a century. Includes author's note. Get the eBook | Get the Audiobook
🌟 Blackout by Dhonielle Clayton, Tiffany D. Jackson, Nic Stone, Angie Thomas, Ashley Woodfolk, Nicola Yoon — Six critically acclaimed, bestselling, and award-winning authors bring the glowing warmth and electricity of Black teen love to this interlinked novel of charming, hilarious, and heartwarming stories. Get the eBook | Get the Audiobook
The Block (The Loop, Book 2) by Ben Oliver — Luka is trapped in a fate worse than death. But now that he knows the truth about what he and his fellow inmates are being used for, it's more important than ever that he not only escapes, but that he builds an army.
Bluebird by Sharon Cameron — In 1946 Eva arrives in New York City, from the rubble of Berlin, supposedly looking for a new life, but actually seeking justice against the Nazis that "escaped" with the help of the CIA. Get the eBook
🌟 The City Beautiful by Aden Polydoros — In 1893 Chicago, after his best friend becomes the latest victim in a long line of murdered Jewish boys, Alter Rosen is plunged into a nightmare where he is thrown back into the arms of a dangerous boy from his past.

🌟 Concrete Rose by Angie Thomas — A gang leader's son finds his effort to go straight for the sake of his child challenged by a loved one's brutal murder. Get the eBook | Get the Audiobook
The Corpse Queen by Heather M. Herrman — Orphaned seventeen-year-old Molly Green is eager to start a new life in her aunt's lucrative business selling corpses to medical students, but she quickly becomes entangled in a murderer's plans. Get the Audiobook
The Cost of Knowing by Brittney Morris — Sixteen-year-old Alex Rufus's curse of seeing the future distracts him from being and doing his best, but when he sees his little brother Isaiah's imminent death, he races against time, death, and circumstances to save him. Get the eBook | Get the Audiobook

A Cuban Girl's Guide to Tea and Tomorrow by Laura Taylor Namey — Seventeen-year-old Lila Reyes, furious when her parents send her to the English countryside to recover from grief and heartbreak, unexpectedly falls in love with a teashop clerk — and England itself. Get the eBook | Get the Audiobook
Curses by Lish McBride — Forced to live as a beast forever unless she agrees to marry a man of her mother's choosing before her 18th birthday, Merit Cravan joins forces with a con artist who is her only hope in finding the best match. Get the Audiobook
The Darkness Outside Us by Eliot Schrefer — On a rescue mission in space, Ambrose and Kodiak will need to work together and learn to trust each other in order to survive the spaceship's secrets… especially once they discover what they are truly up against. Get the eBook
Don't Hate the Player by Alexis Nedd — Sixteen-year-old Emilia, secretly a dedicated gamer, competes with her elite team in a major tournament at the same time she and her best friend are running for class president and vice president.

Donuts and Other Proclamations of Love by Jared Reck — The future is anything but certain in this alternately funny and heartbreaking contemporary story about food trucks, festivals, and first loves. Get the Audiobook
Dustborn by Erin Bowman — Delta of Dead River sets out to rescue her family from a ruthless dictator rising to power in the Wastes and discovers a secret that will reshape her world in this postapocalyptic Western mashup. Get the eBook
🌟 Electric Kingdom by David Arnold — After a deadly Fly Flu spreads throughout the world, survivors Nico, her dog, young artist Kit, and the mysterious Deliverer roam the earth, seeking to evade the Flies and find a place where life and love can thrive again. Get the eBook | Get the Audiobook

Excuse Me While I Ugly Cry by Joya Goffney — Quinn, an overly enthusiastic list maker, is blackmailed into completing a to-do list of all her worst fears. Get the eBook
Fat Chance, Charlie Vega by Crystal Maldonado — Overweight sixteen-year-old Charlie yearned for her first kiss while her perfect best friend, Amelia, fell in love, so when she finally starts dating and learns the boy asked Amelia out first, she is devastated. Get the eBook | Get the Audiobook

Fierce as the Wind by Tara Wilson Redd — Heartbreak pushes one Hawaiian girl to find her strongest self in this authentic and emotional story of personal transformation that's perfect for fans of The Running Dream. Get the Audiobook
Fifteen Hundred Miles from the Sun by Jonny Garza Villa — With the one person who understands him fifteen hundred miles away, Jules must face his fears about coming out alone, which accidentally propels him into the life he's always dreamed of.
🌟 Firekeeper's Daughter by Angeline Boulley — Daunis, who is part Ojibwe, defers attending the University of Michigan to care for her mother and reluctantly becomes involved in the investigation of a series of drug-related deaths. Get the eBook | Get the Audiobook

The Forest of Stolen Girls by June Hur — In Medieval Korea in 1426, a year after her father vanishes while investigating the disappearance of thirteen girls, eighteen-year-old Min Hwani returns to the island of Jeju to pick up his trail with the help of her estranged sister. Get the eBook | Get the Audiobook

Gilded by Marissa Meyer — Long ago cursed by the god of lies, a poor miller's daughter has developed a talent for spinning stories that are fantastical and spellbinding and entirely untrue. Get the eBook | Get the Audiobook

The Girls I've Been by Tess Sharpe — When seventeen-year-old Nora O'Malley, the daughter of a con artist, is taken hostage in a bank heist, every secret she is keeping close begins to unravel. Get the eBook | Get the Audiobook

The Great Bear (The Misewa Sage, Book 2) by David A. Robertson — In this second book in the Narnia-inspired Indigenous middle-grade fantasy series, Eli and Morgan journey once more to Misewa, travelling back in time.

The Heartbreak Bakery by A.R. Capetta — Syd, a baker at the Proud Muffin, is perplexed after couples who eat their brownies immediately split up — until Harley, a delivery person, convinces Syd that their baking can actually fix things.

Hold Back the Tide by Melinda Salisbury — Everyone in this quiet lakeside community knows that Alva's father killed her mother, even though their wasn't enough proof to arrest him. With no other family, Alva is forced to live with her mother's murderer, doing her best to survive until she can earn enough money to run away. Get the eBook | Get the Audiobook
Home Is Not a Country by Safia Elhillo — This powerful novel-in-verse captures one girl, caught between cultures, on an unexpected journey to face the ephemeral girl she might have been. Get the eBook | Get the Audiobook
🌟 How Moon Fuentez Fell in Love with the Universe by Raquel Vasquez Gilliland — When seventeen-year-old Star Fuentez reaches social media stardom, her polar-opposite twin, Moon, becomes "merch girl" on a tour bus full of beautiful influencers and the grumpy but attractive Santiago Philips.

Hunting by Stars by Cherie Dimaline — Years ago, when plagues and natural disasters killed millions of people, much of the world stopped dreaming, leaving people haunted, sick, mad, and unable to rebuild. The government soon finds that the Indigenous people of North America have retained their dreams, and residential schools are re-opened to bring in the dreamers and harvest their dreams. Get the Audiobook
Hurricane Summer by Asha Bromfield — While visiting her father who lives in Jamaica, eighteen-year-old Tilla faces a storm of dark secrets that threaten to unravel her own life, while an actual storm, Hurricane Gustav, threatens the lives of those she loves. Get the eBook

🌟 In the Wild Light by Jeff Zentner — Attending an elite prep school in Connecticut on a scholarship with his best friend (and secret love) science genius Delaney Doyle, sixteen-year-old Cash Pruitt struggles with emotional pain and loss until his English teacher suggests writing poetry. Get the eBook | Get the Audiobook

Indestructible Object by Mary McCoy — In the city of Memphis, eighteen-year-old Lee and her boyfriend Vincent make a popular podcast on artists in love, but Lee learns that stories of happily-ever-after love do not always mirror real life.

Indivisible by Daniel Aleman — New York City high school student Mateo dreams of becoming a Broadway star, but his life is transformed after his parents are deported to Mexico. Get the eBook

The Initial Insult by Mindy McGinnis — In the first book of a suspenseful duology, award-winning author Mindy McGinnis draws inspiration from Edgar Allan Poe and masterfully delivers a dark, propulsive mystery in alternating points of view that unravels a friendship . . . forevermore. Get the eBook
Kate in Waiting by Becky Albertalli — Best friends Kate Garfield and Anderson Walker share a love of theater and crushes on the same guys, but when one of their long-distance crushes shows up at their school, real feelings might end their friendship. Get the eBook | Get the Audiobook

Kneel by Candace Buford — For guys like Russell Boudreaux, football is the only way out of their small town. But when his best friend is unfairly arrested and kicked off the team, Rus faces an impossible choice: speak up or live in fear. Desperate for change, Rus kneels during the national anthem. In one instant, he falls from local stardom and becomes a target for hatred. Get the Audiobook
🌟 Last Night at the Telegraph Club by Malinda Lo — America in 1954 is not a safe place for two girls to fall in love, especially not in San Francisco's Chinatown. Red-Scare paranoia threatens everyone, including Chinese Americans like Lily. With deportation looming over her father — despite his hard-won citizenship — Lily and Kath risk everything to let their love see the light of day. Get the eBook | Get the Audiobook

The Life I'm In by Sharon G. Flake — The powerful and long-anticipated companion to The Skin I'm In, Sharon Flake's bestselling modern classic, presents the unflinching story of Char, a young woman trapped in the underworld of human trafficking. Get the eBook | Get the Audiobook

Like Other Girls by Britta Lundin — After three other girls follow Mara's lead and join the football team, she's forced to confront her misconceptions about gender and her arch-nemesis. Get the Audiobook
List of Ten by Halli Gomez — A harrowing yet hopeful account of a teen living with Tourette Syndrome and Obsessive Compulsive Disorder . . . and contemplating his own mortality.
🌟 Little Thieves by Margaret Owen — Posing as a royal to rob the nobles blind, seventeen-year-old Vanja Schmidt is thrilled by her luck until she crosses the wrong god and is cursed to turn into the jewels she covets unless she can pay back her debts — quickly. Get the eBook

Love in English by Maria E. Andreu — Feeling blocked after moving from Argentina to New Jersey, a sixteen-year-old poet finds herself torn between a cute American boy in her math class and a Greek student who understands the struggles she is facing in an ESL class. Get the eBook
Luck of the Titanic by Stacey Lee — After smuggling herself onto the RMS Titanic, British-Chinese teenager Valora Luck reunites with her twin brother and tries to convince him that their acrobatic training could be their ticket to a better life. Get the eBook | Get the Audiobook

Margot Mertz Takes It Down by Carrie McCrossen and Ian McWethy — For the right price, high school junior Margot Mertz will go to the ends of the internet to remove your embarassing online content. At least that's what it says on her business card. Margot founded a now notorious company that helps students, teachers, even a local weatherman, discreetly clean up their digital shame. Get the Audiobook
🌟 Me (Moth) by Amber McBride — Moth, who lost her family in an accident, and Sani, who is battling ongoing depression, take a road trip that has them chasing ghosts and searching for ancestors, which helps them move forward in surprising, powerful and unforgettable ways.

The Mirror Season by Anna-Marie McLemore — After Ciela and Lock are sexually assaulted at the same party, they develop a cautious friendship through her family's possibly-magical pastelería and his secret forest of otherworldly trees. Get the eBook | Get the Audiobook

Mister Impossible (The Dreamer Trilogy, Book 2) by Maggie Stiefvater — Something is happening to the source of the dreamers' power. It is blocked. Diminished. Weak. If it goes away entirely, what will happen to the dreamers and those who depend on them? Ronan Lynch isn't planning to wait and find out.
My Contrary Mary by Cynthia Hand, Brodi Ashton, and Jodi Meadows — Welcome to Renaissance France, a place of poison and plots, of beauties and beasts, of mice and . . . queens? Mary is the queen of Scotland and the jewel of the French court. Except when she's a mouse, a shapeshifter in a kingdom where Verities rule. Get the eBook
Not My Problem by Ciara Smyth — Aideen has plenty of problems she can't solve. But when she stumbles upon overachiever Meabh Kowalska having a full-blown meltdown, she sees one that she can actually fix.
Off the Record by Camryn Garrett — A teen journalist uncovers the #metoo scandal of the decade: a bigshot Hollywood director is taking advantage of cast members. Get the Audiobook
One of the Good Ones by Maika Moulite and Maritza Moulite — When teen social activist and history buff Kezi Smith is killed under mysterious circumstances after attending a social justice rally, her devastated sister Happi and their family are left reeling in the aftermath. Get the eBook | Get the Audiobook
🌟 The Ones We're Meant to Find by Joan He — In a near future when life is harsh outside of Earth's last unpolluted place, Cee tries to leave an abandoned island while her sister, STEM prodigy Kasey, seeks escape from the science and home she once trusted. Get the eBook | Get the Audiobook

The Other Merlin by Robyn Schneider — Emry, the daughter of the famed wizard Merlin, must disguise herself as her twin brother to learn magic in Prince Arthur's court, where she finds scandal, danger, and romance. Get the Audiobook
The Other Side of Perfect by Mariko Turk — An emotional story about a former ballerina who is thrust back into 'normal' high school after a life-changing injury, and who comes to terms with life without her passion as well as discrimination in the ballet world.
Perfect on Paper by Sophie Gonzales — Seventeen-year-old Darcy Phillips, a bisexual girl who gives anonymous love advice to her classmates, is hired by the 'hot' guy at school to help him get his ex back. Get the eBook

Perfectly Parvin by Olivia Abtahi — After being dumped at the beginning of freshman year, Iranian-American Parvin Mohammadi sets out to win the ultimate date to Homecoming. Get the Audiobook
Pumpkin by Julie Murphy — Creating a drag-show audition tape that culminates in an unkind nomination for prom queen, an overweight and openly gay teen partners with a girl who has been nominated for prom king to embrace their true selves. Get the eBook | Get the Audiobook

The River Has Teeth by Erica Waters — When her sister goes missing on the Bend, becoming the second girl to disappear from the wildlife preserve, Natasha turns to a local girl rumored to be a witch to find her.

Rural Voices: 15 Authors Challenge Assumptions About Small-Town America, edited by Nora Shalaway Carpenter — Fifteen extraordinary authors — diverse in ethnic background, sexual orientation, geographic location, and socioeconomic status — explore the challenges, beauty, and nuances of growing up in rural America. From a mountain town in New Mexico to the gorges of New York to the arctic tundra of Alaska, you'll find yourself visiting parts of this country you might not know existed — and meet characters whose lives might be surprisingly similar to your own. Get the eBook | Get the Audiobook
She Drives Me Crazy by Kelly Quindlen — Getting into a fender-bender with a beautiful rival after an embarrassing loss to her ex, a talented basketball athlete reluctantly agrees to a carpool arrangement before an opportunity for revenge leads to an unlikely relationship. Get the eBook | Get the Audiobook

A Sitting in St. James by Rita Williams-Garcia — In 1860 Louisiana, eighty-year-old Madame Sylvie decides to sit for a portrait, as horrific stories that span generations from the big house and the fields are revealed. Get the eBook

Six Crimson Cranes by Elizabeth Lim — The exiled Princess Shiori must unravel the curse that turned her six brothers into cranes, and she is assisted by her spurned betrothed, a capricious dragon, and a paper bird brought to life by her own magic. Get the eBook | Get the Audiobook

The Sky Blues by Robbie Couch — Seventeen-year-old Sky, openly gay but under the radar, decides to make a splashy Promposal but his plans are leaked by an anonymous, homophobic hacker, moving his classmates to help him expose the perpetrator.

A Snake Falls to Earth by Darcie Little Badger — A breathtaking work of Indigenous futurism. Darcie Little Badger draws on traditional Lipan Apache storytelling structure to weave an unforgettable tale of monsters, magic, and family. 
Some Girls Do by Jennifer Dugan — An openly gay track star falls for a closeted, bisexual teen beauty queen with a penchant for fixing up old cars. Get the eBook | Get the Audiobook
Somewhere Between Bitter and Sweet by Laekan Zea Kemp — Told in two voices, Pen, whose dream of taking over her family's restaurant has been destroyed, and Xander, a new undocumented employee seeking his father, form a bond. Get the eBook

Starfish by Lisa Fipps — Ellie is tired of being fat-shamed and does something about it in this poignant debut novel-in-verse. Get the eBook | Get the Audiobook
Sugar Town Queens by Malla Nunn — When Amandla wakes up on her fifteenth birthday, she knows it's going to be one of her mother's difficult days. Her mother has had a vision of Amandla wearing an outfit, her mother says, is certain to bring Amandla's father back home, as if he were the prince and this was the fairytale ending their family was destined for. But in truth, Amandla's father has long been gone. Get the Audiobook
The Surprising Power of a Good Dumpling by Wai Chim — Anna Chiu has her hands full. When she's not looking after her brother and sister or helping out at her father's restaurant, she's taking care of her mother. A new delivery boy, Rory, is a welcome distraction and even though she knows that things aren't right at home, she's starting to feel like she could be a normal teen. Get the eBook | Get the Audiobook
Sway with Me by Syed M. Masood — Arsalan has learned everything he knows from Nana, his 100-year-old great-grandfather. This includes the fact that when Nana dies, Arsalan will be completely alone in the world, except for his estranged and abusive father. So he turns to Beenish, the step-daughter of a prominent matchmaker, to find him a future life partner. 
Switch by A.S. King — Set in a parallel version of America where time has stopped, the novel tells the story of one teenage girl trying to untangle her toxic family's secrets–and maybe restart the world's clocks in the process. Get the eBook | Get the Audiobook
This Poison Heart by Kalynn Bayron — Teenaged Briseis, who possesses a supernatural power over plants, even poisonous ones, inherits a dilapidated estate in rural New York and must protect herself and her family from centuries-old secrets that threaten their lives. Get the eBook
This Will Be Funny Someday by Katie Henry — Sixteen-year-old Izzy is used to keeping her thoughts to herself, in school and at home. When she mistakenly walks into a stand-up comedy club and performs, the experience is surprisingly cathartic. Get the eBook | Get the Audiobook
The Way Back by Gavriel Savit — Follows Eastern European teens Yehuda and Bluma on a journey through the Far Country, the Jewish land of the dead. Get the Audiobook

We Are the Ashes, We Are the Fire by Joy McCullough — A novel in prose and verse that follows the experiences of a teen who finds courage in the story of a fifteenth-century avenger when her sister's rapist is set free without prison time. Get the eBook | Get the Audiobook
What About Will by Ellen Hopkins — From bestselling author Ellen Hopkins comes a new heartbreakingly tender middle grade novel-in-verse about the bonds between two brothers and the love they share.
What Beauty There Is by Cory Anderson — Living in harsh poverty during a brutal Idaho winter, Jack searches for the drug money that sent his father to prison in order to keep his brother out of foster care, while Ava, under the control of her merciless father, makes a wrenching choice to help the brothers survive.

When We Make It by Elisabet Velasquez — Sarai is a first-generation Puerto Rican who can see with clarity the truth, pain, and beauty of the world both inside and outside her Bushwick apartment. Together with her older sister Estrella, she navigates the strain of family traumas and the systemic pressures of toxic masculinity and housing insecurity in a rapidly gentrifying Brooklyn. Get the Audiobook
Where the Rhythm Takes You by Sarah Dass — Seventeen-year-old Reyna has spent most of her life at the Plumeria, her family's gorgeous seaside resort in Tobago. But what once seemed like paradise is starting to feel more like purgatory. It's been two years since Reyna's mother passed away, and two years since Aiden — her childhood best friend, first kiss, first love, first everything — left the island to pursue his music dreams.
Who I Was with Her by Nita Tyndall — When Corrine Parker's girlfriend dies in a car accident, Corrine struggles to come to terms with her grief and whether she is ready to come out as bisexual. Get the Audiobook
With You All the Way by Cynthia Hand — Ada's life is a mess. She just caught her boyfriend cheating on her, and she's had it up to here with her gorgeous older sister's unsolicited advice. But things really hit the fan during a family vacation in Hawaii, where Ada discovers her own mother is having an affair.
The Words in My Hands by Asphyxia — Part coming of age, part call to action, this fast-paced #ownvoices novel about a Deaf teenager is a unique and inspiring exploration of what it means to belong.
Year of the Reaper by Makiia Lucier — In the aftermath of a devastating plague, young Lord Cassia returns home determined to discover who is trying to assassinate the queen and must follow the trail of a terrible secret that could threaten the kingdom's newfound peace.

Your Heart, My Sky: Love in a Time of Hunger by Margarita Engle — In Cuba's "special period in times of peace" of 1991, Liana and Amado find love after their severe hunger gives both courage to risk government retribution by skipping a summer of labor to seek food. Told in their two voices plus that of the stray dog that brought them together.