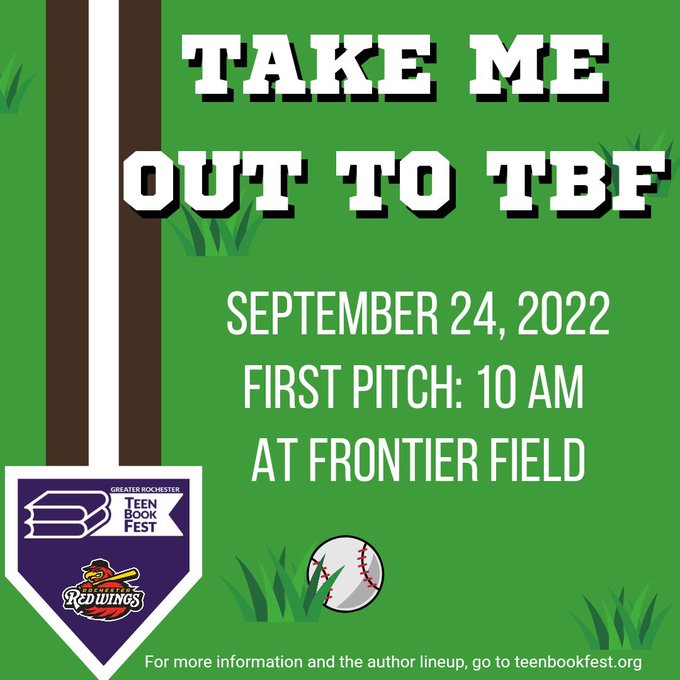 The Greater Rochester Teen Book Festival is Saturday, September 24th at Frontier Field!
The Teen Book Festival celebrates and promotes reading by connecting teens and authors, and with more than a dozen authors participating in 2022, there are plenty of chances to meet the ones you love!
Each week, we are featuring a TBF author here on the CA Library Blog. This week, we're taking a look at the works of Ellen Hopkins!
Many of the stories Hopkins tells are inspired by real-life events and revolve around difficult topics. She uses her voice as an author to break down those experiences for young adults and to let them know they are not alone. Hopkins list of highly-acclaimed novels include:
People Kill People (2018) — "Fall's most provocative YA read" (Entertainment Weekly)
The You I've Never Known (2017) — "A satisfying and moving story" (Publishers Weekly)
Traffick (2015) — "Hopkins' undeniable empathy for young people remains sincere and moving" (Booklist)
Tilt (2012) — An ALA Quick Pick for Reluctant Young Adult Readers (2013)
Perfect (2011) — An ALA Quick Pick (2012)
Glass (2009) — An ALA Quick Pick (2008)
…among others.
In this short video, Hopkins explains what motivates her to write for teens:
~~~~~~~~~~~~~~~~~~~~~~~~~~~~~~
Burned by Ellen Hopkins — Seventeen-year-old Pattyn, the eldest daughter in a large Mormon family, is sent to her aunt's Nevada ranch for the summer where she temporarily escapes her alcoholic, abusive father and finds love and acceptance, only to lose everything when she returns home. "Sharp and heartbreaking" (Kirkus Reviews).
Smoke (Burned, Book 2) by Ellen Hopkins — After the death of her abusive father and loss of her beloved Ethan and their unborn child, Pattyn runs away, desperately seeking peace, as her younger sister, a sophomore in high school, also tries to put the pieces of her life back together. "A strong, painful and tender piece about wresting hope from the depths of despair" (Kirkus Reviews).
Crank by Ellen Hopkins — Kristina Georgia Snow's life is turned upside-down, when she visits her absentee father, gets turned on to the drug "crank", becomes addicted, and is led down a desperate path that threatens her mind, soul, and her life. "Readers won't soon forget smart, sardonic Kristina; her chilling descent into addiction; or the author's note, which references her own daughter's struggle with 'the monster'" (Booklist).
Glass (Crank, Book 2) by Ellen Hopkins — Kristina is determined to break her addiction to drugs in order to keep her newborn child; but when she fails and the pull becomes too strong, her greatest fears are quickly realized. "Heartrending and intimately honest, Hopkins…reveals addiction's brutality but also honors a young person's capacity to face injurious, life-altering choices with courage" (Booklist).
Fallout (Crank, Book 3) by Ellen Hopkins — Written in free verse, explores how three teenagers try to cope with the consequences of their mother's addiction to crystal meth and its effects on their lives. "An emotional, satisfying end (and a new beginning, in a way) to Kristina's story" (Booklist).
Impulse by Ellen Hopkins — Three teens who meet at Reno, Nevada's Aspen Springs mental hospital after each has attempted suicide connect with each other in a way they never have with their parents or anyone else in their lives. "The free verse makes for a fast read. By book's end, readers may well feel the effects of each protagonist's final choice" (Publishers Weekly).
Perfect (Impulse, Book 2) by Ellen Hopkins — Northern Nevada teenagers Cara, Kendra, Sean, and Andre describe in their own voices their very different paths toward perfection and how their goals change when tragedy strikes. "This page-turner pulls no emotional punches; readers should find Impulse (2007) first, because this is a sequel at heart, and knowing the prior work in advance adds crucial layers of meaning" (Kirkus Reviews).
People Kill People by Ellen Hopkins — Follows six teenagers as they are brought into close contact over the course of one tense week, in a town with political and personal tensions that build until one fires a fatal gunshot. "Set in Arizona, a state with an open-carry gun policy, this powerful story will spark controversy and prompt passionate debate" (Publishers Weekly).
Rumble by Ellen Hopkins — Eighteen-year-old Matt's atheism is tested when, after a horrific accident of his own making that plunges him into a dark, quiet place, he hears a voice that calls everything he has ever disbelieved into question. "Hopkins's realistic, truthful approach to bullying, religion, and homosexuality make this a powerful story for even the most reluctant readers" (School Library Journal).
Tilt by Ellen Hopkins — Three teens, connected by their parents' bad choices, tell in their own voices of their lives and loves as Shane finds his first boyfriend, Mikayla discovers that love can be pushed too far, and Harley loses herself in her quest for new experiences. "As a cautionary tale, it offers helpful insights into the continuing presence of HIV in teen lives and the urgency of making better choices in matters involving sex" (Booklist).
Traffick (Tricks, Book 2) — Five teens victimized by sex trafficking try to find their way to a new life in this riveting companion to the bestseller Tricks. "Hopkins clearly has done her research, as detailed in an author's note, and the stories carry even more weight when readers realize that this is the reality many children and teens face" (School Library Journal).