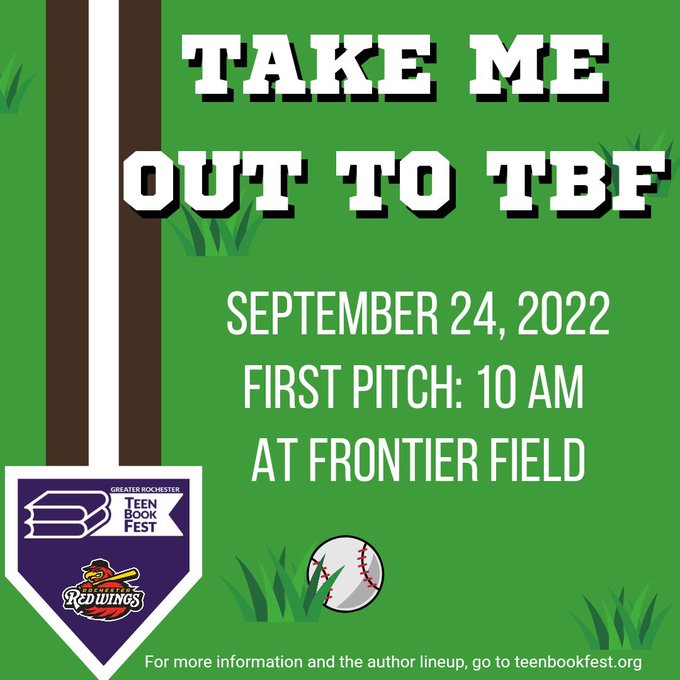 The Greater Rochester Teen Book Festival is Saturday, September 24th at Frontier Field!
The Teen Book Festival celebrates and promotes reading by connecting teens and authors, and with more than a dozen authors participating in 2022, there are plenty of chances to meet the ones you love!
Each week, we are featuring a TBF author here on the CA Library Blog. This week, we're taking a look at the works of Bill Konigsberg! We were fortunate to host Mr. Konigsberg at CA Library a few years ago, and it was one of the best author visits we've ever had!
Bill Konigsberg is the award-winning author of seven young adult novels and recipient of the PEN Center USA Literary Award, Stonewall Book Award, Sid Fleischman Award for Humor, and the Lambda Literary Award. In 2018, The National Council of Teachers of English (NCTE)'s Assembly on Literature for Adolescents (ALAN) established the Bill Konigsberg Award for Acts and Activism for Equity and Inclusion through Young Adult Literature.
His latest book, Destination Unknown (Scholastic, 2022), is "a remarkable, funny, sexy, heartbreaking story of two teen boys finding each other in New York City at the height of the AIDS epidemic." It will be available September 2022.
Other books by Bill Konigsberg:
The Bridge (2020)
The Music of What Happens (2019) — Best Fiction For Young Adults (2020), Rainbow Book List (2020)
Honestly Ben (2017) — Rainbow Book List (2018)
The Porcupine of Truth (2015) — Best Fiction For Young Adults (2016), Rainbow Book List (2016), Stonewall Book Award (2016)
Openly Straight (2013) — Best Fiction For Young Adults (2014), Rainbow Book List (2014)
Out Of The Pocket (2014) — Lambda Literary Award (2009), Rainbow Book List (2009)
In this short video, Konigsberg talks about the power he hopes readers will find in his stories:
~~~~~~~~~~~~~~~~~~~~~~~~~~~~~~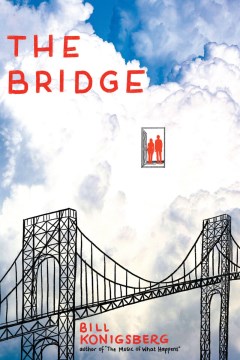 The Bridge by Bill Konigsberg — Aaron and Tillie do not know each other, but they both feel suicidal and arrive at the George Washington Bridge at the same time, intending to jump. Includes resources about suicide prevention and suicide prevention for LGBTQIA+ youth. "Messy, complicated, and sometimes alarmingly candid, this is a poignant, sincere look at the many ways mental illness affects young people, as well as those they know and love" (Booklist).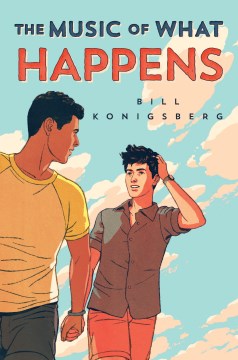 The Music Of What Happens by Bill Konigsberg — It is summer in Phoenix, and seventeen-year-old Maximo offers to help a Jordan, a fellow student in high school, with the food truck that belonged to Jordan's deceased father, and which may be the only thing standing between homelessness for Jordan and his mom. The boys are strongly attracted to each other, but as their romance develops it is threatened by the secrets they are hiding — and by the racism and homophobia of those around them. "In this ambitious novel, Konigsberg demonstrates once again why he is one of the major voices in LGBTQ literature" (Booklist).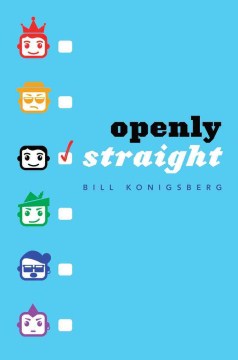 Openly Straight by Bill Konigsberg — Tired of being known as "the gay kid", Rafe Goldberg decides to assume a new persona when he comes east and enters an elite Massachusetts prep school — but trying to deny his identity has both complications and unexpected consequences. "Altogether one of the best gay-themed novels of the last 10 years" (Booklist).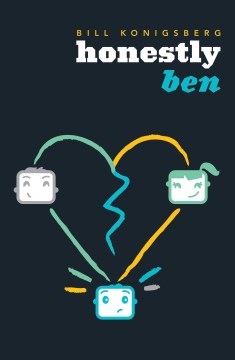 Honestly Ben by Bill Konigsberg — In this companion novel to Openly Straight, Ben Carver returns for the spring semester at the exclusive Natick School in Massachusetts determined to put his relationship with Rafe Goldberg behind him and concentrate on his grades and the award that will mean a full scholarship — but Rafe is still there, there is a girl named Hannah whom he meets in the library, and behind it all is his relationship with his distant, but demanding father. "A fresh, insightful, inspiring take on what it means to come out" (Kirkus Reviews).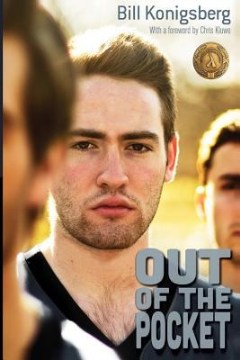 Out Of The Pocket by Bill Konigsberg — As Bobby Framingham, quarterback of his high school football team, finally acknowledges to himself that he is gay, events start to spin out of control when his sexual orientation is revealed in the student newspaper and then in the local press, and he learns that his father has cancer. "A thought-provoking, funny, and ultimately uplifting story of self-actualization that masterfully defies stereotypes about both coming out and team sports" (School Library Journal).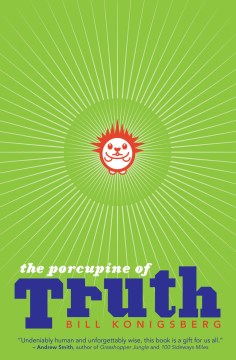 The Porcupine of Truth by Bill Konigsberg — Seventeen-year-old Carson Speier is bored of Billings, Montana, and resentful that he has to help his mother take care of his father, a dying alcoholic whom he has not seen in fourteen years — but then he meets Aisha, a beautiful African American girl who has run away from her own difficult family, and together they embark on a journey of discovery that may help them both come to terms with their lives. "Konigsberg weaves together a masterful tale of uncovering the past, finding wisdom, and accepting others as well as oneself" (School Library Journal).