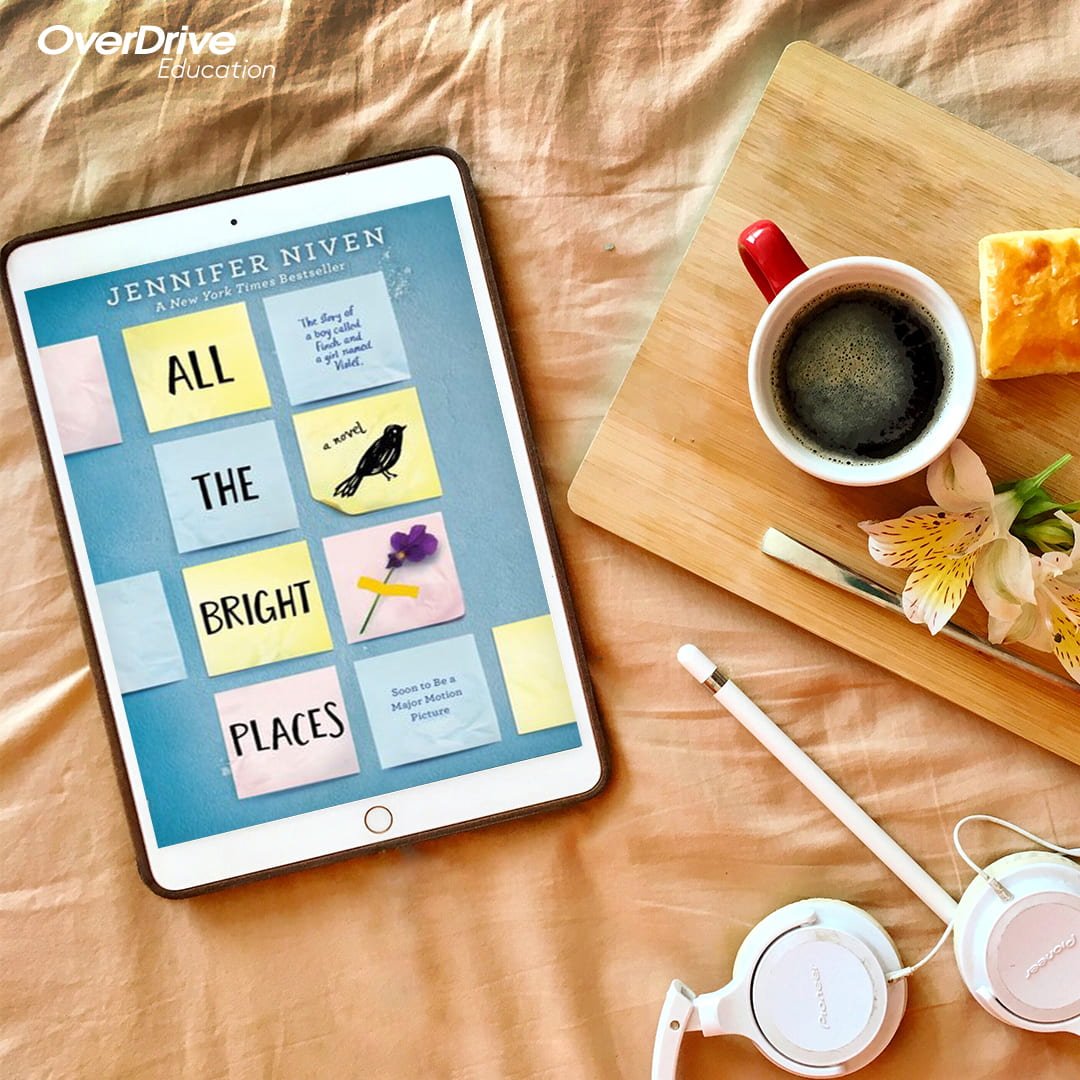 Take a look at the CA Library collection in your Sora account — you'll find hundreds of eBooks and audiobooks across many different genres, including:
…and more! You can also browse the latest audiobooks in Sora, including these new titles (which are also available — or will be — in print at CA Library):
Chaos & Flame by Tessa Gratton and Justina Ireland — Two unlikely allies from rival factions, Darling Seabreak and Talon Goldhoard, must work together to navigate treacherous House politics and ancient magic to keep their world from falling apart. "Authors Gratton and Ireland are no strangers to new and fantastic settings, and this first of a duology should prove to be as enthralling as all their individual offerings" (Booklist).
---
Chaos Theory by Nic Stone — Shelbi, a senior at Windward Academy who has a diagnosed mental illness, keeps to herself until she forms a connection with Andy Criddle, who is battling addiction — but the closer they get, the more the past threatens to pull them apart. "An essential read for furthering conversations on mental illness and the assumptions we make" (Booklist).
---
Enter The Body by Joy McCullough — In the room beneath a theater stage, the ghosts of Juliet, Ophelia, Cordelia, and other teenage girls who died tragically in Shakespeare's plays, share their experiences and trauma and get the chance to retell the stories of their lives in their own terms. "McCullough boldly ­reconceptualizes ­Shakespeare's version of the female point of view for a new generation of Bard enthusiasts" (Horn Book Magazine).
---
Free Radicals by Lila Riesen — Afghan-American Mafi's sophomore year gets a whole lot more complicated when she accidentally exposes family secrets, putting her family back in Afghanistan in danger in this smartly written YA debut. "Riesen interweaves racism and discrimination, immigration and injustice, sexism and double standards, family expectations and intergenerational trauma, all to great effect and with a broadly diverse supporting cast" (Kirkus Reviews).
---
The Girl I Am, Was, And Never Will Be: A Speculative Memoir of Transracial Adoption by Shannon Gibney — Two girls on different timelines–each growing up as a mixed-Black transracial adoptee–find their lives bridged by a mysterious portal. Part memoir, part speculative fiction, Gibney examines the absurdities of the adoptee experience through her own adoption experiences. "A fantastical, transcendent memory collage that shirks convention in search of what is real and true about familial bonds" (Publishers Weekly).
---
In Nightfall by Suzanne Young — Soon after arriving in the tiny tourist town of Nighfall, Oregon, siblings Theo and Marco break their grandmother's rule not to leave the house after dark and befriend a mysterious group of beguiling girls who are far from what they seem. "Young spins an ethereal story of romance, strained family relationships, and healing in this darkly paranormal tale" (Publishers Weekly).
---
Letters To A Writer of Color, edited by Deepa Anappara and Taymour Soomro — A vital collection of essays on the power of literature and the craft of writing from an international array of writers of color, sharing the experiences, cultural traditions, and convictions that have shaped them and their work. "Readers and writers will enjoy gaining a different perspective on storytelling and and learning what many well-known writers endured to be published" (Booklist).
---
Nightbirds by Kate J. Armstrong — In a dazzling new fantasy world full of whispered secrets and political intrigue, the magic of women is outlawed but four girls with unusual powers have the chance to change it all. "With lush settings, careful worldbuilding, and taut exposition , this is an electrifying, high-stakes series opener grounded in feminist themes" (Kirkus Reviews).
---
Planning Perfect by Haley Neil — Summer vacation quickly becomes complicated for Felicity Becker as she tries to plan a perfect wedding for her mom, figure out her feelings for her friend Nancy, and wonder what dating will look like for her as an asexual person. "A sweet, feel-good, coming-of-age rom-com with satisfying character development and deeply insightful, much needed ace representation" (School Library Journal).
---
The Sinister Booksellers of Bath by Garth Nix — Return to the enchanting world of The Left-Handed Booksellers of London in this sequel by Garth Nix, where once again a team of booksellers must fight to keep dangerous magic under cover before the stuff of legends destroys our world. "A fast and fun outing in an immersive alternate world" (Kirkus Reviews).
---
Three Drops of Blood by Gretchen McNeil — A Good Girl's Guide to Murder meets Hitchcock in this voyeuristic thriller filled with twists and turns from celebrated author Gretchen McNeil. A mundane office job takes a dark turn when a girl witnesses a double murder through the window. Can Kate get anyone to believe her before she becomes the next victim? "A first-rate mystery, with memorable twists, exhilarating chase sequences, and a satisfying romance" (Publishers Weekly).
---
Where Darkness Blooms by Andrea Hannah — Two years after their mothers mysteriously went missing, Delilah, Bo, and twin sisters Jude and Whitney begin to unearth secrets that cause the girls to question everything they thought they knew about their small Kansas town. "A worthwhile read for lovers of mystery and female friendship" (Booklist).
---
The Wicked Bargain by Gabe Cole Novoa — Sixteen-year-old Mar, a transmasculine Latinx pirate hiding magical abilities, must learn to use their magic to save their papa and newfound pirate family from losing their souls to El Diablo. "No stranger to rejecting binaries, Mar is transmasculine and uses they/them pronouns; their struggles with body dysmorphia despite the acceptance and acknowledgment of their gender identity will be resonant or illuminative, depending on readers' perspectives" (School Library Journal).
---
The Wrong Kind of Weird by James Ramos — Secretly hooking up with popular cheerleader Karla Ortega, who repeatedly snubs him in public, multicultural geek and nerd club member Cameron Carson meets Mackenzie Briggs, who isn't afraid to be herself, and unexpectedly bonds with this girl who accepts him for who he is. "A charmingly nerdy and romantic coming-of-age story" (Booklist).