Martin Scorcese's much-anticipated historical epic Killers of the Flower Moon led the international box office over the weekend with a combined $44 million in worldwide ticket sales. The film is based on best-selling author David Grann's 2017 book Killers of the Flower Moon: The Osage Murders and the Birth of the FBI, "a twisting, haunting true-life murder mystery about one of the most monstrous crimes in American history" (New York Magazine).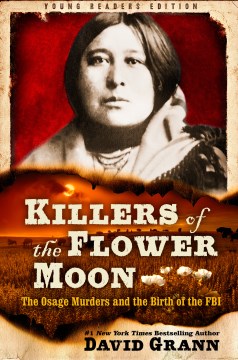 In 2021, Grann adapted his own book for a younger audience – this is the book we have available in the CA Library collection:
From the School Library Journal starred review:
"A young readers treatment that is just as imperative and enthralling as its parent text. Celebrated journalist Grann unfolds an account of terrible fascination and poignancy, illuminating a darkened corner of American history while throwing the shadowed sins of the past into stark relief. In the prosperous days of the 1920s, the Osage Nation of Oklahoma found itself sitting atop a treasure trove of "black gold" in the form of oil reserves. This "underground reservation" led the American Indians of this area to amass vast quantities of wealth — and to attract the fatal attentions of those who sought to gain control of that wealth by any means necessary. The narrative reads like a masterful mystery and epic tragedy all in one, with Grann as the thorough investigator who reports all the facts while underlining the lived humanity of every moment. VERDICT: A must-buy for being just the kind of absorbing, gut-wrenching work of narrative nonfiction that readers will breathlessly page through to the conclusion" (Jose Cruz, Shannon Staub Public Library).
Killers of the Flower Moon: Young Readers Edition is also available in the Sora digital reading app: