Welcome to the Monday Morning Book Buzz. Every week we take a look at some notable new books being released in the coming days.
If you would like to subscribe to the CA Library Blog, click the Entries (RSS) button at the top of the menu on the right and add the link to your favorite news aggregator. You can also follow us on Facebook by visiting http://www.facebook.com/calibrary and hitting the 'Like' button.
Notable New Releases for the week of August 8th: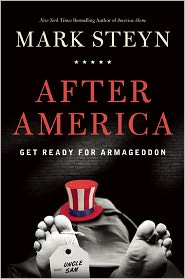 1493: Uncovering the New World Columbus Created by Charles C. Mann — From the author of 1491—the best-selling study of the pre-Columbian Americas—a deeply engaging new history of the most momentous biological event since the death of the dinosaurs.
Acceptable Loss (William Monk Series #17) by Anne Perry — The latest in Perry's bestselling series of Victorian mysteries. When the body of a small-time crook named Mickey Parfitt washes up on the tide, no one grieves; far from it. But William Monk, commander of the River Police, is puzzled by the expensive silk cravat used to strangle Parfitt.
The Accident by Linwood Barclay — In this mesmerizing thriller by acclaimed author Barclay, a typical American community descends into darkness, as an ordinary man is swept into one of the most violent mysteries of modern life.
After America: Get Ready for Armageddon by Mark Steyn — In his New York Times bestseller, America Alone: The End of the World as We Know It, Mark Steyn predicted collapse for the rest of the Western World. Now, he adds, America has caught up with Europe on the great rush to self-destruction.
All You Desire by Kirsten Miller — The latest entry in Miller's the Eternal Ones series. Haven Moore and Iain Morrow have been living a blissful life in Rome, an ocean way from the Ouroboros Society and its diabolical leader. When the mysterious disappearance of Haven's best friend, Beau, sends the pair running back to New York, they encounter an underground group of women who have spent centuries scheming to destroy Adam Rosier.
Bad Intentions by Karin Fossum — In the newest installment in the Inspector Sejer series since The Water's Edge in 2009, Konrad Sejer must face down his memories and fears as he struggles to determine why the corpses of troubled young men keep surfacing in local lakes.
Darkness, My Old Friend by Lisa Unger — The New York Times bestselling author of Beautiful Lies and Fragile returns to The Hollows, delivering a thriller that explores matters of faith, memory, and sacrifice.
fathermothergod: My Journey Out of Christian Science by Lucia Greenhouse — Lucia Ewing had what looked like an all-American childhood. Living in an affluent Minneapolis suburb, surrounded by a tight-knit extended family, Lucia had no doubt she was loved and cared for. But when it came to accidents and illnesses, Lucia's parents didn't take their kids to the doctor's office—they prayed, and called a Christian Science practitioner. Greenhouse's story is about growing up in Christian Science, in a house where you could not be sick, where no medicine, even aspirin, was allowed.
Hooked by Catherine Greenman — Thea Galehouse has always known how to take care of herself, attending the prestigious and competitive Stuyvesant High School. But one chat with Will, a handsome and witty senior, and she's a goner—completely hooked on him and unable to concentrate on anything else.
The Ideal Man by Julie Garwood — Dr. Ellie Sullivan has just completed her residency at a large urban hospital. While jogging in a park nearby, she witnesses the shooting of an FBI agent in pursuit of wanted criminals. The only person to see the shooter's face, Ellie is suddenly at the center of a criminal investigation. When agent Max Daniels takes over the case, he's definitely not the ideal man that Ellie has always imagined, yet she's attracted to him in a way she can't explain.
Ingenue (The Flappers Series #2) by Jillian Larkin — Bobbed hair. Short skirts. Cool jazz. Dark speakeasy. Anything goes. Meet the flappers, Gloria, Clara, Lorraine . . . and the rich young boys who love and loathe them.
Juliet Immortal by Stacey Jay — Juliet Capulet didn't take her own life. She was murdered by the person she trusted most, her new husband, Romeo Montague, a sacrifice made to ensure his own immortality. But what Romeo didn't anticipate was that Juliet would be granted eternity as well.
The Lantern by Deborah Lawrenson — A modern gothic novel of love, secrets, and murder—set against the lush backdrop of Provence, France. When Eve falls for the secretive, charming Dom in Switzerland, their whirlwind relationship leads them to Les Genévriers, an abandoned house set among the fragrant lavender fields of the South of France. But when the bright, warm rooms turn cold and uninviting, Eve senses a presence moving them.
A Long, Long Sleep by Anna Sheehan — Locked away in the chemically induced slumber of a stasis tube in a forgotten subbasement, sixteen-year-old Rose slept straight through the Dark Times that killed millions and utterly changed the world she knew. Hailed upon her awakening as the long-lost heir to an interplanetary empire, Rose is thrust alone into a future in which she is viewed as either a freak or a threat.
The Magician King by Lev Grossman — Grossman's The Magicians was praised as a triumph by readers and critics of both mainstream and fantasy literature. Now he takes us back to Fillory, where the Brakebills graduates have fled the sorrows of the mundane world, only to face terrifying new challenges.
The Margrave (Relic Master Series #4) by Catherine Fisher — In this final installment of the Relic Master quartet, Galen and Raffi's quest has brought them to the Pits of Maar. There, below the surface of the world, in the deepest darkness, a most evil thing is waiting for them to come.
Michael Vey: The Prisoner of Cell 25 by Richard Paul Evans — To everyone at Meridian High School, Michael Vey is an ordinary fourteen-year-old. In fact, the only thing that seems to set him apart is the fact that he has Tourette's syndrome. But Michael is anything but ordinary. Michael has special powers. Electric powers.
Now Playing: Stoner and Spaz II by Ron Koertge — Quick repartee. Unsparing wit. Insight, poignancy, and spot-on characters. In this much-awaited sequel to the acclaimed Stoner & Spaz, beautiful but troubled Colleen Minou is the only girl who ever looked at Ben Bancroft as more than a spaz—more than just that kid with cerebral palsy. Yet the more time Ben spends with her, the more glaring their differences appear.
Skyjack: The Hunt for D. B. Cooper by Geoffrey Gray — D. B. Cooper's case has become the stuff of legend and obsessed and cursed his pursuers with everything from bankruptcy to suicidal despair. Now with Skyjack, journalist Geoffrey Gray delves into this unsolved mystery uncovering new leads in the infamous case.
Star Wars Fate of the Jedi #8: Ascension by Christie Golden — As Luke and Ben Skywalker pursue the formidable dark-side being Abeloth, the Lost Tribe of the Sith is about to be sundered by an even greater power—which will thrust one Dark Lord into mortal conflict with his own flesh-and-blood.
Thirst No. 4: The Shadow of Death by Christopher Pike — The conclusion to the phenomenally successful Thirst series follows five-thousand-year-old vampire Alisa Perne as she battles a new race of immortals: the Telar. The Telar are a challenging threat. But Alisa is hungry for blood—and thirsty for revenge.
Victory and Honor by W. E. B. Griffin — The latest book in New York Times-bestselling author W.E.B. Griffin's Honor Bound saga of World War II espionage. Just weeks after Hitler's suicide, Cletus Frade and his colleagues in the OSS find themselves up to their necks in battles every bit as fierce as the ones just ended.