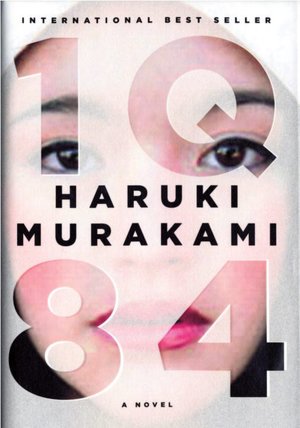 Today's list features some of the best adult fiction titles published this year, according to major book retailers Amazon and Barnes & Noble. Titles marked with an asterisk * are in the CA Library collection.
1Q84 by Haruki Murakami — An ode to George Orwell's "1984" told in alternating male and female voices relates the stories of Aomame, an assassin for a secret organization who discovers that she has been transported to an alternate reality, and Tengo, a mathematics lecturer and novice writer.
* 11/22/63 by Stephen King — When English teacher Jake Epping discovers a portal to the past he decides to use it to prevent the John F. Kennedy assassination.
* The Art of Fielding by Chad Harbach — Henry Skirmshander, the star of a small college team found on the shore of Lake Michigan, is overcome with self-doubt, which threatens his future; meanwhile, four others–including Henry's best friend and teammate, his roommate, college president Guert Affenlight, and Guert's daughter–also find themselves forced to confront their own secrets.
* Before I Go To Sleep by S.J. Watson — Christine, suffering from a rare form of amnesia where she cannot retain memories from day to day, starts seeing a new doctor who recommends she keep a journal, and her life starts getting scary when she sees she has written "Dont' trust Ben," the man who claims to be her husband.
* The Buddha in the Attic by Julie Otsuka — Eight young women who are brought from Japan to San Francisco as "picture brides" in the early twentieth century and struggle to adapt to their new husbands, language, and culture and raise children who reject their heritage and history.
The Cat's Table by Michael Ondaatje — Michael, now an adult, recalls the three-week long sea voyage he took as a boy in the early 1950s to meet his mother. During the trip across the Indian Ocean the boy meets a variety of characters on board.
* A Dance With Dragons by George R.R. Martin – The 5th book in the epic Song of Fire and Ice fantasy series. New threats emerge to endanger the future of the Seven Kingdoms, as Daenerys Targaryen, ruling in the East, fights off a multitude of enemies, while Jon Snow, Lord Commander of the Night's Watch, faces his foes both in the Watch and beyond the great Wall of ice and stone.
Lost Memory of Skin by Russell Banks — After being released from prison, a young man whose life was destroyed after a liaison with an underage girl agrees to help a university sociologist with his research on homelessness and recidivism among six offenders and the two form an unlikely friendship, until events from the professor's past come to light and cause the young man to question everything he knows.
The Lover's Dictionary by David Levithan — A nameless narrator relates his experiences with love and being a part of a couple through a series of dictionary entries.
* The Marriage Plot by Jeffrey Eugenides — English major Madeleine Hanna must choose between two suitors while working on her senior thesis on the marriage plot that lies at the heart of the greatest English novels.
* The Night Circus by Erin Morgenstern — A circus known as Le Cirque des Reves features two illusionists, Celia and Marco, who are unknowingly competing in a game to which they have been irrevocably bound by their mercurial masters, and as the two fall deeply and passionately in love with each other, their masters intervene with dangerous consequences.
* Robopocalypse by Daniel H. Wilson — Archos, a powerful artificial intelligence, takes on the persona of a shy human boy and begins to take over the world's technology and turn it against humanity, launching a robot war that no one seems to be able to contain or stop.
The Sisters Brothers by Patrick deWitt — Brothers Eli and Charlie Sisters are ordered by a man known only as the Commodore to kill Hermann Kermit Warm and travel from Oregon City to Warm's gold-mining claim outside of Sacramento to do the job, but along the way Eli begins to doubt his choice in profession.
* State of Wonder by Anne Patchett — Dr. Marina Singh, a research scientist with a Minnesota-based pharmaceutical company, is sent to Brazil after the death of her friend and colleague, to take up his mission of finding Dr.Annick Swenson, a ruthless woman, now in her seventies, who has been conducting research among the Lakashi tribe on a reputed miracle drug, and refuses to let anything stand in her way.
The Tiger's Wife by Téa Obreht — Natalia, a young doctor on a medical mission to an orphanage in the Balkans, ponders the mystery of her beloved grandfather's recent death. She finds the answers she seeks in the story of an abused deaf-mute woman in the village of his childhood who formed a bond with a tiger that escaped from the zoo following the German bombardment in 1941.
* Zone One by Colson Whitehead — Mark Spitz, a soldier working to clear lower Manhattan of infected zombies, remembers the worst of the infection as he systematically covers the city.