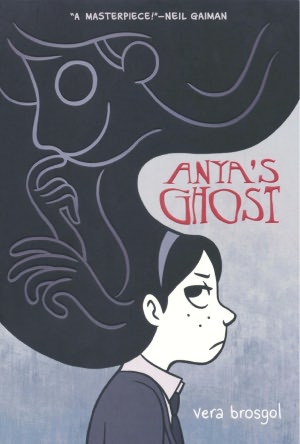 School Library Journal, one of the sources I use to decide which books to buy for the library collection, publishes a list of the year's best books every December. This year's list includes 65 titles in 4 categories: Picture Books, Fiction, Nonfiction and Adult Books 4 Teens.
I particularly appreciate the last category. Adult Books 4 Teens is a blog that features book reviews from nearly 20 librarians across the country "to help librarians learn about the best books published for the adult market that also have appeal to teen readers." It's a useful resource to use as we seek out books beyond what you might ordinarily find in a school library, to challenge students to read higher level fiction and nonfiction as they prepare for college and life beyond high school.
This year's best fiction list reflects the continuing popularity of fantasy and science fiction, particularly dystopian fiction. You'll also find  my pick for best graphic novel of the year, Anya's Ghost. Here are the SLJ Best Fiction Books that are available in the library collection:
Flip by Martyn Bedford — A teenager wakes up inside another boy's body and faces a life-or-death quest to return to his true self or be trapped forever in the wrong existence.
Chime by Franny Billingsley — In the early twentieth century in Swampsea, seventeen-year-old Briony, who can see the spirits that haunt the marshes around their town, feels responsible for her twin sister's horrible injury until a young man enters their lives and exposes secrets that even Briony does not know about.
Anya's Ghost by Vera Brosgol — Anya, embarrassed by her family and lacking confidence in her body and her social skills, finally finds a friend after falling down a well, but quickly learns there are drawbacks to having a ghost for a friend.
Stay With Me by Paul Griffin — Fifteen-year-olds Mack, a high school drop-out but a genius with dogs, and Céce, who hopes to use her intelligence to avoid a life like her mother's, meet and fall in love at the restaurant where they both work, but when Mack lands in prison he pushes Céce away and only a one-eared pit-bull can keep them together.
Paper Covers Rock by Jenny Hubbard — In 1982 Buncombe County, North Carolina, sixteen-year-old Alex Stromm writes of the aftermath of the accidental drowning of a friend, as his English teacher reaches out to him while he and a fellow boarding school student try to cover things up.
A Monster Calls by Patrick Ness — Thirteen-year-old Conor awakens one night to find a monster outside his bedroom window, but not the one from the recurring nightmare that began when his mother became ill–an ancient, wild creature that wants him to face truth and loss.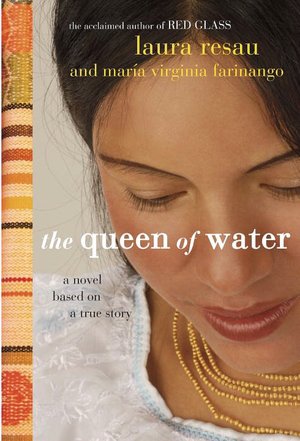 The Queen of Water by Laura Resau and Maria Virginia Farinango — Living in a village in Ecuador, a Quechua Indian girl is sent to work as an indentured servant for an upper class "mestizo" family.
Divergent by Veronica Roth — In a future Chicago, sixteen-year-old Beatrice Prior must choose among five predetermined factions to define her identity for the rest of her life, a decision made more difficult when she discovers that she is an anomoly who does not fit into any one group, and that the society she lives in is not perfect after all.
Glow by Amy Kathleen Ryan — Part of the first generation to be conceived in deep space, fifteen-year-old Waverly is expected to marry young and have children to populate a new planet, but a violent betrayal by the dogmatic leader of their sister ship could have devastating consequences.
White Crow by Marcus Sedgwick — Sixteen-year-old Rebecca moves with her father from London to a small, seaside village, where she befriends another motherless girl and they spend the summer together exploring the village's sinister history.
Wonderstruck by Brian Selznick — Having lost his mother and his hearing in a short time, twelve-year-old Ben leaves his Minnesota home in 1977 to seek the father he never knew in New York City, and meets there Rose, who is also longing for something missing from her life. Ben's story is told in words; Rose's in pictures.
Between Shades of Gray by Ruta Sepetys — In 1941, fifteen-year-old Lina, her mother, and brother are pulled from their Lithuanian home by Soviet guards and sent to Siberia, where her father is sentenced to death in a prison camp while she fights for her life, vowing to honor her family and the thousands like hers by burying her story in a jar on Lithuanian soil. Based on the author's family, includes a historical note.
Jasper Jones by Craig Silvey — In small-town Australia, teens Jasper and Charlie form an unlikely friendship when one asks the other to help him cover up a murder until they can prove who is responsible.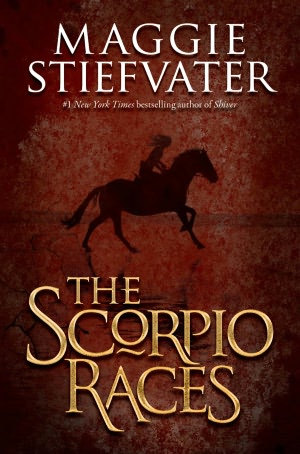 The Scorpio Races by Maggie Stiefvater — Nineteen-year-old returning champion Sean Kendrick competes against Puck Connolly, the first girl ever to ride in the annual Scorpio Races, both trying to keep hold of their dangerous water horses long enough to make it to the finish line.
Daughter of Smoke and Bone by Laini Taylor — Seventeen-year-old Karou, a lovely, enigmatic art student in a Prague boarding school, carries a sketchbook of hideous, frightening monsters–the chimaerae who form the only family she has ever known.
Blink & Caution by Tim Wynne-Jones — Two teenagers who are living on the streets and barely getting by become involved in a complicated criminal plot, and make an unexpected connection with each other.
How To Save A Life by Sara Zarr — Told from their own viewpoints, seventeen-year-old Jill, in grief over the loss of her father, and Mandy, nearly nineteen, are thrown together when Jill's mother agrees to adopt Mandy's unborn child but nothing turns out as they had anticipated.
Next, we'll take a look at the Best Nonfiction and Best Adult Books 4 Teens available in the CA Library collection.