Welcome to the Monday Morning Book Buzz, a preview of notable books being released this week. Some of them will be added to the Academy Library collection; if you read about a title that you would like added to the collection, let me know by either commenting on this post or by contacting me directly at the Library.
If you would like to subscribe to the CA Library Blog, click the Entries (RSS) button at the top of the menu on the right and add the link to your favorite news aggregator. You can also follow us on Facebook by visiting http://www.facebook.com/calibrary and hitting the 'Like' button.
This week's releases are listed by category: Young Adult Fiction, Graphic Novels, General Fiction and Nonfiction. On-sale dates are indicated in parentheses.
Notable New Releases for the week of January 16th: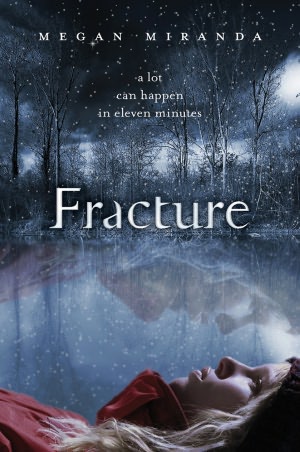 Young Adult Fiction
Fracture by Megan Miranda (1/17/2012) — Officially dead after falling into an icy lake, Delaney Maxwell defies medical precedent to come back seemingly fine, despite the scans that show significant brain damage. But when she finds herself drawn to the dying, Delaney wonders if her altered brain is now predicting death — or causing it. "The fluid writing, empathetic characters, and big questions raised elevate this paranormal romance into a haunting meditation on what it means to be human and to truly live." — Publishers Weekly
Hallowed (Unearthly Series #2) by Cynthia Hand (1/17/2012) — For months Clara Gardner trained to face the fire from her visions, but she wasn't prepared for the choice she had to make. And in the aftermath, she discovered that nothing about being part angel is as straightforward as she thought. In this compelling sequel to Unearthly, Hand captures the joy of first love, the anguish of loss, and the confusion of becoming who you are.
In Darkness by Nick Lake (1/17/2012) — Trapped in the rubble of a hospital following the devastating 2010 earthquake in Haiti, Shorty finds himself surrounded by lifeless bodies and growing desperately weak from lack of food and water, with death seemingly imminent. Yet as he waits in darkness for a rescue that may never come, Shorty becomes aware of another presence, one reaching out to him across two hundred years of history. "The portrait it reveals of a country relegated throughout history to brutality and neglect is powerful and moving." — Publishers Weekly
Never Eighteen by Megan Bostic (1/17/2012) — Austin Parker is never going to see his eighteenth birthday. The doctors say his chances of surviving leukemia are slim to none even with treatment, so he's decided it's time to let go. But before he goes, Austin wants to mend the broken fences in his life by visiting every person in his life who touched him in a special way. "[Bostic's] story is sad, like so many others in today's world of YA literature, but it is real and pulls no punches." — Voice of Youth Advocates
Stolen Away by Alyxandra Harvey (1/17/2012) — For seventeen years, Eloise Hart had no idea the world of Faery even existed. Now she has been abducted and trapped in the Rath of Lord Strahan, King of Faery. Strahan was only meant to rule for seven years, as Faery tradition dictates, and then give up his crown to another. But he won't comply, and now chaos threatens both worlds.
Tempest by Julie Cross (1/17/2012) — The year is 2009.  Nineteen-year-old Jackson Meyer is a normal guy… he's in college, has a girlfriend… and he can travel back through time. But it's not like the movies – nothing changes in the present after his jumps – it's just harmless fun. That is… until the day strangers burst in on Jackson and his girlfriend, Holly, and during a struggle with Jackson, Holly is fatally shot. "Debut author Cross launches a trilogy with an exciting and complex page-turner about difficult choices." — Publishers Weekly
Truth by Julia Karr (1/19/2012) — In this sequel to XVI, Nina Oberon's life has changed enormously. When her mother was killed, Nina discovered the truth about her father, the leader of the Resistance. And now she sports the same Governing Council—ordered tattoo of XVI on her wrist, the one that announces to the world that she is easy prey to predators. But when she joins an organization of girls working within the Resistance, Nina learns they can put an end to one of the most terrifying secret programs the GC has ever conceived.
Try Not to Breathe by Jennifer R. Hubbard (1/19/2012) — Ryan spends most of his time alone at the local waterfall because it's the only thing that makes him feel alive. He's sixteen, post-suicidal, and trying to figure out what to do with himself after a stint in a mental hospital. Then Nicki barges into his world, brimming with life and energy, and asking questions about Ryan's depression that no one else has ever been brave enough – or cared enough – to ask.
Graphic Novels
Fear Itself by Matt Fraction (1/18/2012) — In this time of global anxiety, economic turmoil and mass hysteria, Sin, the new Red Skull, has made an awesome discovery – a revelation that will divide father and son, turn friend against friend and herald the rise of Fear personified. The Avengers and the world's remaining heroes battle the unstoppable tide of terror!
Sailor Moon, Volume 3 by Naoko Takeuchi (1/17/2012) — Kodansha Comics USA is reprinting the Shinzoban edition of the Sailor Moon manga series.
General Fiction
All Necessary Force by Brad Taylor (1/17/2012) — Retired Delta Force officer Brad Taylor, whose debut thriller, One Rough Man, was a national bestseller, continues his Pike Logan series.
The Chalk Girl (Kathleen Mallory Series #10) by Carol O'Connell (1/17/2012) — When an 8-year-old girl is found wandering in New York's Central park after witnessing a murder, Kathy Mallory of the Special Crimes Unit believes the crime is tied to other murders stretching back fifteen years.
Death of Kings (Saxon Tales #6) by Bernard Cornwell (1/17/2012) — The fate of a new nation rests in the hands of a reluctant warrior in this thrilling sixth volume in the acclaimed New York Times-bestselling Saxon Tales series. "A master of historical fiction has produced another great read." — Library Journal
The Flame Alphabet by Ben Marcus (1/17/2012) — Marcus delivers a work of heartbreak and horror, a novel about how far we will go, and the sorrows we will endure, in order to protect our families. An epidemic has struck the country and the sound of children's speech has become lethal. For Sam and Claire, the only means of survival is to flee from their teenage daughter, Esther, who laughs at her parents' sickness, unaware that in just a few years she, too, will be susceptible to the language toxicity. "Highly recommended, though not for those wanting easy thrills; demanding writer Marcus wants us to think." — Library Journal
The Look of Love (Wedding Cake Mystery Series #2) by Mary Jane Clark (1/17/2012) — New York Times-bestselling author Mary Jane Clark introduced readers to professional wedding cake decorator and amateur sleuth Piper Donavan in her acclaimed mystery novel To Have and To Kill. Piper's back in The Look of Love, on cake-creating assignment at a West Coast luxury spa for the wealthy and famous—where nip and tuck and murder are offered in equal measures.
Raylan by Elmore Leonard (1/17/2012) — Leonard shines a spotlight once again on the dedicated, if somewhat trigger-happy U.S. Marshal Raylan Givens, this time in his familiar but not particularly cozy milieu of Harlan County, Kentucky, where the drug dealing Crowe brothers are branching out into the human body parts business. "Leonard lovers will find the fascinatingly twisted personalities common to his fiction here, along with memorable trademark Leonard moments of humor, grit, and greed." — Library Journal
Reefs and Shoals (Alan Lewrie Naval Series #18) by Dewey Lambdin (1/17/2012) — The latest in Lambdin's swashbuckling series, set during the Napoleonic Wars. Royal Navy Captain Alan Lewrie is dispatched to the Florida Straits to scour the shores of Cuba and the Keys in search of French and Spanish privateers which have been taking British merchantmen at an appalling rate.
The Rope (Anna Pigeon Series #17) by Nevada Barr (1/17/2012) — In The Rope, the latest in the series of bestselling novels featuring Anna Pigeon, Barr gathers together the many strings of Anna's past and finally reveals the story that her many fans have been long asking for.
Shadows in Flight (Ender's Shadow Series #5) by Orson Scott Card (1/17/2012) — At the end of Shadow of the Giant, Bean Delphiki flees to the stars with three of his children who share the engineered genes that gave him both hyper-intelligence and a short, cruel physical life. In time, they are forgotten—but the Delphikis are about to make a discovery that will let them save themselves, and perhaps all of humanity in days to come.
Nonfiction
Ameritopia: The Unmaking of America by Mark R. Levin (1/17/2012) — Talk radio host and president of the Landmark Legal Foundation Mark Levin asks, what is this utopian force that both allures a free people and destroys them? In the end, Levin's message is clear: The American republic is in great peril. The people must now choose between utopianism or liberty.
Guitar Zero: The New Musician and the Science of Learning by Gary Marcus (1/19/2012) — On the eve of his fortieth birthday, a professor of no discernible musical talent learns to play the guitar and investigates how anyone of any age might master a new skill. "This enjoyable blend of music appreciation, science and personal exploration commands a new respect for how the brain and body responds to the promise, and shock, of the new." — Kirkus Reviews
A Nation of Moochers: America's Addiction to Getting Something for Nothing by Charles J. Sykes (1/17/2012) — Sykes, senior fellow at the Wisconsin Policy Research Institute, argues that hardworking, tax-paying Americans are being turned into the nation's piggy bank by freeloading "moochers," both individual and corporate, who have given in to a culture of dependence and free lunch.
The New Jim Crow: Mass Incarceration in the Age of Colorblindness by Michelle Alexander (1/16/2012) — Longtime civil rights advocate and litigator Alexander argues that we have not ended racial caste in America: we have simply redesigned it. Alexander shows that, by targeting black men and decimating communities of color, the U.S. criminal justice system functions as a contemporary system of racial control.
The Real Romney by Michael Kranish and Scott Helman (1/17/2012) — Kranish, deputy chief of the Washington Bureau of The Boston Globe, and Helman delve into the psyche of a complex man now at his most critical juncture—the private Romney whom few people see.