Welcome to the Monday Morning Book Buzz, a preview of notable books being released this week. Some of them will be added to the Academy Library collection; if you read about a title that you would like added to the collection, let me know by either commenting on this post or by contacting me directly at the Library.
If you would like to subscribe to the CA Library Blog, click the Entries (RSS) button at the top of the menu on the right and add the link to your favorite news aggregator. You can also follow us on Facebook by visiting http://www.facebook.com/calibrary and hitting the 'Like' button.
This week's releases are listed by category: Young Adult Fiction, General Fiction and Nonfiction. On-sale dates are indicated in parentheses.
Notable New Releases for the week of April 2nd:
Young Adult Fiction
The Last Hope (Warriors: Omen of the Stars Series #6) by Erin Hunter (4/3/2012) — Jayfeather, Dovewing, and Lionblaze continue to unravel the mysterious prophecy that has brought them together, but, as their battle against the Dark Forest approaches, the trio will need help from Firestar, ThunderClan, and StarClan if they want to save the clans.
Shell Game (Kingdom Keepers Series #5) by Ridley Pearson (4/3/2012) — The Kingdom Keepers have their hands full when, during the inaugural cruise of the Disney ship, Fantasy, to exotic locations, they discover that the Overtakers have infiltrated the cast, stolen a journal that belonged to Walt Disney himself, and plan to unleash a powerful evil, the Chernabog.
Fear (Gone Series #5) by Michael Grant (4/3/2012) — As the young residents of Perdido Beach begin to better comprehend the truths of who they are and their relationships to one another, the Darkness finds a new way to be born, bringing their understanding of fear to a new level. "Grant's masterstroke continues to be how his huge cast of dangerously talented mutants remains as haunted and fallible as anyone else." — Booklist
The Fame Game by Lauren Conrad (4/3/2012) — Madison Parker is determined to make her way into the spotlight, even if it means dealing with backstabbing friends and family, paparazzi, and tabloid scandals.
Black Heart (Curse Workers Series #3) by Holly Black (4/3/2012) — Cassel Sharpe, a powerful transformation worker, is torn between his decision to work for the federal government and his love for Lila, who has joined her father's criminal organization. "Black's gotten the world of her novel down perfectly, a fascinating alternate Now in which the debate over curse workers (magic wielders) feels uncomfortably familiar (corrupt government, dispossessed citizens), and Cassel's voice never falters." — Kirkus Reviews
Pure: The Second Covenant Novel by Jennifer L. Armentrout (4/3/2012) — Alex must decide between the love that is fated and the love that is forbidden when a mysterious threat confronts the Council and threatens her freedom.
Grave Mercy (His Fair Assassin Trilogy Series #1) by Robin LaFevers (4/3/2012) — Seventeen-year-old Ismae avoids an arranged marriage by making a place for herself at the convent of St. Martin, where she learns of her unique gifts and must determine whether she will be trained as an assassin and serve as a handmaiden to Death. "With characters that will inspire the imagination, a plot that nods to history while defying accuracy, and a love story that promises more in the second book, this is sure to attract feminist readers and romantics alike." — Booklist starred review
I Hunt Killers by Barry Lyga (4/3/2012) — Seventeen-year-old Jazz learned all about being a serial killer from his notorious "Dear Old Dad." Believing he can fight his own urges and right some of his father's wrongs, Jazz helps the police catch the town's newest murderer, "The Impressionist," but, in doing so, he discovers he may have more in common with his father than he thought. "Lyga continues to shift genres, delivering a superb mystery/thriller that explores what it's like to have a monster for a father." — Publishers Weekly
The Watchers (Delcroix Academy Series #2) by Inara Scott (4/3/2012) — All of her life, Dancia Lewis has wanted to use her powers for good, and now that she's learned the truth about Delcroix Academy—and herself—she may just get the chance. But being part of Delcroix's top secret Program isn't anything like Dancia expected. "Dancia is a likable heroine, and it's fun to watch as she comes into her own, both harnessing her powers and gaining the confidence to stand up for what's right even in the face of danger." — Kirkus Reviews
Immortal City by Scott Speer (4/3/2012) — In the days before Jackson Godspeed becomes a full-fledged Guardian, the angel-obsessed people compete for the chance to have Jackson watch over them, except for Maddy Montgomery, whose indifference to angels is intriguing to Jackson; meanwhile, a serial killer is on the loose and targeting angels. "Speer, a music-video director and graduate of USC's school of cinema and television, clearly knows the industry, and his fascination with and affection for Los Angeles create an atmospheric TV show of a book, with a cliff-hanger ending that guarantees a sequel." — Booklist
Radiate by Marley Gibson (4/3/2012) — Hayley Matthews, determined to be the best cheerleader she can, works hard and pushes herself 110% all the time. When she finds a lump on her leg, the diagnosis is cancer and the prognosis is unclear — she could lose her leg, or maybe her life. "Radiate shows readers the power of positive thinking can save lives!" — New York Times best-selling author Simone Elkles
General Fiction
The Lost Years by Mary Higgins Clark (4/3/2012) — Dr. Jonathan Lyons, a seventy-year-old biblical scholar, believes he has found the rarest of parchments—a letter that may have been written by Jesus Christ.
The Shoemaker's Wife by Adriana Trigiani (4/3/2012) — A multigenerational love story that spans two continents, two World Wars, and the quest of two star-crossed lovers to find each other again.
Sacré Bleu: A Comedy d'Art by Christopher Moore (4/3/2012) — Moore's latest is part mystery, part history (sort of), part love story, and wholly hilarious as it follows a young baker-painter as he joins the dapper  Henri Toulouse-Lautrec on a quest to unravel the mystery behind the supposed "suicide" of Vincent van Gogh.
The Red Book by Deborah Copaken Kogan (4/3/2012) — The Big Chill meets The Group in Kogan's wry, lively, and irresistible new novel about a once-close circle of friends at their twentieth college reunion.
Nocturnal by Scott Sigler (4/3/2012) — "A genre-bending urban fantasy that pits San Francisco's Finest against a subterranean horde of monsters who threaten the human race." — Kirkus Reviews
The Beginner's Goodbye by Anne Tyler (4/3/2012) — Tyler's latest is a wise, haunting, and deeply moving novel in which she explores how a middle-aged man, ripped apart by the death of his wife, is gradually restored by her frequent appearances—in their house, on the roadway, in the market.
Harbor Nocturne by Joseph Wambaugh (4/3/2012) — When Dinko Babich, a young longshoreman, delivers Lita Medina, a young Mexican dancer, from San Pedro Harbor to a Hollywood nightclub, their lives are forever changed. "Wambaugh's ability to weave a complex story together out of seemingly disparate elements lightens up some of the grittiness of big city police work." — Library Journal
The Big Cat Nap (Mrs. Murphy Series #20) by Rita Mae Brown (4/3/2012) — To celebrate the twentieth anniversary of the beloved Mrs. Murphy mystery series, Brown and her intrepid feline co-author Sneaky Pie Brown return with a charming claw-biting tale starring Mary Minor "Harry" Haristeen.
Beastly Things (Guido Brunetti Series #21) by Donna Leon (4/3/2012) — When the body of man is found in a canal, damaged by the tides, carrying no wallet, and wearing only one shoe, Venetian police inspector Guido Brunetti has little to work with.
Capitol Murder by Phillip Margolin (4/3/2012) — Convicted serial killer Clarence Little has escaped from death row in Oregon, and private investigator Brad Miller receives threatening messages in D.C., where he is working for a high-ranking member of the Senate Select Committee on Intelligence.
Dorchester Terrace (Thomas and Charlotte Pitt Series #27) by Anne Perry (4/3/2012) — Perry's acclaimed Charlotte and Thomas Pitt novels have made London's exclusive world of wealth and power an addictive literary destination for readers everywhere. This new entry in the series, a haunting story of love and treason, invites us not only into the secret places of Britain's power but also into the innermost sanctums of the fin de siècle Austro-Hungarian Empire.
The Lifeboat by Charlotte Rogan (4/3/2012) — In the summer of 1914, the elegant ocean liner carrying Grace Winter and her new husband Henry across the Atlantic suffers a mysterious explosion. Setting aside his own safety, Henry secures Grace a place in a lifeboat, which the survivors quickly realize is over capacity. For any to live, some must die.
Nonfiction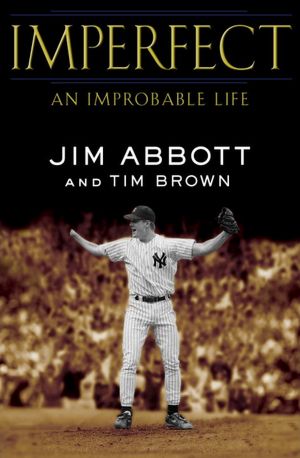 Driving Mr. Yogi: Yogi Berra, Ron Guidry, and Baseball's Greatest Gift by Harvey Araton (4/3/2012) — "Like Ron Guidry, one of the greatest gifts in my career was to become Yogi's friend. He and Ron are unique Americans and in Driving Mr. Yogi readers everywhere will come to see just how special their friendship is." — Rudy Giuliani, former mayor of New York City
Imperfect: An Improbable Life by Jim Abbott (4/3/2012) — Born without a right hand, Jim Abbott as a boy dreamed of being a great athlete. Raised in Flint, Michigan, by parents who saw in his condition not a disability but an extraordinary opportunity, Jim became a two-sport standout in high school, then an ace pitcher for the University of Michigan. He went on to play for 4 major league teams in his professional career.
Paris in Love: A Memoir by Eloisa James (4/3/2012) — In 2009, New York Times bestselling author Eloisa James took a leap that many people dream about: she sold her house, took a sabbatical from her job as a Shakespeare professor, and moved her family to Paris. Paris in Love: A Memoir chronicles her joyful year in one of the most beautiful cities in the world.
Heaven Is Here: An Incredible Story of Hope, Triumph, and Everyday Joy by Stephanie Nielson (4/3/2012) –Stephanie Nielson began sharing her life in 2005 on a public blog, drawing readers in with her warmth and candor. Then, on a sunny day in August 2008, she and her husband Christian were in a horrific plane crash. Christian was burned over 40 percent of his body, and Stephanie was on the brink of death. She would remain in a coma for four months. Yet, in the aftermath of this harrowing tragedy, Stephanie maintained a stunning sense of humor, optimism, and resilience.
Bloom: Finding Beauty in the Unexpected–A Memoir by Kelle Hampton (4/3/2012) — When professional photographer Kelle Hampton learned she was pregnant with her second child, she and her husband were ecstatic. But when her new daughter was placed in her arms in the delivery room, Kelle knew instantly that something was wrong; she was certain that Nella had Down syndrome—a fear her pediatrician soon confirmed. Yet gradually Kelle's fear and pain were vanquished by joy, as she embraced the realization that she had been chosen to experience an extraordinary and special gift.