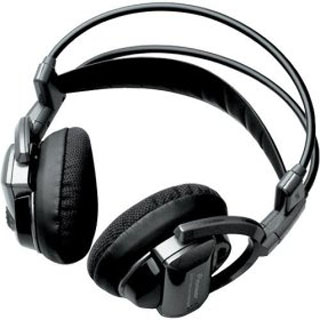 Welcome to Podcast Friday!, a weekly compilation of some of the more interesting podcasts from around the web, listed right here for your listening pleasure!
This page features the Yahoo! WebPlayer, an easy way to bring audio and video into a website. The podcasts listed below will open and play in the WebPlayer automatically. Cool!
The Speak-Singing Debate: Just Sing The Damn Song! (Tuesday, April 03, 2012) — Few people can easily define it but nearly everyone knows it when they hear it. Speak-singing, the murky marriage of spoken lyrics and sung melodies, can be heard in everything from 17th century opera to the Velvet Underground and latest Mountain Goats record. On this edition of All Songs Considered, hosts Bob Boilen and Robin Hilton argue over the pros and cons of this polarizing art form and take a look at some of their favorite (and not-so-favorite) speak-singing artists. Plus, listeners chime in with some of their own picks.
Book Review Podcast (Friday, April 06, 2012) — This week, Elaine Pagels discusses the Book of Revelation; Julie Bosman has notes from the field; Zbigniew Brzezinski on America and the crisis of global power; Anne Sebba talks about the life of Wallis Simpson; and Gregory Cowles has best-seller news. Sam Tanenhaus is the host.
Teddy Roosevelt, YA Fiction and The Big Con (Monday, April 02, 2012) — Stories in this episode: 1) From Page To Screen: Hollywood Targets YA Fiction; 2) Teddy Roosevelt's 'Doomed' War On New York Vice; 3) Secrets And Lies Overseas In 'The Expats'; 4) 'The Big Con': If You Can't Avoid It, Avenge It; 5) 'Mysterious Benedict': Solve A Puzzle, Save The World.
What is mayonnaise? (Friday, April 06, 2012) — Mayo is an emulsion – a mixture of two liquids that normally can't be combined. So how do these ingredients come together? Tune in to learn how oil, egg yolks and acid combine to form one of the world's most popular condiments.
Is there an easy way to understand how time zones work? (Wednesday, April 04, 2012) — There are 24 different time zones — but why do we have them? In this podcast, Marshall recounts how society evolved time zones, and also gives you an easy way to model the structure of time zones across the globe.
Where does aluminum come from? (Monday, April 02, 2012) — Aluminum is both lightweight and strong, so it's no wonder that space stations, airplanes and thousands of other products use this metal. But where does it come from, and what makes it so special? Tune in to learn more.
Ha Long Bay, Vietnam (Friday, April 06, 2012) — What is the legend behind these beautiful islands? How can you best explore them? What is Surprising Cave? Join Kathryn and Sara as they take a closer look at Ha Long Bay.
Pop Culture Happy Hour: Sex Comedies And Marshmallow Peeps (Friday, April 06, 2012) — This week on Pop Culture Happy Hour, NPR Monkey See's Linda Holmes joins Glen Weldon, Trey Graham and Stephen Thompson to talk about the vitality (or not) of the teen sex comedy — from Fast Times at Ridgemont High and Porky's to American Pie and Superbad. Then the gang has a lively debate about Easter candy and the value of Peeps. All that, plus What's Making Us Happy this week.
Episode 364: The Hunter and 4:44 Last Day on Earth (Tuesday, April 03, 2012) — We double down on Dafoe with The Hunter and 4:44 Last Day on Earth, plus discussions about the Total Recall trailer, texting in theatres and Twins.
Swearing (Wednesday, April 04, 2012) — Swearing promotes group bonding, but does it also rob you of your class? We know it's not for best princess behavior, but when is cursing appropriate? Can Tracy and Holly keep it clean while weighing the merits of "bad" words? (The answer is yes.)
Bugs vs. Mickey (Monday, April 02, 2012) — One's a wisecracking rabbit and the other's a giggling mouse. Both have devoted fans. How did these famous animated rodents get their starts and nestle into their niches, and why has only one reached juggernaut status?
Food Poisoning's Lasting Legacy (Wednesday, April 04, 2012) — Scientific American Science of Health columnist Maryn McKenna talks about the new understanding that food poisoning can have long-lasting negative health effects.
Sound Opinions with The Kills (Sunday, April 01, 2012) — They're gritty, they're grimy, they're bluesy. It's The Kills! Tune in for Alison Mosshart and Jamie Hince performing in the studio. Plus, after three decades does Madonna still have it?
Cat Parasites Conquer the World (Thursday, April 05, 2012) — The most successful organisms hide in the shadows. The parasite Toxoplasma gondii is just such a puppet master, and its marionettes include rodents, cats and human beings. In this episode, Julie and Robert uncover Toxo's neural-hijacking scheme.
The Seven Deadlies: Wrath (Tuesday, April 03, 2012) — Where does wrath arise from in the human brain and why do we malign it as one of the seven deadly sins? In this episode of Stuff to Blow Your Mind, Robert and Julie continue the buffet of vice in an examination of human anger.
George Arents: Hobbies and the Heathenish Weed (Wednesday, April 04, 2012) — How did advice from his great uncle inspire tobacco businessman George Arents to become one of the great contemporary bibliophiles?  Listen in as Sarah and Deblina interview Michael Inman, the curator of the New York Public Library Rare Books Division.
Belle Starr: A Bad Rap for the Bandit Queen (Part 2) (Monday, April 02, 2012) — After Jim Reed's death, Belle eventually married Sam Starr. Rumors circulated: Was Belle a barfly or a mom? In 1883, Belle and Sam served 9 months in prison for stealing horses. Tune in to learn how the Bandit Queen set out to turn her reputation around.
How Beer Works (Thursday, April 05, 2012) — At long last, Josh and Chuck take on perhaps their most important topic ever. Learn about the history of beer, how it's made — the whole shebang, basically — in this watershed episode of Stuff You Should Know.
How Diamonds Work (Tuesday, April 03, 2012) — There's no denying that diamonds are pretty — but where do they come from, and why are they so expensive? Join Chuck and Josh as they explore everything about diamonds, from their formation to the mining process and the history of the DeBeers cartel.
Guts (Monday, April 02, 2012) — This hour, we dive into the messy mystery in the middle of us. What's going on down there? And what can the rumblings deep in our bellies tell us about ourselves?