Welcome to the Monday Morning Book Buzz, a preview of notable books being released this week. Some of them will be added to the Academy Library collection; if you read about a title that you would like added to the collection, let me know by either commenting on this post or by contacting me directly at the Library.
If you would like to subscribe to the CA Library Blog, click the Entries (RSS) button at the top of the menu on the right and add the link to your favorite news aggregator. You can also follow us on Facebook by visiting http://www.facebook.com/calibrary and hitting the 'Like' button.
This week's releases are listed by category: Young Adult Fiction, General Fiction and Nonfiction. On-sale dates are indicated in parentheses.
Notable New Releases for the week of August 27th:
Young Adult Fiction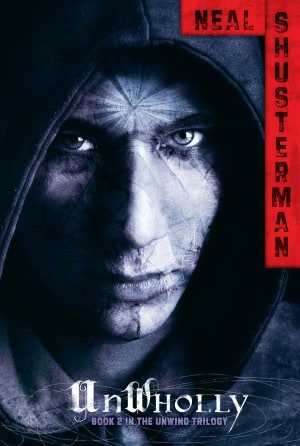 UnWholly (Unwind Trilogy #2) by Neal Shusterman (8/28/2012) — The sequel to Unwind. Thanks to Connor, Risa, and Lev the morality of unwinding has been brought into question, and Cam, a teenager made entirely out of the parts of other unwinds, struggles with a search for identity and meaning. "A breathless, unsettling read." — Kirkus Reviews
Enshadowed by Kelly Creagh (8/28/2012) — In the second book in the Nevermore trilogy, Isobel, haunted by the memory of Varen, goes to Baltimore where she confronts the dark figure known as the Poe Toaster, succeeds in interrupting his ritual, and discovers a way to return to the dream-world, where she must face a new adversary.
Every Day by David Levithan (8/28/2012) — Every morning, A wakes in a different person's body, in a different person's life, learning over the years to never get too attached — until he wakes up in the body of Justin and falls in love with Justin's girlfriend, Rhiannon. "Levithan has done an extraordinary job of creating more than 30 characters, each one a distinct individual and each one offering fresh insights into A's character." — Booklist starred review
Vanquished (Crusade Series #3) by Nancy Holder (8/28/2012) — On the brink of the final battle against the Cursed Ones, the Salamancan hunters' internal bickering threatens their cause, and Jenn must try to rally her team while facing her own doubts, especially about her love for Antonio.
A Mutiny in Time (Infinity Ring Series #1) by James Dashner (8/28/2012) — Time has gone wrong, and best friends Dak Smyth and Sera Froste, together with the young Hystorian Riq, must use the infinity ring to travel back to one of the Great Breaks–a mutiny on the Santa Maria–to correct history and defeat the SQ. "An interactive online Infinity Ring game debuts alongside this installment; the second book, Divide and Conquer by Carrie Ryan, arrives in November." — Publishers Weekly
Spark (Brigid Kemmerer's Elemental Series #2) by Brigid Kemmerer (08/28/2012) — When an arsonist begins targeting the town, Gabriel Merrick finds himself a suspect because he has powers he can't control, and only odd sophomore Layne believes he is innocent.
Speechless by Hannah Harrington (08/28/2012) — Chelsea takes a vow of silence after spilling a secret that nearly got someone killed, but not speaking up when she is ignored, ridiculed, or attacked proves to be a challenge. "The story works well as an argument against bullying that reaches young readers in their own world. Timely and affecting." — Kirkus Reviews
The Blood Keeper by Tessa Gratton (08/28/2012) — Teenager Mab Prowd is perfectly content to practice blood magic on the secluded Kansas farm where she's lived all her life — until one of her spells taps into a powerful, long-dormant curse and she finds her magic spinning out of control. "A perfect book for those who loved Wuthering Heights and are looking for an essentially American gothic." — Kirkus Reviews
Dangerous Boy by Mandy Hubbard (08/30/2012) — In this modern twist on Dr. Jekyll and Mr. Hyde, Harper is surprised by tumbling into an intense romance with Logan, a newcomer to her Enumclaw, Washington high school, but soon Logan's sinister twin is pulling them apart.
Don't Turn Around by Michelle Gagnon (08/28/2012) — After waking up on an operating table with no memory of how she got there, Noa must team up with computer hacker Peter to stop a corrupt corporation with a deadly secret. "Be prepared to stay up all night reading; the ending can stand alone or support a sequel." — Voice of Youth Advocates
General Fiction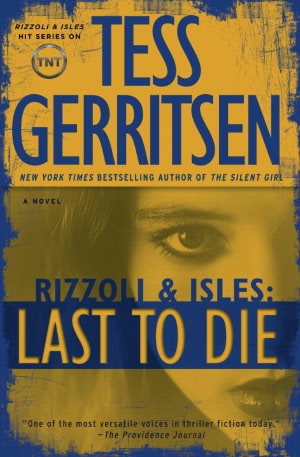 Last to Die (Rizzoli and Isles Series #10) by Tess Gerritsen (8/28/2012) — Boston Police Detective Jane Rizzoli must protect the life of Teddy Clock, a boy who survived the murders of his birth family and now his foster family, by sending him to the exclusive Evensong Boarding School.
Bones Are Forever by Kathy Reichs (8/28/2012) — Forensic anthropologist Tempe Brennan examines the bodies of three babies while Detective Ryan investigates their mother in a case with ties to the high-stakes world of diamond mining. "Reichs delivers solid, albeit grueling, post-mortem work, nonstop complications and enough action for a weekend at the bijou." — Kirkus Reviews
The Beautiful Mystery (Armand Gamache Series #8) by Louise Penny (8/28/2012) — When a peaceful monastery in Quebec is shattered by the murder of their renowned choir director, Chief Inspector Armand Gamache and Jean-Guy Beauvoir of the Saurete du Quebec are challenged to find the killer in a cloistered community that has taken a vow of silence. "This heart-rending tale is a marvelous addition to Penny's acclaimed series. Fans won't be disappointed." — Library Journal
Return to Willow Lake (Lakeshore Chronicles Series #9) by Susan Wiggs (8/28/2012) — Sonnet Romano puts her perfect life on hold to return to Avalon to help take care of her mother who is unexpectedly pregnant only to find her biggest, and maybe her sweetest mistake, filmmaker Zach Alger, still holding Sonnet's heart.
A Sunless Sea (William Monk Series #18) by Anne Perry (8/28/2012) — The latest is Perry's popular series set in Victorian London. While investigating the murder of a mysterious woman found mutilated near Limestone Pier, William Monk finds his efforts are interfered with by the government.
World of Warcraft: Jaina Proudmoore: Tides of War by Christie Golden (8/28/2012) — Traces the downfall of beloved peacekeeper Jaina Proudmoore who is pushed to a breaking point by an inconceivable horror that changes her in irrevocable, ethics-testing ways.
Devil Said Bang (Sandman Slim Series #4) by Richard Kadrey (8/28/2012) — What do you do after you've escaped Hell, gone back, uncovered the true nature of God, and then managed to become the new Lucifer? Well, if you're James Stark, you have to figure out how to run Hell while also trying to get back out of it . . . again. "The action-packed and bombshell-laden blend of dark fantasy, crime fiction, and Hellish sitcom is utterly readable." — Publishers Weekly
Death of a Neighborhood Witch: A Jaine Austen Mystery by Laura Levine (8/28/2012) — Jaine Austen finds herself a prime suspect after her pet cat Prozac accidentally kills the parakeet of her neighbor Cryptessa Muldoon, a D-list television celebrity, who is then found murdered on Halloween night.
Nonfiction
What's the Matter with White People?: Why We Long for a Golden Age That Never Was by Joan Walsh (8/28/2012) — Salon.com columnist and MSNBC commentator Walsh talks about race in honest, unflinching, unfamiliar terms, acknowledging not just Republican but Democratic Party political mistakes-and her own. "[A] thrilling and moving family and political memoir that will help those who read it decipher the political spectacle that will unfold over the next two months." — Joel Whitney, SFGate