Welcome to the Monday Morning Book Buzz, a preview of notable books being released this week. Some of them will be added to the Academy Library collection; if you read about a title that you would like added to the collection, let me know by either commenting on this post or by contacting me directly at the Library.
If you would like to subscribe to the CA Library Blog, click the Entries (RSS) button at the top of the menu on the right and add the link to your favorite news aggregator. You can also follow us on Facebook by visiting http://www.facebook.com/calibrary and hitting the 'Like' button.
This week's releases are listed by category: Young Adult Fiction, General Fiction and Nonfiction. On-sale dates are indicated in parentheses.
Notable New Releases for the week of September 17th:
Young Adult Fiction
The Raven Boys by Maggie Stiefvater (9/18/2012) — Though she is from a family of clairvoyants, Blue Sargent's only gift seems to be that she makes other people's talents stronger, and when she meets Gansey, one of the Raven Boys from the expensive Aglionby Academy, she discovers that he has talents of his own–and that together their talents are a dangerous mix. "Simultaneously complex and simple, compulsively readable, marvelously wrought." — Kirkus starred review
Seconds Away (Mickey Bolitar Series #2) by Harlan Coben (9/18/2012) — When tragedy strikes close to home, Mickey Bolitar and his loyal new friends—sharp-witted Ema and the adorkably charming Spoon—find themselves at the center of a terrifying mystery involving the shooting of their friend Rachel. "An involving thriller that moves like lightning." — Kirkus Reviews
The Crown of Embers by Rae Carson (9/18/2012) — In this sequel to The Girl of Fire and Thorns, seventeen-year-old princess turned war queen Elisa, struggling to earn trust and respect inside her court, sets out on an adventure to find the mythical source of the Godstone's power as her country crumbles and her enemies resurface. "The cliff-hanger ending will leave readers eagerly anticipating the next installment of this series, which will especially appeal to fans of Kristin Cashore and Tamora Pierce." — School Library Journal
Stormdancer by Jay Kristoff (9/18/2012) — The first in an epic new fantasy series, introducing an unforgettable new heroine and a stunningly original dystopian steampunk world with a flavor of feudal Japan.
The Diviners by Libba Bray (9/18/2012) — Seventeen-year-old Evie O'Neill is thrilled when she is exiled from small-town Ohio to New York City in 1926, even when a rash of occult-based murders thrusts Evie and her uncle, curator of The Museum of American Folklore, Superstition, and the Occult, into the thick of the investigation.
Cursed by Jennifer L. Armentrout (9/18/12) — After a car accident, high school senior Ember McWilliams has the gift of touch that makes everything die. She meets Hayden Cromwell who claims her curse is a gift and can help her control it, but whose stepfather she may not be able to trust.
Safekeeping by Karen Hesse (9/18/12) — When Radley returns to the United States after volunteering abroad, she comes back to a country under military rule with strict travel restrictions, and she must find her way back to her Vermont home through the New England woods.
Burn For Burn by Jenny Han and Siobhan Vivian (9/18/12) — Three teenaged girls living on Jar Island band together to enact revenge on the people that have hurt them.
Because It Is My Blood by Gabrielle Zevin (9/18/12) — In 2083, seventeen-year-old Anya Balanchine seeks a way to make Balanchine Chocolate legitimate, and although a trip to Mexico gives her new insights and ideas, escaping her mobster family's legacy of violence may prove impossible.
Glass Heart by Amy Garvey (9/18/12) — Wren Darby is struggling to keep her life in balance as she juggles her blossoming relationship with Gabriel, shocking revelations about her family's past, and the darker side of the powers that have been passed down to her from her parents.
General Fiction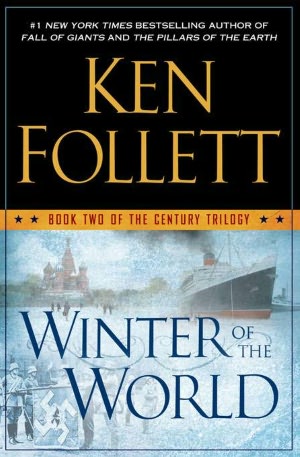 Winter of the World (The Century Trilogy #2) by Ken Follett (9/18/2012) — Continuing the story of five interrelated families as they become entangled in events from the beginning of the twentieth century, from the rise of the Third Reich, through the Spanish Civil War and the great dramas of World War II, up to the explosions of the American and Soviet atomic bombs.
Low Pressure by Sandra Brown (9/18/2012) — Basing her bestselling novel on the night her older sister Susan was murdered on a stormy Memorial Day eighteen years earlier, Bellamy Lyston Price, writing under a pseudonym, becomes the target of an unnamed assailant who either wants the truth about Susan's murder to remain unknown, or is out to get vengeance for a man wrongfully accused and punished.
Severe Clear (Stone Barrington Series #24) by Stuart Woods (9/18/2012) — Stone Barrington is in Bel-Air overseeing a star-studded gala that will be attended by socialites, royalty, and billionaires from overseas, and according to phone conversations intercepted by the NSA, may also have attracted the attention of international terrorists.
Midst Toil and Tribulation (Safehold Series #6) by David Weber (9/18/2012) — When the Republic of Siddermark is threatened by wars triggered by the Charis kingdom's declaration of independence from the Church of God Awaiting, Vicar Clytahn, King Cayleb, Queen Sharleyan, and Merlin Arthawes struggle to prevent widespread starvation while protecting their people from violent attacks.
San Miguel by T. C. Boyle (9/18/2012) — Charts the lives of two families, one in the 1880s and one in the 1930s, who come to start new lives and pursue dreams of self-reliance and freedom on a desolate, windswept island off the coast of Southern California.
The Cutting Season by Attica Locke (9/18/2012) — When the dead body of a young woman is found on the grounds of Belle Vie, the estate's manager, Caren Gray, launches her own investigation into Belle Vie's history, which leads her to a centuries old mystery involving the plantation's slave quarters, and her own past.
Nonfiction
Joseph Anton: A Memoir by Salman Rushdie (9/18/2012) — Author Salman Rusdie details his life after the publication of his novel The Satanic Verses, discussing the death threats he received and how he was forced to go underground for more than nine years, during which he used the name Joseph Anton.