In one of the most ambitious book review projects I've ever tried, I spent hours scouring various year-end best books lists, from review journals (School Library Journal, Booklist), mainstream media (The New York Times, Entertainment Weekly), book retailers (Barnes & Noble, Amazon) and public opinion (GoodReads).
I then compiled all of these best of lists into a single spreadsheet — more than 350 books — counting the number of times each title appeared. Out of 12 review sources, most books only showed up once; about 100 appeared on more than one best books lists. The books featured in our Top 10 each appeared on at least six lists.
Only one title appeared on all 12 best lists, a remarkable achievement for what we are calling this year's best book, #1 on our list of the Top 10 Books of 2012!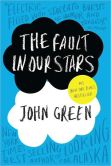 #1 — The Fault In Our Stars by John Green (YA Fiction) — Despite the tumor-shrinking medical miracle that has bought her a few years, Hazel has never been anything but terminal, her final chapter inscribed upon diagnosis. But when a gorgeous plot twist named Augustus Waters suddenly appears at Cancer Kid Support Group, Hazel's story is about to be completely rewritten. "The Fault in Our Stars is a love story, one of the most genuine and moving ones in recent American fiction, but it's also an existential tragedy of tremendous intelligence and courage and sadness." — Lev Grossman, TIME Magazine
#2 — Behind the Beautiful Forevers: Life, Death, and Hope in a Mumbai Undercity by Katherine Boo (Nonfiction) — From Pulitzer Prize-winner Katherine Boo, a landmark work of narrative nonfiction that tells the dramatic and sometimes heartbreaking story of families striving toward a better life in one of the twenty-first century's great, unequal cities. "[Boo] is one of those rare, deep-digging journalists who can make truth surpass fiction, a documentarian with a superb sense of human drama. She makes it very easy to forget that this book is the work of a reporter." — Janet Maslin, The New York Times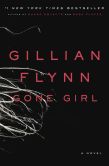 #3 — Gone Girl: A Novel by Gillian Flynn (Fiction) — On a warm summer morning in North Carthage, Missouri, it is Nick and Amy Dunne's fifth wedding anniversary. Presents are being wrapped and reservations are being made when Nick's clever and beautiful wife disappears from their rented McMansion on the Mississippi River. Under mounting pressure from the police and the media—as well as Amy's fiercely doting parents—Nick parades an endless series of lies, deceits, and inappropriate behavior. Nick is oddly evasive, and he's definitely bitter—but is he really a killer? "Gone Girl is masterfully plotted from start to finish and the suspense doesn't waver for one page. It's one of those books you will feel the need to discuss immediately after finishing because the ending doesn't just come; it punches you in the gut." — Caley Anderson, Amazon
#4 — Bring Up The Bodies by Hilary Mantel (Fiction) — The sequel to Mantel's 2009 Man Booker Prize winner Wolf Hall delves into the heart of Tudor history with the downfall of Anne Boleyn. Though he battled for seven years to marry her, Henry is disenchanted with Anne. She has failed to give him a son and her sharp intelligence and audacious will alienate his old friends and the noble families of England. When the discarded Katherine dies in exile from the court, Anne stands starkly exposed, the focus of gossip and malice. "Astringent and purifying, stripping away the cobwebs and varnish of history, the antique formulations and brocaded sentimentality of costume drama novels, so that the English past comes to seem like something vivid, strange and brand new." — Charles McGrath, The New York Times Book Review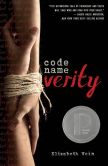 #5 — Code Name Verity by Elizabeth Wein (YA Fiction) — In October of 1943, a British spy plane crashes in Nazi-occupied France. Its pilot and passenger are best friends. One of the girls has a chance at survival, the other has lost the game before it's barely begun. When "Verity" is arrested by the Gestapo, she's sure she doesn't stand a chance. As a secret agent captured in enemy territory, she's living a spy's worst nightmare. Her Nazi interrogators give her a simple choice: reveal her mission or face a grisly execution. "A carefully researched, precisely written tour de force; unforgettable and wrenching." — Kirkus starred review
#6 — Wild: From Lost to Found on the Pacific Crest Trail by Cheryl Strayed (Nonfiction) — At twenty-two, Cheryl Strayed thought she had lost everything. In the wake of her mother's death, her family scattered and her own marriage was soon destroyed. Four years later, with nothing more to lose, she made the most impulsive decision of her life: to hike the Pacific Crest Trail from the Mojave Desert through California and Oregon to Washington State—and to do it alone. She had no experience as a long-distance hiker, and the trail was little more than "an idea, vague and outlandish and full of promise." But it was a promise of piecing back together a life that had come undone. "Clinging to the books she lugs along — Faulkner, Flannery O'Connor, Adrienne Rich — Strayed labors along the demanding trail, documenting her bruises, blisters, and greater troubles. [Her] chronicle, perfect for book clubs, is certain to spark lively conversation." — Colleen Mondor, Booklist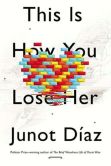 #7 — This Is How You Lose Her by Junot Diaz (Fiction) — Pulitzer Prize-winner Díaz turns his remarkable talent to the haunting, impossible power of love – obsessive love, illicit love, fading love, maternal love. On a beach in the Dominican Republic, a doomed relationship flounders. In the heat of a hospital laundry room in New Jersey, a woman does her lover's washing and thinks about his wife. In Boston, a man buys his love child, his only son, a first baseball bat and glove. In prose that is endlessly energetic, inventive, tender, and funny, the stories lay bare the infinite longing and inevitable weakness of the human heart. "It's Díaz's voice that's such a delight, and it is every bit his own, a melting-pot pastiche of Spanglish and street slang, pop culture and Dominican culture, and just devastating descriptive power, sometimes all in the same sentence." — David Daley, USA Today
#8 — Billy Lynn's Long Halftime Walk: A Novel by Ben Fountain (Fiction) —  In this finalist for the National Book Award, intense warfare with Iraqi insurgents has transformed the eight surviving men of Bravo Squad into America's most sought-after heroes. Now they're on a media-intensive nationwide tour to reinvigorate support for the war. On this rainy Thanksgiving, the Bravos are guests of the Dallas Cowboys, slated to be part of the halftime show. Surrounded by patriots sporting flag pins on their lapels and Support Our Troops bumper stickers, Bravos Specialist Billy Lynn is thrust into the company of the Cowboys' owner and his coterie of wealthy colleagues. Over the course of the day, Billy will drink and brawl, yearn for home and mourn those missing, face a heart-wrenching decision, and discover pure love and a bitter wisdom far beyond his years. "A masterful echo of Catch-22, with war in Iraq at the center. There's hardly a false note, or even a slightly off-pitch one, in Fountain's sympathetic, damning and structurally ambitious novel." — Jeff Turrentine, The Washington Post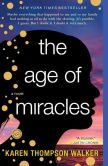 #9 — The Age of Miracles by Karen Thompson (Fiction) — On an ordinary Saturday in a California suburb, 10-year-old Julia awakes to discover that something has happened to the rotation of the earth. The days and nights are growing longer and longer; gravity is affected; the birds, the tides, human behavior, and cosmic rhythms are thrown into disarray. In a world that seems filled with danger and loss, Julia also must face surprising developments in herself, and in her personal world — divisions widening between her parents, strange behavior by her friends, the pain and vulnerability of first love, a growing sense of isolation, and a surprising, rebellious new strength. "Like the best stories about the end of the world, The Age of Miracles is about the existence of hope and whether it can prevail in the face of uncertainty." — Kevin Nguyen, Amazon
#10 — The Passage of Power: The Years of Lyndon Johnson, Volume 4 by Robert A. Caro (Nonfiction) — The fourth volume in Caro's ambitious biography of Lyndon Johnson follows the former President through both the most frustrating and the most triumphant periods of his career — 1958 to 1964. It is a time that would see him trade the extraordinary power he had created for himself as Senate Majority Leader for what became the wretched powerlessness of a Vice President in an administration that disdained and distrusted him. Yet it was, as well, the time in which the presidency, the goal he had always pursued, would be thrust upon him in the moment it took an assassin's bullet to reach its mark. "Caro combines the skills of a historian, an investigative reporter and a novelist in this searching study of the transformative effect of power." — Wendy Smith, Los Angeles Times