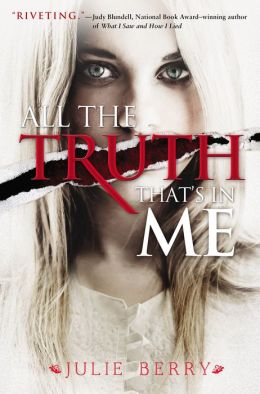 * * * * *
The editors at School Library Journal announced their picks for the best books of 2013 at a lively Twitter party Thursday night (#sljbestbooks). Books were selected in 3 categories: Fiction, Nonfiction and Adult Books 4 Teens. Here are the best YA titles for Fiction (titles marked with an asterisk * are already in the CA Library collection; the others will be added soon) —
* BERRY, Julie. All the Truth That's in Me. Viking. Tr $17.99. ISBN 9780670786152. LC 2012043218.
Judith can't speak. But when her close-knit community of Roswell Station is attacked by enemies, Judith is forced to choose: continue to live in silence, or recover her voice
* BLACK, Holly. The Coldest Girl in Coldtown. Little, Brown. Tr $19. ISBN 9780316213103; ebk. $9.99. ISBN 9780316213110.
When seventeen-year-old Tana wakes up following a party in the aftermath of a violent vampire attack, she travels to Coldtown, a quarantined Massachusetts city full of vampires, with her ex-boyfriend and a mysterious vampire boy in tow.
* KING, A.S. Reality Boy. Little, Brown. Tr $18. ISBN 9780316222709.
An emotionally damaged seventeen-year-old boy in Pennsylvania who was once an infamous reality television show star, meets a girl from another dysfunctional family, and she helps him out of his angry shell.
* LAFEVERS, Robin. Dark Triumph. Bk 2. (His Fair Assassin Series). Houghton Harcourt. Tr $17.99. ISBN 9780547628387.
Sybella's duty as Death's assassin in 15th-century France forces her return home to the personal hell that she had finally escaped. Love and romance, history and magic, vengeance and salvation converge in this sequel to Grave Mercy.
* LAKE, Nick. Hostage Three. Bloomsbury. Tr $17.99. ISBN 9781619631236; ebk. $12.99. ISBN 9781619631496.
Seventeen-year-old Amy, her father, and her stepmother becomes hostages when Somalian pirates seize their yacht, but although she builds a bond with one of her captors it becomes brutally clear that the price of life and its value are two very different things.
* MCNEAL, Tom. Far Far Away. Knopf. Tr $17.99. ISBN 9780375849725; lib. ed. $20.99. ISBN 9780375949722; ebk. $10.99. ISBN 9780375896989. LC 2012020603.
When Jeremy Johnson Johnson's strange ability to speak to the ghost of Jacob Grimm draws the interest of his classmate Ginger Boltinghouse, the two find themselves at the center of a series of disappearances in their hometown
* MEDINA, Meg. Yaqui Delgado Wants to Kick Your Ass. Candlewick. Tr $16.99. ISBN 9780763658595; ebk. $16.99. ISBN 9780763663544. LC 2012943645.
Informed that a bully she does not know is determined to beat her up Latin American teen Piddy Sanchez struggles to learn more about the father she has never met, until the bully's gang forces her to confront more difficult challenges.
* MORIARTY, Jaclyn. A Corner of White. Bk. 1. (The Colors of Madeleine Series). Scholastic/Arthur A. Levine. Tr $17.99. ISBN 9780545397360; ebk. $17.99. ISBN 9780545510219. LC 2012016582.
Fourteen-year-old Madeleine of Cambridge, England, struggling to cope with poverty and her mother's illness, and fifteen-year-old Elliot of the Kingdom of Cello in a parallel world where colors are villainous and his father is missing, begin exchanging notes through a crack between their worlds and find they can be of great help to each other.
* NESS, Patrick. More Than This. Candlewick. Tr $19.99. ISBN 9780763662585; ebk. $19.99. ISBN 9780763667672.
A boy named Seth drowns, but then wakes up alone in his hometown, and doesn't know if he is alive or dead.
* ROWELL, Rainbow. Eleanor & Park. St. Martin's Griffin. Tr $18.99. ISBN 9781250012579; ebk. $9.99. ISBN 9781250031211.
Set over the course of one school year in 1986, this is the story of two star-crossed misfits–smart enough to know that first love almost never lasts, but brave and desperate enough to try
* ROWELL, Rainbow. Fangirl. St. Martin's Griffin. Tr $18.99. ISBN 9781250030955; ebk. $9.99. ISBN 9781250030962.
Feeling cast off when her best friend outgrows their shared love for a favorite celebrity, Cath, a dedicated fan-fiction writer, struggles to survive on her own in her first year of college while avoiding a surly roommate, bonding with a handsome classmate who only wants to talk about words and worrying about her fragile father.
* STIEFVATER, Maggie. The Dream Thieves. Bk. 2. (The Raven Cycle Series). Scholastic. Tr $18.99. ISBN 9780545424943; ebk. $18.99. ISBN 9780545577175.
Now that the ley lines around Cabeswater are awake, magic is swirling around Blue and The Raven boys and Ronan Lynch's ability to pull objects from his dreams is almost out of control but worst of all, the mysterious Gray Man is stalking the Lynch family, looking for something called the Greywaren.
* WEIN, Elizabeth. Rose Under Fire. Hyperion/Disney. Tr $17.99. ISBN 9781423183099; ebk. $17.99. ISBN 9781423198697. LC 2013010337.
When young American pilot Rose Justice is captured by Nazis and sent to Ravensbrück, the notorious women's concentration camp, she finds hope in the impossible through the loyalty, bravery, and friendship of her fellow prisoners.
* WINTERS, Cat. In the Shadow of Blackbirds. Abrams/Amulet. Tr $16.95. ISBN 9781419705304. LC 2012039262.
In San Diego in 1918, as deadly influenza and World War I take their toll, sixteen-year-old Mary Shelley Black watches desperate mourners flock to seances and spirit photographers for comfort and, despite her scientific leanings, must consider if ghosts are real when her first love, killed in battle, returns.
* YANG, Gene Luen. Boxers . ISBN 9781596433595. pap. $18.99. ––––. Saints. ISBN 9781596436893. pap. $15.99. ea vol: illus. by author. (Boxers & Saints Series). First Second.
Boxers: In 1898 China, Little Bao has had enough of foreign missionaries and soldiers robbing peasants, and he recruits an army of Boxers to fight to free China from its oppressors. Saints: Vibiana, an unwanted fourth child, finds her name and identity in Christianity, but with the Boxer Rebellion in full swing and Chinese Christians facing death, she must decide whether her loyalties lie with her religion or her country.